Arthur Guez presents to Profs. Bruce Shepherd and Gonzalo Cosa at the 3rd annual Science Undergraduate Research Conference. - Owen Egan 
On Friday, October 19, 2007 students from across the Faculty of Science presented their research projects at the third annual Undergraduate Research Conference (URC) during Homecoming 2007. Once again, the URC took place in the lobby of McGill's historic Arts Building.
This year, fifty-six students from across the Faculty of Science participated. They showed their results to fellow students, alumni, members of the public, as well as visitors participating in the Universitas 21 Undergraduate Research Conference. The spectrum of research projects ran from machine learning for stock market prediction to the psychology of terrorism to the biology of proteins.
Judges drawn from the McGill professoriate had the arduous task of choosing the victors (see below). The prize ceremony took place in McGill's elegant Moyse Hall, and was followed by a very special guest lecture (see also below). The day culminated with a reception for students and alumni, where everyone celebrated the accomplishments of McGill Science students.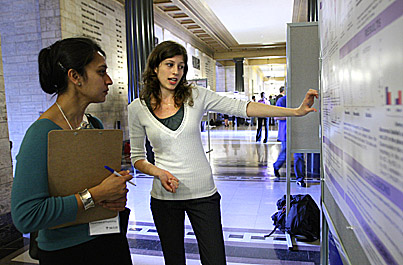 Nicole Darricarrere presents to Prof. Yogita Chudasama at the 3rd annual Science Undergraduate Research Conference. - Owen Egan
---
Keynote address: Dr. Jonathan Foley
The Faculty of Science was honoured to welcome Dr. Jonathan Foley as the 2007 URC keynote speaker. Dr. Foley is the Director of the Center for Sustainability and the Global Environment (SAGE) at the University of Wisconsin, where he is also the Gaylord Nelson Distinguished Professor of Environmental Studies and Atmospheric & Oceanic Sciences.
His talk was entitled Living on a Shrinking Planet: Challenges and Opportunities for a Sustainable Future. He highlighted some of the challenges facing us today and presented some of the solutions we can implement.
Dr. Foley's lecture is available as a webcast.
The webcast requires Windows Media Player, version 7 or later, for PC or Mac. Mac users may also use Windows Media Components for Quicktime, by Flip4Mac, available through Microsoft. More information and downloads are available from Microsoft for both Mac and PC.
---
Prizewinners
First and second prizes were awarded in five categories as follows:
Biological Sciences
(Research in fundamental non-human biological processes)
Lisa Kronstad, B.Sc. Honours Microbiology & Immunology:
Importance of Base-Pairing in the Trans-Splicing of a Group II Intron
(Supervisor: Prof. Benoit Cousineau. Nominated by the Department of Microbiology and Immunology)
Martin Aguilar, B.Sc. Honours Physics:
Neural Correlates of Multi-Channel Signal Detection
(Supervisor: Prof. Erik Cook. Nominated by the Department of Physiology)
Earth System Science
Madalina Surcel, B.Sc. '07 Atmospheric Sciences, min. Mathematics; M.Sc. Atmospheric & Oceanic Sciences:
A Scale to Scale Comparison of GEM and GEM-LAM Rainfall Forecasts. How Well Do NWP's Capture the Diurnal Cycle?
(Supervisor: Prof. Iztar Zawadski. Nominated by the Department of Atmospheric and Oceanic Sciences)
Véronique Dansereau, B.Sc. Honours Atmospheric Sciences:
Contribution of Atmospheric Global Circulation Regimes to the Regional Climate Warming in the MacKenzie River Basin
(Supervisor: Prof. John Gyakum. Nominated by the Department of Atmospheric and Oceanic Sciences)
Mathematical and Computational Sciences
Rosalie Bélanger-Rioux, B.Sc. Honours Applied Mathematics and Ioan Filip, B.Sc Honours Mathematics, min. Computer Science:
Spectrum and Expansion of Biregular Graphs
(Supervisor: Prof. Eyal Goren. Nominated by the Department of Mathematics and Statistics)
Mathieu Lavallée-Adam, B.Sc. Computer Science, min. Biology:
Organization of Protein-Protein Interaction Networks
(Supervisor: Prof. Mathieu Blanchette. Nominated by the School of Computer Science)
Medical Sciences & Psychology
(Research with clear implications for human health or researh in Psychology)
Nour Kteily, B.Sc. Honours Psychology, min. Biology:
Understanding Terrorism: An Exploration of the Psychological Mechanisms Underlying Extreme Anti-Normative Behaviour
(Supervisor: Prof. Donald M. Taylor. Nominated by the Department of Psychology)
Chelsea Maedler Kron, B.Sc. Honours Biochemistry :
Adenylyl Cyclase Regulation in Heart Tissue and Its Implications for Heart Disease
(Supervisors: Dr. Roland Seifert and Martin Goettle, University of Regensburg. Nominated by the Department of Biochemistry)
Physical Sciences
Gilad Ben-Shach, B.Sc. Honours Mathematics and Physics:
Searching for Isospectral Quantum Graphs
(Supervisor: Prof. Uzy Smilansky, Weizmann Institute. Nominated by the Department of Physics)
Charles de Lannoy, B.Sc. Honours Physics:
Mesoscopic Frictional Analysis Using PDMS Tip Arrays
(Supervisor: Prof. Roland Bennewitz. Nominated by the Department of Physics)
More information
Victor Chisholm [ victor.chisholm [at] mcgill.ca (Email) ]
Undergraduate Research Officer
Office for Undergraduate Research in Science
Dawson Hall, Room 211
tel.: 514-398-5964
Click an image to view full-size; or download the Classroom announcement