Science undergraduates:
Each day at lunch from September 10-14, 2007, students came to the Redpath Museum to see and hear some of our professors give short presentations about their cutting-edge research. Everyone then chatted over lunch about how to participate in research. Students saw the interdisciplinary nature of much research at McGill, and that there are many research opportunities outside their own home departments.
Participating researchers
This schedule is subject to change. Follow the links below to visit participating researchers' websites.
Monday, September 10, 2007 (11:30-1:00)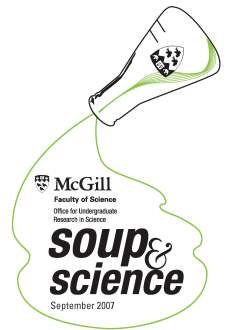 Tuesday, September 11, 2007 (11:30-1:00)
Wednesday, September 12, 2007 (11:30-1:00)
Thursday, September 13, 2007 (11:30-1:00)
Friday, September 14, 2007 (11:30-1:00)
Contact
Victor Chisholm
Undergraduate Research Officer
514-398-5964
[ victor.chisholm [at] mcgill.ca (Email) ]