Wednesday, November 5, 2008
5:00 - 6:30 pm
Strathcona Anatomy and Dentistry Building, Council Room, M48
McGill University
The roundtable is available in English as a webcast* for viewing on demand.
Left to right: Theodore Bergstrom, Manfred Milinski, Brian Alters, Colin Chapman, and Lorne Trottier - Mark R. Groot
---
Moderator
Luc-Alain Giraldeau
Professor
Département des sciences biologiques
Université du Québec à Montréal
---
Panellists
Graham Bell
Professor
Department of Biology
McGill University
Theodore Bergstrom
Aaron and Cherie Raznick Chair of Economics
Department of Economics
University of California Santa Barbara
Manfred Milinski
Executive Director
Max-Planck-Institute for Evolutionary Biology
Plön, Germany
Paul Seabright
Professor of Economics
Institut d'Economie Industrielle
University of Toulouse
Stuart West
Professor of Evolutionary Biology
Institute for Evolutionary Biology
Edinburgh University
Brian Alters
Director, Tomlinson Project in University-Level Science Education
Redpath Museum
McGill University
Colin Chapman
Professor
Department of Anthropology and McGill School of Environment
McGill University
Margaret Somerville
Founding Director, McGill Centre for Medicine, Ethics and Law
Samuel Gale Professor of Law
McGill University
Louis Lefebvre
Professor
Department of Biology
McGill University
---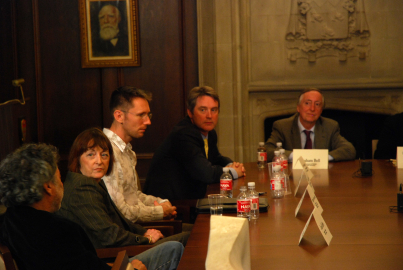 Left to right: Louis Lefebvre, Margaret Somerville, Stuart West, Paul Seabright, and Graham Bell - Mark R. Groot
---
* The webcast requires Windows Media Player, version 7 or later, for PC or Mac. Mac users may also use Windows Media Components for Quicktime, by Flip4Mac, available through Microsoft. Internet Explorer is the recommended browser.
» More information and downloads are available from Microsoft for both Mac and PC.
---