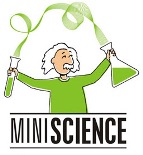 Selected lectures from Mini-Science 2011: Better living through chemistry? are now available as webcasts and podcasts, both from McGill Podcasts and from iTunes U. Listen or watch, when you want, where you want, at no charge!
Chemicals for better and for worse. Joe Schwarcz, Ph.D., Director, Office for Science and Society. March 16, 2011.
From the chemistry of chicken soup to the chemistry of the brain and behaviour. Amir Raz, Ph.D., Departments of Psychiatry, Neurology and Neurosurgery, and Psychology. March 23, 2011.
From Jesuit's bark to synchrotrons - the rise and fall of an antimalarial. Scott Bohle, Ph.D., Department of Chemistry. March 30, 2011.
Biofuels — sustainable energy as the oil runs out? Donald Smith, Ph.D.,Department of Plant Science. April 6, 2011.
The dance of the molecules in cells. Paul Wiseman, Ph.D., Departments of Chemistry and Physics. April 13, 2011.
Nuclear power — energy for the future? Ariel Fenster, Ph.D., Office for Science and Society. April 20, 2011.
The magic of chemistry. Professors Ariel Fenster, David Harpp and Joe Schwarcz, Office for Science and Society. April 27, 2011.
You can read a synopsis of each talk on our Schedule webpage.
---
More Mini-Science webcasts available: