Freaky Fridays: McGill scientists confront myths, debunk popular misconceptions, and clarify science. Each Freaky Friday lecture allows for audience interaction and is followed by a popular film.
Freaky Fridays takes place in the Auditorium of the Redpath Museum, 859 Sherbrooke Street West, Metro McGill or Peel. Seating is limited, but reservations are not necessary.
---
Life on Ice: The Arctic, Antarctic and Mars
Fri., September 28, 2007, 4 PM | Dr. Dale Andersen, McGill graduate (PhD, 2004) and Principal Investigator with the SETI Institute's Center for the Study of Life in the Universe. This Freaky Friday starts with the film "The Thing from another World" (the original 1951 version) and is co-hosted by the Trottier Symposium. Dr. Andersen will cover research that he and other members of the SETI Institute have conducted in the McMurdo Dry Valleys and Bunger Hills, Antarctica, and current ongoing research in the Canadian High Arctic (Axel Heiberg and Ellesmere Islands). This research is all related to the search for Earth's earliest biosphere, and the search for life on Mars. Unlike the other Freaky Friday presentations, the location for this event will be Strathcona Anatomy & Dentistry Building, Room M-1, 3640 University Street - NOT the Redpath Auditorium. Free admission.
---
SPUTNIK and US - 50 years in space
Download the poster for SPUTNIK and US. [.pdf]
Fri., October 5, 2007, 4 PM | Join us for a Freaky Friday in three acts to mark 50 years since the first satellite orbited earth.
First up, Canadian Space Agency engineers Bruno Blais and Stephane Corbin will talk about Canada's important role in space.
Next, McGill's Science on Stage team presents a "Sputnik and Sons" skit.
Finally, you can view a bit of space through the lenses of either a telescope or a microscope: members of the Royal Astronomical Society (RAS) will lead a planet- and star-gazing session on McGill's front field, while inside the Museum, members of the Redpath Museum Club will show samples of lunar rocks collected on the Apollo missions.
For information about this event, contact Ingrid Birker at 514-398-4086 ext. 4094 or via ingrid.birker [at] mcgill.ca (email).
For information about planet- and star-gazing, contact the President of the RAS: Andrew Fazekas at 514-620-1672 or by andrew.fazekas [at] sympatico.ca (email).
Free admission.
Sponsors: Redpath Museum, the Dean of Science, the Royal Astronomical Society of Canada and the Canadian Space Agency.
---
Dan Brown's 'Angels and Demons'
Fri., October 12, 2007, 4 PM | by Brigitte Vachon (Physics, McGill). This presentation describes how scientists make neutral antimatter from plasmas of charged particles and bridges the gap between what happens in the real-life laboratory and in the imagination of a highly entertaining novelist. Followed by the 2004 film "The Da Vinci Code". Free admission.
---
The Creation Museum: 30 Million Dollars of Anti-Science and Mis-Education
Fri., October 19, 2007, 4 PM | by Jason Wiles (Evolution Education Research Centre, McGill). This presentation explores and dissects the "science" at the the new Creation Museum in Kentucky. You will see dinosaurs living peacefully alongside humans and hear how "Creation Scientists" explain that the Earth is only about 6,000 years old. Of course, science tells us that the Earth is around 4-and-a-half billion years old and that dinosaurs were extinct long before humans evolved. But then, little, if any, of what the Creation Museum teaches is supported by science. Followed by the documentary film "Flock of Dodos". Free admission.
---
Science and the Paranormal

Wiki Commons
Fri., October 26, 2007, 4 PM | by Ariel Fenster (Chemistry, McGill). This lecture examines paranormal phenomena and describes how many of the effects can be explained by perfectly "natural" means. Followed by the 2000 film "The Sixth Sense." Free admission.
---
Night at the Museum
Fri., November 2, 2007, 4 PM | Please join us for a "Night at the Museum" starting at 4 PM with a screening of the 2006 Ben Stiller film about a novice Museum security guard's chaotic night shift. After the film the student guides from the Redpath Museum Club will give flashlight tours at 7 PM and 9 PM. Cost: $5 general/$2 child/student at the door. No reservation necessary, Everyone welcome
---
The beast of beauty
Image source: http://commons.wikimedia.org/wiki/Image:Beauty_Supply_Neon_Sign.jpg
Fri., November 23, 2007, 4 PM | A special Freaky Friday workshop with Madeleine Bird, Coordinator, Health and Environment Awareness Project, McGill Centre for Research and Teaching on Women. Did you know some cosmetics and personal care products contain ingredients that may increase the risk of cancer or reproductive harm? Learn about the more than 500 prohibited and restricted cosmetic ingredients and Health Canada's cosmetics regulations. The lecture is followed by the NFB documentary film "Toxic Trespass" and a workshop where you can make a healthy selection of take-home alternatives such as face and body wash. Lecture: free. Workshop: $5 regular, $2 students.
---
The reality of rodents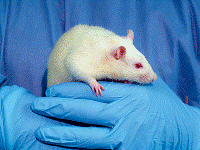 Image source: http://commons.wikimedia.org/wiki/Image:Rodent.gif
Fri., December 14, 2007, 4 PM | with Dr. Virginie Millien (Redpath Museum / Vertebrate Zoology) and special guests Jane Sorenson and Sicero (both from Small Victories Rodent Rescue). Find out why rats, mice, and beavers are really not very scary and how their amazing incisors are important in current ecotypic variation and climate change research. You will also learn about the myths and realities of the much-maligned urban rat. This presentation is followed by two films: "One Rat Short" and "Ratatouille". Free admission. All ages, everyone welcome.
---
Please note: All Freaky Fridays in 2008 start at 5 PM, unless otherwise indicated.
Hominids on the edge
Fri., January 11, 2008, 5 PM | by André Costopoulos (Anthropology, McGill). Learn about the selective pressures faced by early hominids living on the fringe. Followed by the film "The Abominable Snowman of the Himalayas" (1957) where a kindly English botanist and a gruff American scientist lead an expedition in search of the legendary Yeti.
---
The science of cold survival
Image source: Murray Humphries Fri., January 25, 2008, 5 PM | by Murray Humphries (Natural Resource Sciences, McGill). Learn the tricks of physiology and behaviour that allow polar animals to endure the cold. Followed by the 2006 documentary film "Eight Below".
---
Scientific research in extreme conditions: From the Arctic to the Congo
Fri., February 1, 2008, 5 PM | by Hans Larsson (Canada Research Chair in Vertebrate Palaeontology, Redpath Museum + Biology, McGill) and Lyle Whyte (Canada Research Chair in Environmental Microbiology, Natural Resource Sciences, McGill). Followed by two films: "Arctic Passage: Prisoners of the Ice," a NOVA documentary spotlighting Hans Larsson, and the 1982 John Carpenter film about "The Thing" that takes over an Antarctic research facility.
---
Why buildings and bridges collapse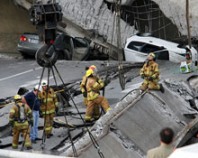 USED WITH PERMISSION FROM RYAN REMIORZ / CANADIAN PRESS 
WWW.MCGILL.CA/REPORTER/
Fri., February 22, 2008, 5 PM | by Saeed Mirza ( Civil Engineering, McGill). Followed by the sci-fi drama "The Core" (2003) which explores effects that happen on the surface of the earth when the inner core stops rotating.
---
Intelligent Design on Trial
Friday, February 29, 5 PM | The Evolution Education Research Centre presents a screening of the NOVA documentary "Judgment Day," which portrays the events that led to the legal decision that it is unconstitutional to teach Intelligent Design in public school science classrooms in the U.S. Among the expert witnesses in the landmark trial were paleontologist Kevin Padian of the University of California, Berkeley (whose testimony regarding the abundant evidence for evolution in the fossil record and the scientific bankruptcy of Intelligent Design is prominently featured in the film) and McGill's own Brian Alters (who testified about the worthlessness of the Intelligent Design policy in question and the potential threat that ID poses to sound science education).

Professors Padian and Alters will be on hand to elaborate on their respective roles in the trial and to answer questions from the audience in a session mediated by Jason Wiles of the Evolution Education Research Centre at McGill. Those who will not be able to attend the 5 PM screening of "Judgment Day are welcome to join in the Q&A session which will begin at 7 PM.
USED WITH PERMISSION FROM NOVA, PBS.
---
Life in the oven: survival and evolution in hot dry places
Fri., March 7, 2008, 5 PM | by Andrew Hendry (Biology, McGill) followed by the 1981 Australian film "Walkabout".
---
HTTP://WWW.METEO.MCGILL.CA/EXTREME/INDEX.HTM
Extreme weather and how it is measured
Fri., March 14, 2008, 5 PM | by Ronald Stewart (Atmospheric and Oceanic Sciences, McGill) followed by the film "Twister".
---
GREG MATLASHEWSKI
Flesh eating parasites: extreme microorganisms in your face
Fri., March 28, 2008, 5 PM | by Greg Matlashewski (Department of Microbiology and Immunology). Learn about parasite-borne diseases like Leishmaniasis, one of the six major tropical diseases targeted by the World Health Organization. Depicted in pre-Incan pottery and ancient Egyptian tablets, the disease is characterised by leprosy-like lesions on the face and elsewhere, and is often fatal. This Freaky Friday presentation will be followed by the film "Shaun of the Dead".
---
Melting glaciers: what gives?
Fri., April 4, 2008, 5 PM | by Bruno Tremblay (Atmospheric and Oceanic Sciences, McGill) Examine the truth and fiction of melting arctic glacial ice. Followed by the film "The Day after tomorrow."
HTTP://WWW.MCGILL.CA/REPORTER/40/07/NOTES/
---
More information
Ingrid Birker
Science Outreach Coordinator
Tel.: 514-398-4086 ext. 4094