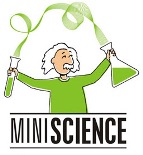 Webcasts are now available!
Better living through chemistry?
Learn about:
chemicals in everyday life
nuclear power as a future energy option
brain chemistry and neurochemistry
biofuels and sustainable energy
chemicals, disease and resistance
Sold out!
Register now for the Mini-Science 2011 series, presented by professors from the Faculty of Science. Starting with 'Dr. Joe' from the Office of Science and Society and concluding with a magical but meaningful chemical stage show, this series explores the controversial and vibrant nature of chemicals and the history of their use and development. This Mini-Science series is made possible through the generous support of Dr. Lorne Trottier.
This public course will take place over seven consecutive Wednesday evenings, from March 16 to April 27.
No science background is required. There is no homework and no exam.
---
Time and location:
Wednesday evenings, March 16 to April 27, 2011
6:00 PM - Registration and refreshments
6:30 - 8:00 PM - Lecture
Bronfman Building [map],
1001 Sherbrooke Street West,
Ground floor, Desautels Room 151
Parking:
Underground parking available in Bronfman Garage accessible from the lanes off Peel and McTavish Streets, just north of Sherbrooke Street. There is no elevator access to the garage but there is a staircase leading up to the ground floor of the Bronfman Building. There is a paystation machine in the garage which accepts cash or credit card payment (Visa, MasterCard or American Express) for parking. There is also a machine at the exit which accepts credit card payment. A customer must press the green button on the entry terminal inside the garage to get an entry ticket and pay for this when leaving at either the paystation or exit terminal. Please note that the exit terminal does not issue a receipt.
Cost:
Series price $114.00 (includes all taxes)
Students and seniors $68.00 (includes all taxes)
No refunds after March 7, 2011
Registration:
Mini-Science 2011 is sold out.

Registration is now closed.
Language:
Lectures will be presented in English mais nous vous invitons à poser vos questions en français.
Questions?
mini.science

[at]

mcgill.ca

(Send us an email)


or phone us at 514-398-8886
---