News
Faculty of Science Excellence Award winners announced
2022 award winners
The Faculty of Science Excellence Awards recognize outstanding performance and contributions made by members of the Faculty's administrative and support staff classified in four categories: Academic Associate, Clerical, Management, and Technical. The committee, comprised of staff members from each department, received nominations for three of these categories.
Marilena Cafaro, Associate Director (Building Infrastructure) in the Faculty of Science. (Management)
Marilena received a Bachelor in Civil Engineering from Concordia (1994) and Certificate, Marketing Management from McGill (1998). Marilena began her career at McGill over 11 years ago where she worked as an Assistant Building Director in the Faculty of Medicine. She quickly worked her way up to become the principal Lead Project Manager/Building Director and oversaw the Faculty Capital Projects as well as the daily operational activities for all Faculty of Medicine infrastructure. In 2017, she accepted a promotion as the Associate Director (Building Infrastructure) in the Faculty of Science. 
The nomination letters noted:
"Marilena's position is not the most coveted at the University; the primary focus is dealing with space issues. Space at the university is sacred ground and staff are territorial. The position is challenging and complex, yet Marilena continues to gain the respect of faculty and administrative staff by constantly demonstrating fairness, common sense, discretion, and, most of all, respect. For every challenge that presented itself last year, Marilena effortlessly approached every situation with a solutions-based mindset."

"Everyone loves Marilena! She masters the art of conversation. She can make strong cases and argue, but always with this magic touch that naturally sets mutual respect. Discussions turning into arguments with Marilena are unheard of. She is also incredibly generous with her time. Her busy schedule somehow does not make her hard to reach. No matter what, she will return your calls and answer your concerns in a timely manner. She takes the time, always! Marilena's office tells a lot about her. The thing is, no one knows for sure where it is! For years, her office has kept changing from a bad place to another."

"It is obvious she loves what she is doing and that is certainly why it is such a pleasure to work with her." 
She praised the excellence of her colleagues and friends in the Faculty of Science before pointing out, jokingly, the irony in her award: "I don't know where to put the plaque yet. I still don't have an office." 
Congratulations, Marilena! 
Linda Del Paggio, Administrative Coordinator, Department of Chemistry. (Clerical)
Linda Del Paggio began her career at an accounting firm (Ernst & Young) where she worked for 12 years in the capacity of HR supervisor. This is where she realized her passion for helping others with any work-related issues. She began as an HR assistant and was promoted to a supervisory level.
She joined McGill in 2013 as the Administrative Coordinator and over the last eight years she has assisted three departmental chairs (Lennox, Damha, Perepichka). She is a very proud Montrealer who is (in her words) "happy to be part of such an iconic teaching institution," and is also a very proud mom of three children, Julia, David, and Dalia. David just completed his first year in the Faculty of Law at McGill, and Dalia was just recently accepted into Pharmacology, also at McGill. 
Linda's nomination praised her dedication, hard work, eagerness to help others, and her ability to create a 'family' atmosphere in the department. Some remarks in her nomination letters demonstrate this:
"Linda is the person to whom the department member often come with their problems, and she goes out of her way trying to help. Whatever the problem is, it's rare to hear from Linda that it's impossible to solve; rather, she answers "let me find out how we can solve it," and she always follows up on her promises." 

"The last year has been difficult for many of us, but it also highlighted how critical it is to have Linda in our department. Chemistry was one of the first buildings in the University opening for the essential research activities last May…with 200 researchers accessing the Otto Maass and Pulp & Paper buildings daily. Linda is one of the persons "behind the scenes", coordinating this access - new building access, checking the lab densities and rules adherence, etc." 

"When the new HR system 'Workday' struck, Linda was one of the very few people who, unlike her boss, didn't complain about the quadrupling amount of work but quietly worked to minimize the disruptions to our department." 

"Linda works very hard, yet her smile and calm have become legendary in the department. She is a pillar of our main office and has grown indispensable over the years."
Upon receiving the award, she said: "I still remember my first day at McGill actually, a bit over nine years ago now, and how I was made to feel so welcomed from that very first day. I really felt like I belonged to another extended family and so I try to make everyone in the departments feel the same way. Just welcomed and appreciated."
Congratulations Linda!
Mitchell Huot, Academic Associate, Department of Chemistry. (Academic Associate)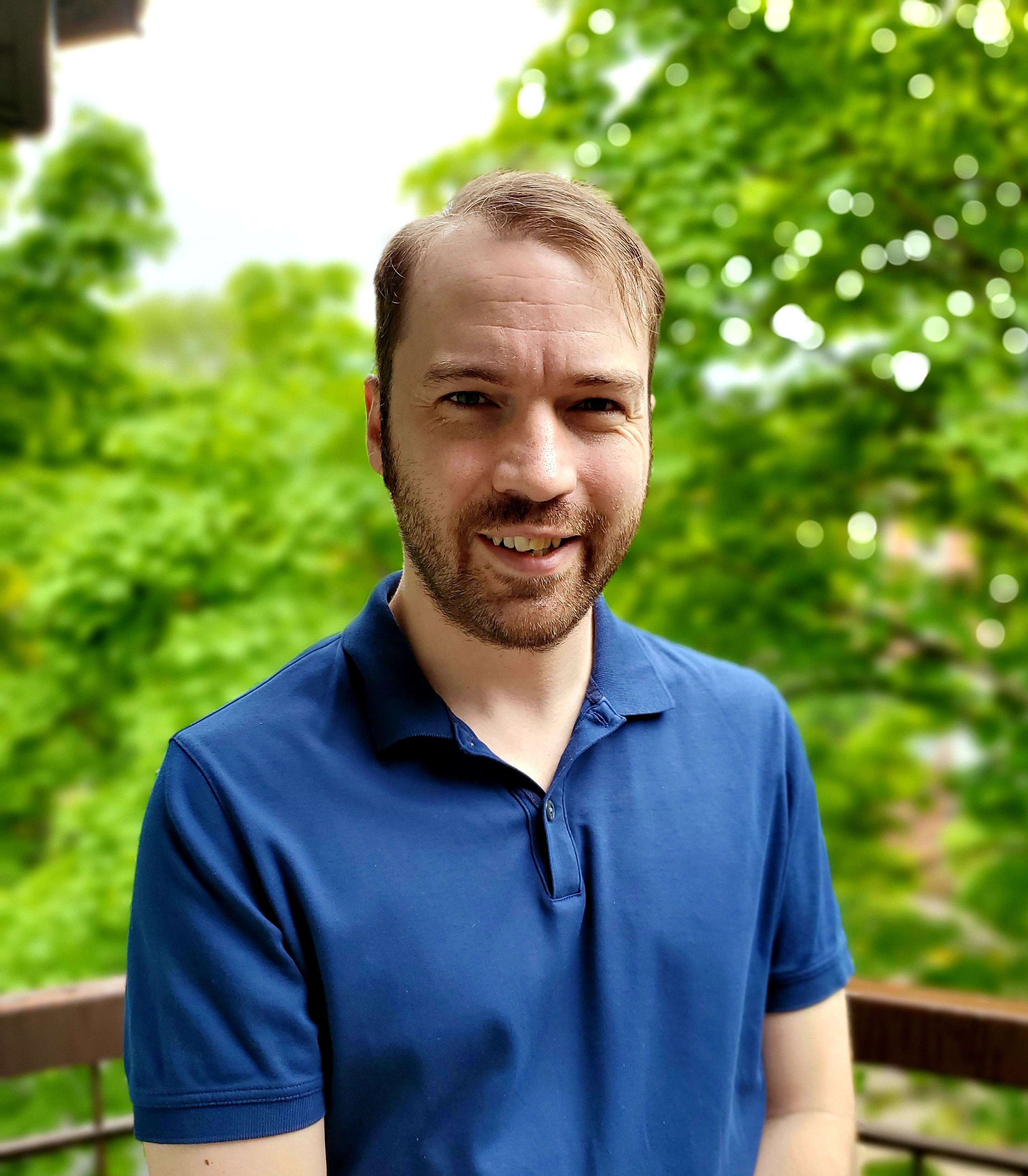 Mitch completed a Master in Chemistry under the supervision of Professor Nicolas Moitessier at McGill University in 2009. He was hired as Academic Associate by the Department of Chemistry in August 2010, a position he has been occupying since. 
For almost 12 years, Mitch has been the main coordinator of the Chemistry undergraduate teaching labs in the large first-year courses and advanced undergraduate courses. Mitch is valued by his students, faculty and staff for his dedication, and several improvements he has brought to these labs, including the revitalization of lab curriculum, an improved lab reporting system, and important innovations in the way students carry out experiments.
Prof. Perepichka (Departmental Chair), in his nomination letter, noted:
"Mitch has been our secret weapon allowing the Department to sail smoothly through the storms of COVID-19, developing new experiments that enabled our 1000+ General Chemistry students to do the lab portion of the course at home."  

"Mitch redesigned several experiments for execution in one's kitchen and developed take home kits from common online vendors to support these experiments. As just one example of his innovation, Mitch has figured a way to use the cellphone camera as a substitute for a spectrophotometer, used by students at home to measure the natural dyes concentration in grape juice."
Others noted:
"Mitch is an incredibly hard worker, and amazing co-worker, and an indispensable asset to our teaching mission."

"Everyone that has taken a Chemistry lab in the last 12 years has benefited from our stroke of luck in having Mitch here."
"I think the chemistry department and the faculty of science is just so wonderful to work with, and always very supportive of all the kind of crazy ideas I've had. So I would just like to thank everyone. And I want to give a special thanks; I have the privilege of working with my wife, Danielle, and these last two years I couldn't have done it without her. So thank you everyone."
Congratulations, Mitch!