Event
AstroNight: Life In Our Universe
Wednesday,
January
25,
2023
19:00
to
20:30
Maass Chemistry Building
Room 112, 801 rue Sherbrooke Ouest, Montreal, QC, H3A 0B8, CA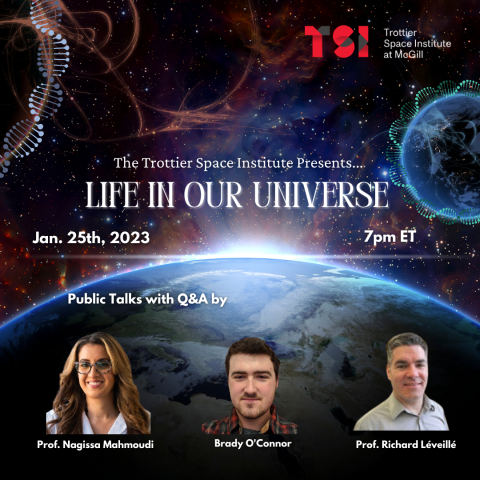 Are we alone in the universe? Where might we find life and what will it look like?
This evening, we will learn about where we might find life elsewhere in our universe. Prof. Nagissa Mahmoudi, Prof. Richard Léveillé, and Dr to be, Brady O'Connor will guide us through the world of astrobiology. We will learn about how life may have formed on other celestial objects, how we go about detecting life in the universe, and how we can use Earth's own extreme environments to inform us about life on other worlds!
After the 45 minute presentation from our speakers, there will be a 30 minute Q&A period where you will be able to ask our experts your most pressing questions!
We hope to see you there!
Location: Maass Chemistry Building room 112