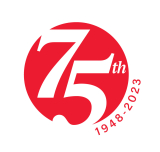 Our 75th Year! We almost missed it. In our pandemic remotion, it almost passed unrecognized. Early this summer, a small group of faculty colleagues happened to do the math together. We realized what an important year this is for Religious Studies at McGill, and what a celebratory year it should be for all of us associated with the School. We discussed how, in 2022–23, we have a lot to celebrate. After years of pandemic isolation, we are grateful already to be able to come together in person again. But we are grateful for so much more this year.
Recent accomplishments and developments are many. They include a first-ever ten-year accreditation by the Association of Theological Schools. They include faculty renewal, with new appointments in a wide range of fields, including Anthropology of Religion, Chinese Religions (Buddhism), and Catholic Studies. We also named a new Kennedy Smith Chair. We were awarded a Lilly Endowment Grant, amongst a wide range of other research grants, and we received a new endowment for advanced doctoral student support from our long-time collaborator and champion, H. Jonathan Birks. Finally, we discussed the historic Hart Bequest, announced in 2021, that will bring three new, senior, endowed professorships in philosophy of religion to the School in perpetuity. We look forward to celebrating this transformative gift at the conclusion of this anniversary year. We also look forward to being able to announce and celebrate an additional endowed chair in the field of Religion and Literature. These endowments will help to secure our vitality across the next 75 years. There is much to celebrate.
We also debated how we ought to commemorate this anniversary year. We decided not to confine celebrations to a single occasion, or to restrict the character of our celebratory activities to festivities. We decided that the best way to honour the legacy of excellence accomplished by our predecessors is to commit to a range of activities, in many though not all, of our defining areas of past and present commitment. In this way, we hope to remember and reiterate the areas of commitment and excellence that have defined the School to date, and to advance our own, current, impactful scholarship in that context.
We thus are committing to a year full of activities, events, workshops, and conferences in the areas of our historic and current commitment. These activities will include the Numata Visiting Professorship and Lectureship in Buddhist Studies, the Wadsworth Lecture in Calvinism, the South Asian Religions Distinguished Lectureship, and of course our flagship fall lecture — so important to the history of Religious Studies at McGill that it for many years inaugurated the academic year itself — the Birks Lecture. The Birks Forum, the product of a relatively recent gift in the area of Religion and Public Policy, will go to support a large-scale conference and workshops on Indigeneity and Christianity in global contexts.
We will also sponsor new activities. Two Lilly Foundation grant sponsored symposia on inter-faith encounter, a conference dedicated to Technology, Ecology, and Religion in North America, a Sanskrit and Tibetan Translation Workshop, and a joint McGill-Concordia conference in Biblical Studies will also be offered at different points of the academic year. A SSHRC-sponsored conference in the philosophy of religion and the release of a 30-hour series of video interviews on Hinduism with Professor Arvind Sharma will also be a part of a year of programming.
In all of these ways, we will celebrate together a legacy of accomplishments and commitments that defines the particular character of the School with respect to cognate units in peer universities. The Hart Bequest reminded us that we have a valued reputation internationally for excellence in the textual and literary history and transmission of a variety of religious traditions. This distinguishes us from other programs with other foci, and should be recognized. Our legacy is further constituted by the historical commitments that we have made, and sustained. These include our founding, and still vital, partnership with the theological colleges of the Montreal School of Theology.
Many of us will celebrate particular aspects of the life and legacy of Religious Studies at McGill. There is every reason to celebrate the importance of W.C. Smith to the development of Comparative Religion and the study of Islam. There is every reason to celebrate such figures as Robert H.L. Slater, Gregory Baum, and Douglas J. Hall in the development of 20th century Theology, and figures as Raymond Klibansky and Joseph McLelland in Philosophy of Religion. There is every reason to celebrate the legacy of Donna Runnalls — also the first female Dean at McGill (1988–98) — in Ancient Judaism, R.B.Y. Scott in Hebrew Bible, James Caird and N.T. Wright in New Testament Studies, and Richard Hayes in Indian Religions and Buddhist Studies, to name only a few.
We are proud to have provided leadership in these fields, and to participate this hybrid history of a unit dedicated to religious and theological studies. We are proud to stand in a tradition of scholars who have done it so expertly and so influentially across the 75-year history of Religious Studies at McGill. And we are grateful to be able to celebrate this legacy, and inheritance, with all of the members of the School's extended community, in person, across this academic year 2022–23. We hope that you will join us throughout this anniversary year, in order to celebrate with us as many of these historical and contemporary commitments as might interest you!
Garth W. Green
John W. McConnell Professor of Philosophy of Religion
Director, School of Religious Studies