In the Hodgson Seminar Room (2nd floor, room 200) OR in Auditorium, depending on availability.

All films start at 3 PM Films may change without notice due to circumstances beyond our control.

Please note: Many of these documentary films are available for loan through the McGill Library system (Redpath Library downtown and/or Macdonald campus) or through the FREE download on the KANOPY website.
---
2016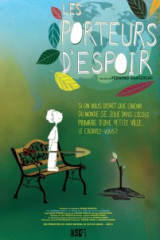 July 24: Les porteurs, d'espoir (ONF, 2010, in French).  A new teaching method is being tested in an elementary school in Quebec to prepare the next generation of students to take up environmental challenges. Under the supervision of their teacher, students are learning to identify, analyze and resolve a problem that exists in their world.
July 31: Force of Nature (NFB, 2010). Biography of iconic Canadian scientist, educator, broadcaster and activist David Suzuki.
August 7: Cave of Forgotten Dreams (2010) is a documentary about the Chauvet Cave, a cavern in Southern France where the oldest human paleolithic paintings were discovered. Herzog is one of the lucky few who gained access to the cave, along with archeologists and researchers.
August 14: The Family Farm ( NFB, 2015). In its journey across the majestic Canadian countryside, The Family Farm explores the diverse agricultural pursuits of earnest farm families, and serves as a window into the food production process that modern day consumers have become estranged from. The film begins in Nova Scotia with egg farmer, Aaron Hiltz, who was confronted by the provincial egg board and asked to get rid of the majority of his flock. Hiltz's story highlights the issues many farmers face and the flaws associated with what he considers an outdated system. The Morgan farm crew of Quebec draw attention to another issue, land cost and inaccessibility, that many young, budding farmers encounter and discuss their proposed solutions to these problems. On the other side of the country, organic farming pioneer, Raymond Loo discloses his dream of creating a chemical-free Prince Edward Island, full of clean, organic food and demonstrates how his farm serves as a stepping stone towards realizing this goal. The exploitative side farming is also exposed through Manitoba farmer, Carlyle Jorgensen's retellings of his experience working with an oil company who dug a well on his prime farmland despite his disapproval. A season spent with these farmers and others reveals the key role they play in sustaining traditional farm knowledge, promoting environmental stewardship and maintaining food security. As 2014 marks the International Year of Family Farming, The Family Farm focuses on imbuing the importance of understanding where our food comes from and emphasizes the crucial role family farms play in ensuring the survival and well-being of local communities and environments.
August 21: La Marche a Suivre (2014). In a quiet Quebec town, the local high school houses hundreds of impressionable young minds, each bursting with ideas, passions, frustrations and aggression. With his third feature-length documentary, Jean-François Caissy explores this adolescent arena to craft a subtle but provocative meditation on teenage existence and the rules by which youths govern their lives. Comprised largely of private encounters between students and teachers or guidance councillors, and intercut with footage of the children during their leisure time, Caissy's intimate approach places his young subjects at the very centre of the screen, his camera resolutely fixed on the students as they discuss and attempt to justify their occasionally arbitrary actions. Like Fred Wiseman's hugely influential High School, Caissy's observational style gives his characters room to breathe, resulting in a quietly compelling and often hypnotic account of how burgeoning identities are formed and the prudent role of the educator during these formative years.
August 28: The Sustainable City. Today, the way ecology is being incorporated into architecture has evolved considerably. Sustainable architecture, or green architecture, aims to minimize the negative impact of buildings on the environment by enhancing efficiency and moderating the use of materials, energy, and space. Spewing carbon dioxide, generating masses of waste, and consuming alarming quantities of energy and water, our cities place a heavy burden on both the global environment and the local ecosystem. Architecture itself has a tremendous impact on the environment.
September 4: No film. Museum closed
---
Each documentary will be coupled with a short documentary film such as:
The Animal Movie by Grant Munro & Ron Tunis (1966 | 9 min)
An animated cartoon to help children explore why and how animals move as they do. A little boy discovers that he cannot compete with a monkey, a snake or a horse by imitating the way they move. He can only outdistance them when he climbs into a vehicle that can travel in any environment, proving that the human capacity for technological invention creates a wholly different relationship to our environment.
Animation from Cape Dorset (1973 | 18 min) This film is a collection of short animated sequences produced by Inuit of the Cape Dorset (Baffin Island) Film Animation Workshop, which was established to teach northern people a new and novel form of creative expression. The results, as shown here, reveal an easy adaptation to the medium, a keen sense of observation and an underlying humour. There is some explanation in English and some in Inuktitut.
Some TED-Ed animated lessons on how to-help-you-save-the-world/ 
Leo Lionni's Fish is Fish
The Sniffing Bear (1992 | 7 min).This animated film uses the Arctic landscape and the traditional Inuit characters of the Bear, the Seal and the Owl to raise young people's awareness about the harmful effects of substance abuse. A polar bear experiences hallucinations after inhaling fumes from an abandoned gas can. A nearby owl and seal help to show the bear the error of his ways, thus preventing him from falling further into addiction. This film was an initiative of the Natives of the Institution La Macaza to warn children of the dangers of inhaling toxic chemicals.
Strange Invaders (2001 | 8 min). Cordell Barker strikes again with this hilarious Oscar®-nominated animated short about a new addition to the family. This film is a must-see film for parents of young children and a cautionary tale for those planning a family. Part science-fiction, part autobiography,Strange Invaders is another irrepressible comedy from the director of the much-loved classic The Cat Came Back.
Arkelope by Roslyn Schwartz (1994 | 4 min). Arkelope is an animated short that takes a pointed look at endangered species and human indifference. When a middle-aged couple come across a nature documentary on the decline of the arkelope while channel-surfing, they learn that although the species has managed to survive a variety of natural disasters, it is now in imminent danger of extinction due to man's short-sightedness. With a serious yet funny approach, this little film illustrates human passivity in the face of the ubiquitous TV set.1.
The Owl who married a goose: An Eskimo Legend by Caroline Leaf (1974 |7 min). In this short animation based on an Inuit legend, a goose captures the fancy of an owl, a weakness for which he will pay dearly. The sound effects and voices are Inuktitut, but the animation leaves no doubt as to the unfolding action. A story with the wry humor characteristic of many Inuit tales.
The Legend of the Flying Canoe [La Chasse-galerie] by Robert Doucet (1996 | 10 min).  New Year's Eve, late 1800s. A group of loggers in an isolated lumber camp yearn to celebrate with their loved ones, but the river is frozen. If the men want to see their families, their only choice is to make a pact with the Devil to ride in a flying canoe. Original music and animation preserve the spirit of this Quebec legend.
The Owl and the Raven: An Eskimo Legend  (1973 | 6 min).  Using life-like seal fur puppets, this animated short by Co Hoedeman tells the traditional Inuit tale of the owl and the raven. Why did the raven's feathers turn jet-black? And what did the owl have to do with it? 
From Big Bang to Tuesday morning (2000 | 5 min). Propelled by Claude Cloutier's signature drawing style and absurdist humour, this animated short offers an overview of the evolution of life on Earth from rock to human, with some surprising twists in between.
---
2016 FALL
---
September 11: The Musical Brain (NFB, 2009) on the power of music and its effect on the human mind, which draws on the research of neuroscientist Daniel J. Levitin and examines the physical and psychological responses to music through a variety of tests on children and adults.
September 18: Perfect Predators (Science, 2009): The Cretaceous Period spawned walking death machines with a savage combination of speed, eyesight, brainpower, and razor-sharp implements.
September 25 septembre:  Filme documentaire L'odyssée de l'espèce (2003)  raconte l'aventure la plus extraordinaire, la plus improbable et finalement, la plus émouvante : l'histoire de l'homme... Depuis le premier primate qui se lève et marche, il y a quatre millions d'années, jusqu'à l'ère moderne, il y a 10.000 ans...
October 2: Oceans (France, 2011): Shot over four years, reveals inspiring and challenging footage of extinct or endangered marine species around the world.
October 9: People of a Feather (Joe Heath, 2011) sheds light on the survival of a specific Inuit population,  the Sanikiluaq community living around the Belcher Islands in Hudson Bay, who have depended on the eider duck for warmth and food for centuries.
October 16: MUSEUM CLOSED
October 23: Deux frères. Un film dramatique franco-britannique de Jean-Jacques Annaud, sorti en 2004, avec Guy Pearce et Freddie Highmore dans les rôles principaux.  
October 30: Arctic Tale (2011). Un projet des nouveaux médias qui fait le portrait de l'incroyable foisonnement de diversités, de conflits, de tragédies et de triomphes qui surviennent au cours d'une période de 24 heures sur Terre.
November 6: Kingdom of the Seahorse (NOVA, 2003): Seahorses' extraordinary looks and surprising behavior have earned them a mythic stature, one that now puts them in peril. Dive with Amanda Vincent, the world's leading seahorse biologist, in Australia and the Phillipines as she explores the secret lives of these extraordinary fish, and launches innovative efforts to help them thrive once again.