Larsson Lab
Using the fossil record to understand how regional ecosystems change through deep time
As contemporary species and communities succumb to the sixth mass extinction, palaeontology can offer a long-term perspective on the response of past communities to environmental change. Ancient climate and biodiversity patterns have often been drawn from studies of fossil sites covering entire continents over tens of millions of years. However, very few individual fossil assemblages combine a sufficiently complete extinct community with a precisely dated rock sequence to answer these questions at smaller spatial and temporal scales.
Bearing this in mind, I turn my Ph.D. research towards Dinosaur Provincial Park in Alberta. This territory contains an abundance of fossils belonging to fish, plants, turtles, crocodiles and, of course, dinosaurs, all buried near the end of the Cretaceous period. More than a century of exploration has led Dinosaur Provincial Park to become one of the most complete extinct ecosystems known to science.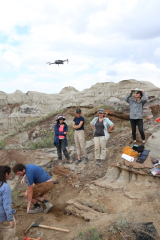 My main goal is to confirm whether significant climate and biodiversity change occurred over the ca. 2 million years covered by the park's sedimentary rocks. To detect any biodiversity trend, I will have to plot as many of the park's known fossils in space and in time. I will also attempt to estimate the region's past climate at various points in time by studying angiosperm leaf floras found in successive sedimentary layers. Many of the fossils studied in this project have been recently collected during annual fieldwork organized by the Larsson Lab, and prepared at the Redpath Museum. My Master's research was more focused on the description of a lesser-known Cretaceous ecosystem that existed at a very specific point in time. Now, my Ph.D. research on Dinosaur Provincial Park might be closer to investigating actual environmental change in a precise ecosystem through deep time.
Watch Alexandre's research video on YouTube.
To know more, visit Alexandre's research website.
Image by Alexandre Demers-Potvin.

My first serious steps into palaeontology came when Hans Larsson invited me to join his annual field crew to the badlands of Alberta and Saskatchewan in summer 2017. That's where I learned the basics of collecting vertebrate fossils and studying them in a museum lab, in this case the Royal Saskatchewan Museum's T. rex Discovery Centre. Straight after, I undertook my Master's degree in the Larsson Lab, in collaboration with the Musée de paléontologie et de l'évolution, also located in Montréal.

That research involved a different fieldwork experience, this time poring over small rocks in an abandoned iron ore mine near Schefferville in the hope of finding plant and insect fossils. That project resulted in a climate estimate for Quebec and Labrador in the middle of the Cretaceous and in the description of new extinct insect species.

Throughout my Master's thesis, I had time to join the field crew every year to collect more and more fossils from Dinosaur Provincial Park. More recently, I'm diving into marine ecosystems as well. Since I travelled to Colombia with Dr. Larsson and colleagues from the lab, I have started contributing to the description of new Cretaceous marine reptile species as part of a collaboration with the Centro de Investigaciones Paleontológicas. I am also reconstructing the skeleton of a very long-necked marine reptile from Saskatchewan as part of a new exhibit for the Redpath Museum.

Throughout all these projects, I have had the pleasure to complement my drawing skills by learning a variety of imaging methods. These range from Reflectance Transformation Imaging (RTI) for flattened specimens such as insect wings, which I learned during a short stay at the CR2P (Muséum national d'histoire naturelle), to laser and visible-light surface scanning for three-dimensional specimens.