There are several main innovative research themes that are currently underway in the AEPMU: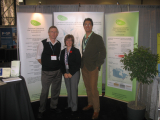 The medical use of cannabinoids: Unique clinical studies looking at the analgesic effect of cannabis in patients with chronic pain  and its long-term safety, and the  use of synthetic cannabinoids in these patients. Dr. Mark Ware has been recognized internationally as a leader  in  this field, bringing peer-reviewed and pharmaceutical  grant support and has enhanced the profile of the MUHC at the federal governmental level in  terms of the regulation of these substances.
High Intensity Focused Ultrasound (HIFU) lumbar facet neurolysis. Dr. Perez is conducting a pilot clinical trial with a novel device to perform a HIFU neurolysis of the lumbar facet joints. 
 Fibromyalgia: Dr. Mary-Ann Fitzcharles has recruited one of the only cohorts of fibromyalgia patients in North America and is following them in a  long- term, prospective study of individually tailored treatment regimens in collaboration with the basic scientists of the Alan Edwards Centre for Research  on  Pain. This project, with 200 patients already enrolled, will provide invaluable information on the natural history of patients with fibromyalgia managed  in a multidisciplinary centre.
Ultrasound guided interventional pain procedures:
Dr. Rod Finlayson leads a very productive research line to demonstrate the feasibility of using ultrasound guidance to per
form nerve 
blocks at the cervical spine and in particular for cervical medial branch blocks. This research line has produced several articles published in peer reviewed journals allowing Dr. Finlayson to become a world-renowed referent specialist in this exciting new field of interventional medicine.
Effectiveness of methadone for chronic pain management
: Dr.Perez is the principal investigator of several research projects focused in assessing 
the effectiveness of methadone in the the treatment of chronic pain. Thanks to its unique pharmacological properties, methadone provides analgesic properties that are uncommonly seen in other narcotic products. Dr.Perez leads the team of researchers aiming to prove that methadone may be a better analgesic option when other simple and better studied drugs have failed to help relieving pain.
Link between fibromyalgia and the patients' microbiome: Dr. Shir and Dr.Fitzcharles are directing a research to link the importance of patients' microbiome and fibromyalgia. Dr. Amir Minerbi, a pain specialist and the 2017-2019 McGill l Pain Clinical Research Fellow is the main responsible of this project.
 Collaboration with family medicine to study narcotic analgesics. 
Dr. Kudrina is an academic family physician and is the principal investigator of several research projects. She is a liaison physician interested in the development of strong collaboration and communication strategies to improve interdisciplinary pain care. Her other research focus is on assessing the use of narcotic analgesics in the treatment of chronic pain in primary care. The endogenous opioid and cannabinoid systems play an important role in the development and function of several human organ systems. Their interaction influences multiple physiological and pathophysiological processes, and could be altered by the exogenous agents like narcotic analgesics. Dr. Kudrina leads and/or collaborates on several projects looking into the prolonged use and clinically relevant pathophysiological effects of narcotic analgesics in primary care based pain management.