Polling @ McGill, formerly "clickers", is a technology platform to ask students questions in class. It can be used to assess students' learning in real-time and encourage active classroom participation. TurningPoint is the specific web-based student response system used for Polling @ McGill. Polling can allow instructors to gather information about students, check for understanding, promote interaction and collaboration with peers, and encourage reflection. Check out this article to learn more about how polling works.
Polling in the Faculty of Science
These Faculty of Science instructors have found polling to be a particularly useful teaching strategy in their large classes.
~170-200 students
Natalya Gomez
Department of Earth and Planetary Sciences
700 students
Laura Pavelka
Department of Chemistry
700 students
Ken Ragan
Department of Physics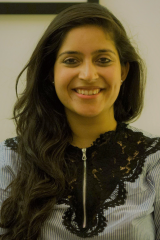 ~950 students
Pallavi Sirjoosingh
Department of Chemistry
600 students
Tamara Western
Department of Biology
---
Here's what they have to say about Polling:
Expert tips
Try motivating students using polling – they often find it enjoyable.
Learn more about your students by asking for background information.
Ease students back into the course content through quick reviews conducted at the beginning of class as students are filtering in.
Take the time to pose challenging questions and to let students discuss among themselves.
Create opportunities for peer-learning through think-pair-share exercises using polling.
If you find that there is significant misunderstanding, you may choose to re-explain the concept and ask the question a second time to student understanding. (This is called "poll/re-poll".)
Choose a format to display responses that will help students compare their views with those of their peers.
Use word clouds to create a visual of students' responses. You may need to experiment with the phrasing of questions to ensure a meaningful graphic can be generated.
Get feedback from students about assignments and quizzes before students receive their final grade.
Facilitate review sessions for students before major summative assessments.
Consider how you might tailor your teaching practices using feedback students give you through polling.
Troubleshooting
Familiarize yourself with the participant view of TurningPoint so that you're best able to help students with questions.
Consider using polling to grade participation, but note that it may require additional work to calculate participation grades this way. However, it may also increase student motivation to attend and participate in class.
When using TurningPoint with PowerPoint, do a trial run to ensure that everything is set-up correctly and working.
Prepare students at the beginning of the semester for the possibility that technical glitches may occur. Have a plan/policy for how you will assist students who have difficulties using polling.