Alice Benjamin
Academic title(s):
Associate Professor, Department of Obstetrics & Gynecology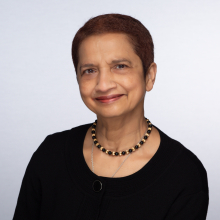 Hospital title:
Maternal-Fetal Medicine Specialist
Division:
Gynecology
Maternal Fetal Medicine
Obstetrics
Areas of interest:
Medical complications in pregnancy
Biography:
Education
BSc, University of Kerala, India
MBBS, Lady Harding medical College, New Delhi, India
FRCS(C), FACS, Residency ObGyn and Fellowship in Maternal-Fetal Medicine, McGill University
Positions
Director, Antenatal Center, RVH (1979-1985, 1996-2005) 
Director: Division of Obstetrics, RVH, (1982-1986, 1996-2007)
Awards
Received Chevalier de l'ordre national du Quebec (January 1993)
Received Distinguished Indo-Canadian award (October 2000)
"Alice Benjamin Award for Excellence in Obstetrics" established by the Alexander family and awarded to McGill University residents yearly
"Molson Award for Educational Excellence" created in honour of Dr. Benjamin and awarded to McGill residents yearly
"Dr. Alice Benjamin Leadership Award" established by Chaya and Lorne Lieberman and awarded to McGill senior residents yearly 
 
---
There are some teachers you never forget. One of our department's best is Dr. Alice Benjamin, a maternal-fetal medicine specialist who has mentored more than four decades of our residents. Many of those fortunate to have been supervised by her remember her as their most influential teacher—a clinician's clinician who exhibits exceptional dedication to her patients.
In recognition of her commitment, a committee of former patients and their families have launched a campaign in Dr. Benjamin's honour via McGill Global Health Programs and the Department of Obstetrics & Gynecology.
If you are attending our Pre-Symposium Dinner in honour of Dr. Benjamin, we invite you to consider making a gift to the Dr. Alice Benjamin Fund.
The Fund will ensure that the Dr. Benjamin educational philosophy—with its emphasis on gratitude, humility and resourcefulness—lives on at McGill, for the benefit of mothers and babies around the world.
As we all know: Childbirth still poses a huge risk to both mother and baby in many places. This Fund will send our residents to underserved communities. Later, it will bring doctors and nurses from low-resource areas to McGill for intensive training on such topics as resuscitation, advanced ultrasound and detection of fetal anomalies and their treatment. Ultimately, it may sponsor a fellowship, seed grants and a chair in women's, maternal and child health.
Please consider making a gift. For more information, please watch the following video: