Event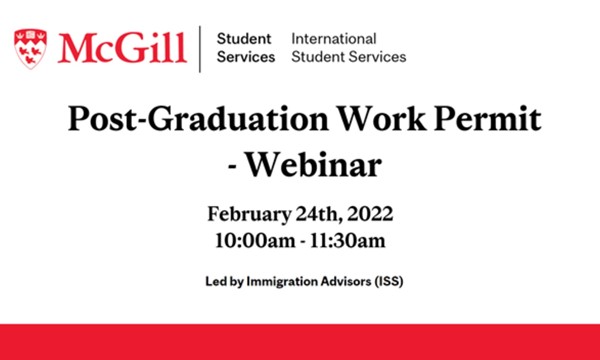 Do you have questions about working full-time after completing your studies at McGill? Are you eligible? What will be the duration of the work permit? Can you study on a work permit? Join this online webinar led by an Immigration Advisor from International Student Services to find the answers to such questions! 
This webinar will take place: Thursday, February 24th, 2022 from 10:00 am - 11:30 am ET* 
*To find out the equivalent time in other time zones, you can use this time zone converter.
An email will be sent to you on the day of the event with the instructions on how to join the webinar and the meeting link. 
Please note: This webinar is for McGill international degree students ONLY.  It is not relevant to Exchange students and Post Doctoral Fellows, and not open to Research Trainees or Continuing Studies students (the latter can consult the McGill School of Continuing Studies).
Online Event Instructions
Zoom