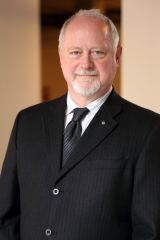 I firmly believe that the Montreal Neurological Institute and Hospital – The Neuro is the place where we can make real advances in neuroscience and our understanding and treatment of neurological diseases. That is why I came here, why others come here and why we have support and close partnerships with leading institutions across Quebec, Canada and internationally.
Diseases of the brain and nervous system are one of the most compelling unmet medical needs of our time. In the next 20 years, neurological conditions will become the leading cause of death and disability, magnifying the burden on patients, their families, our health care system, and society. Finding solutions for managing neurological conditions is one of the highest priorities at The Neuro.
The Neuro's integrated mission brings together the best standard of care with outstanding research – which is key to both unraveling the intricacies of the brain and nervous system and translating these discoveries into new effective therapies and cures. The Neuro's status as a premier neuroscience institute and care facility attracts leading investigators, accomplished clinicians, nurses, health care professional and promising students and trainees from all over the world.
I invite you to be a part of The Neuro's journey of fuelling neuroscience and clinical care for the 21st century. Join us as a student, a researcher, a health professional, a volunteer, a community member, or even as someone with a curiosity or interest in the brain and life.
Guy Rouleau, OQ, MD, PhD, FRCP, FRSC
Director, Montreal Neurological Institute and Hospital
Wilder Penfield Chair in Neuroscience
Chair, Department of Neurology and Neurosurgery