Classical Category
Astrid Nakamura, violin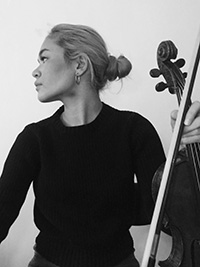 Astrid Nakamura, 20, was born in Toronto and began her violin studies at the age of four.
Having a strong interest in orchestral music, Astrid has served as concertmaster for both the Toronto Symphony Youth Orchestra and the National Youth Orchestra of Canada. She was also a part of the Frenergy tour with the National Youth Orchestra of Canada and the European Union Youth Orchestra in November 2019.
At McGill, Astrid was a part of the Lafontaine Quartet from 2018 to 2020. The quartet won the McGill Chamber Music Competition in 2018. She also took part in the 2020 Musical Chairs Chamber Music Festival.
Outside of academics, Astrid enjoys performing in outreach concerts within the McGill community, and visiting Montreal's many art galleries. She currently studies with Axel Strauss.