October featured a fun mix of old classics, new music, and new music with the spirit of the old classics.
La Peste – Les Barocudas (ATMA Classique)
Released October 9, 2020
Montreal's fierce young period music trio Les Barocudas made its ATMA Classique recording debut with La Peste (The Plague)! Pandemics have a been around for centuries and La Peste explores the timely topic through the lens of 17th century composers Schmelzer, Castello, Fontana, Pandolfi, Rossi, and Farina whose lives and music were affected by The Great Plague. Les Barocudas is made up of Marie Nadeau-Tremblay (BMus '14, LMus '17, MMus '19), Ryan Gallagher (MMus'15, DMus'19), and Nathan Mondry (MMus'16, GrArtDip'17).
---
Music for English Horn Alone – Jacqueline Leclair (New Focus)
Released October 23, 2020
Professor Jacqueline Leclair's Music for English Horn Alone features several recent works, four of which are premieres. The album is a collection of new works for English horn that covers a wide range of stylistic territory and explores the rich, penetrating voice of the instrument. Dr. Leclair brings her virtuosity and interpretative expertise to all the works, a testament to her many years' experience at the forefront of new music performance.
To learn more about how this album came to be, read Dr. Leclair's essay.
---
Lineage – Julia Den Boer (Red Shift)
Released October 30, 2020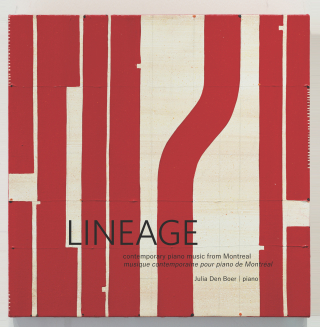 Lineage is an album with several ties to McGill. It presents four contemporary solo works for piano by Professors Chris Paul Harman and Brian Cherney and alumni Matthew Ricketts (BMus '09) and Julia Den Boer (BMus '08), who is also the performer. The album was co-produced by Prof. Peter Schubert and Matthew Ricketts and Denis Martin (MMus'13, PhD'20) served as recording engineer. Read more about these works.
---
Beethoven: Violin Sonatas 1, 2, 3 & 5 – Andrew Wan & Charles Richard Hamelin (Analekta)
Released October 16, 2020
Listen to the newest album by Schulich Assistant Professor Andrew Wan and pianist Charles Richard-Hamelin (BMus'11) to hear some of Beethoven's earliest violin sonatas including Sonata No. 5, one of his most famous chamber works. Their skillful and expressive playing and their musical bond make for a thrilling music listening experience.
---
The Circle – Doxas Brothers (Justin Time)
Released October 23, 2020
Few bonds are deeper than the one forged between two brothers. On The Circle, Canadian Jazz explorers Jim (BMus'12, current faculty) and Chet Doxas (BMus'04, MMus'08) celebrate this bond by delving into the musical worlds that they have been exploring together since they were children. The album represents their upbringing in a musical home, their years spent on the Montreal jazz scene, and their arrival onto jazz stages around the world. Schulich faculty member, Adrian Vedady also joins Chet on saxophone and Jim on drums for this new album.
---
Ginastera/Bernstein/Moussa: Works for Violin and Orchestra – Andrew Wan | OSM | Kent Nagano (Analekta)
Released October 23, 2020
Ginastera - Bernstein - Moussa: Works for violin and orchestra features recordings of Kent Nagano (Hon. Doc. '05), Andrew Wan, and the OSM performing exceptional interpretations of major works. Recorded in concert in 2019, it features Ginastera's Violin Concerto Op.30, a score that requires no less than seven percussionists handling around fifty instruments, the imposing Serenade for solo violin, strings, harp, and percussion by Bernstein, and Moussa's Violin Concerto "Adrano", a composition commissioned by the orchestra.
---
That's all for our October Release Radar! And don't forget – if you're part of the Schulich community and are looking forward to a November or December release, let us know to be featured in next month's Release Radar! Email us at publicity.music [at] mcgill.ca.