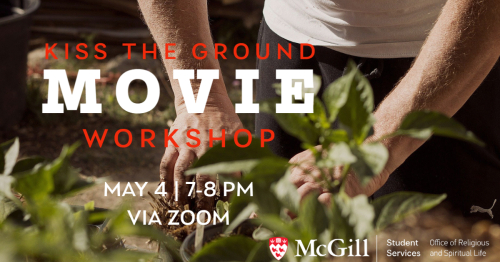 Are you looking at climate change and wondering how you might cope with these changes? Have you ever considered how your food practices can be positively channeled to dealing with climate change? Are you interested in how faith and spirituality serve as a tool for coping with climate change? Join us at MORSL on May 4th, 2021 from 7-8 PM (EDT) on Zoom as we explore these questions and more in our "Kiss the Ground" movie workshop. Building on the highlights and issues from the movie "Kiss the Ground", this workshop explores positive climate actions and the role of faith and various spirituality efforts in supporting positive change. 
Registration is required and can be completed via this webform.
Important note: 
In preparation for this workshop, we recommend that you watch the movie "Kiss the Ground" currently showing before April 26th, 2021 when the streaming will end. To watch this movie, here is how to REGISTER. (When prompted to enter the state, just use the name of any state of your choice in the USA).  
What if it's after April 26th?
-If you have Netflix, you can watch "Kiss the Ground" from your personal account.
-If you do not have Netflix, the free YouTube trailer (https://www.youtube.com/watch?v=K3-V1j-zMZw) provides a sense of the movie's themes. You can also watch a feature-length interview with Finian Makepeace about his involvement with the movie and the science of restorative agriculture.
Interview: https://www.youtube.com/watch?v=HO5qxlWlyVg