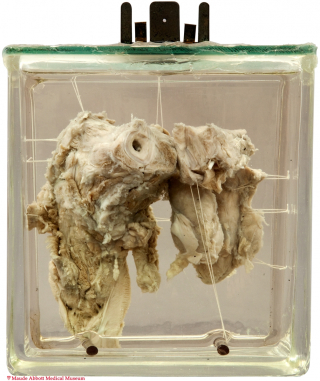 Enlarge      Descriptive Card      Log Book Entry (none)
Rodin Number: 50
E Number: none
Donor: Ross
Date: unknown
Size (H x W cm): 14 x 13
The front of the specimen shows a moderate degree of tracheal stenosis caused by concentric thickening (presumably fibrosis) of its mucosa (arrow). A white rod to the right indicates a tracheotomy fistula from the skin (not present in the specimen) to the trachea, bypassing the stenotic area. The back side (B) shows the white rod in the bronchus (short arrows). A fibrotic epiglotis (long arrows) is evident between the tongue (T) and the larynx (L).
Click on caption to enlarge image
Comment
No clinical or additional pathologic information is evident. However, the descriptive card states that the cause was congenital syphilis. The card also indicates the only donor is Ross; although Olser's relationship with the specimen is uncertain, he presumably performed the autopsy from which it came.