Slater Family Canada-US Policy Series
Examining specific security issues through a Canada-US lens to identify practical ways to respond and strengthen Arctic security.
Monday, June 12, 2023 | 8:45 a.m. - 7:00 pm | Sofitel Montreal
The Max Bell School of Public Policy at McGill University and the Wilson Center in Washington have established a strategic partnership to enrich the study of the Canada-US relationship. Through conferences, expert visits, joint scholarship, and other initiatives, the partnership seeks to deepen understanding of key issues in the relationship. To begin this collaboration, the Max Bell School, in conjunction with the Wilson Center's Polar and Canada Institutes, is organizing a conference titled "Canada, the United States, and Emerging Security Challenges in the Arctic". The conference, which will include both practitioners and academics, will aim at identifying practical ways that Canada and the United States can cooperate in meeting such challenges as climate change and renewed geo-strategic competition in the region.
This conference is the inaugural event of the Slater Family Canada-US Policy Series.
---
AGENDA
Panel 1: The Emerging Threat Environment
What is the current threat environment in the Arctic region, and how can Canada and the United States jointly respond, especially in the realm of geo-strategic competition?
Jennifer Welsh (moderator), Canada 150 Research Chair in the Global Governance and Security at McGill University and Director of the Centre for International Peace and Security Studies.
Co-founder of the Oxford Institute for Ethics, Law & Armed Conflict
Former special advisor to UN Secretary-General Ban Ki-Moon on the responsibility to protect
---
Jonathan Quinn, Director General of Continental Defense Policy at the Department of National Defense, Government of Canada               
Jonathan Quinn is the Director General for Continental Defence Policy at the Department of National Defence (DND). This division, within the Assistant Deputy Minister (Policy) group, is responsible for strategic policy development in the areas of  continental and Arctic defence, NORAD modernization, the military use of cyber, space and other emerging capabilities, and the defence and security implications of climate change.
Jonathan has held a number of positions in the defence and security field since joining the Public Service in 2005. Among other assignments, he served as Chief of Staff to the Deputy Minister of National Defence (2017-2019), Director of Policy Development (2015-2017), and Deputy Director of Cabinet Liaison (2010-2013) at the Department of National Defence; as Counsellor (Defence and Security) at Canada's Permanent Mission to the United Nations in New York (2013-2015); and as an analyst at the Foreign and Defence Policy Secretariat at the Privy Council Office (2008-2010).
---
Iris A. Ferguson, Deputy Assistant Secretary of Defense for Arctic and Global Resilience, U.S Department of Defense                                         
Iris A. Ferguson currently serves as the Deputy Assistant Secretary of Defense for Arctic and Global Resilience. In this role, she serves as the principal advisor to the Secretary of Defense and senior leadership for policy matters pertaining to Arctic Security and Global Resilience to include efforts on climate adaptation, mitigation, and energy resilience. Prior to her current appointment, Ms. Ferguson was a Senior Advisor on Arctic and climate security issues for U.S. Air Force Futures and the Air Force Deputy Chief of Staff for Operations. In those capacities, she authored and implemented the Department of the Air Force's Arctic Strategy including advising on strategic initiatives, operations, and international partnerships related to the region. She was also a Special Assistant to the Assistant Secretary of the Air Force for Installations, Environment, and Energy, focusing on energy security, resilience, and sustainability policies. Ms. Ferguson previously served on the Department of Commerce's International Trade Administration, structuring and implementing the first federal investment promotion program, SelectUSA, and as a national security and foreign policy legislative aide focused on Europe, Latin America, and East Asia on the Senate Foreign Relations Committee. She is a former Council on Foreign Relations Fellow (Canada) and current Term Member. She holds a B.A. from the University of Arkansas and a M.A. in International Economics and Relations from the Johns Hopkins School of Advanced International Studies.
---
Major-General M.C. Wright, MMV, MSM, CD, Commander Canadian Forces Intelligence Command and Chief of Defence Intelligence
Major-General Wright enrolled in the Canadian Armed Forces in 1990 and joined Princess Patricia's Canadian Light Infantry (PPCLI) in 1994. He has served in all three Canadian Mechanized Brigade Groups, deployed on operations to Bosnia, Afghanistan, and the Middle East, and domestically in support of the 2010 Winter Olympics and the 2011 Manitoba floods. He was awarded the Medal of Military Valour and the Meritorious Service Medal as a rifle company commander serving with the First Battalion of the Royal Canadian Regiment Battle Group in Kandahar Province in 2006-07. He commanded 2 CMBG from 2017-2018, and Joint Task Force Impact and Task Force Central in the Middle East from May 2020 to May 2021. He was appointed Commander CFINTCOM and Chief of Defence Intelligence in June 2021.
---
Christian Leuprecht, Professor in Leadership, Department of Political Science and Economics, Royal Military College and Eisenhower Fellow at the NATO Defence College in Rome                       
Dr. Christian Leuprecht is Class of 1965 Distinguished Professor at the Royal Military College of Canada and Editor-in-Chief of the Canadian Military Journal. He also directs the Institute of Intergovernmental Relations in the School of Policy Studies and is an Adjunct Research Professor in the Australian Graduate School of Policing and Security at Charles Sturt University. A former Bicentennial Professor in Canadian Studies at Yale University, Matthew Flinders Fellow at Flinders University of South Australia, Eisenhower Fellow at the NATO Defence College, and Fulbright Research Chair in Canada–US Relations at John Hopkins University's School for Advanced International Studies, he is an elected member of the College of New Scholars of the Royal Society of Canada and recipient of the Cowan Prize for Excellence in Research at the Royal Military College of Canada. He holds Ontario provincial appointments to the Ontario Research Fund Advisory Board and the Kingston Police Services Board. His latest books include Intelligence as Democratic Statecraft (Oxford University Press, 2021), Polar Cousins: Comparison Antarctic and Arctic Geostrategic Futures (University of Calgary Press, 2022), Patterns in Border Security: Regional Comparisons (Routledge, 2023), Dirty Money: Financial Crime in Canada (McGill-Queen's University Press), and Security. Cooperation. Governance. The Canada-United States Open Border Paradox (University of Michigan Press, 2023).
---
Panel 2: Issues of Public Safety 
What are the major transnational threats in the region, and how can Canada and the United States collaborate to strengthen maritime security and disaster response, as well as responsibly develop oil, gas, and critical minerals resources?
Rebecca Pincus (moderator), Director, Polar Institute, Wilson Center           
Dr. Rebecca Pincus is Director of the Polar Institute at the Wilson Center in Washington, DC. Previously, she was on the faculty at the US Naval War College, in the Center for Naval Warfare Studies, where her research focused on Arctic security and geopolitics. She also worked in the Office of the Secretary of Defense for Policy, as Arctic and Climate Strategy Advisor. In 2015, she was a Fulbright Fellow in Iceland, conducting research on Arctic small states and security. She also worked on polar strategy and policy issues for the US Coast Guard, at its Center for Arctic Study and Policy, and served on the faculty at the US Coast Guard Academy. She is currently a contributing author for the 5th National Climate Assessment. She has testified before Congress and the US-China Commission on security and defense in the polar regions, and her research has been published.
---
Benjamin Strong, Chairperson of the Arctic Council Emergency Prevention, Preparedness, and Response Search and Rescue Expert Group
Benjamin Strong is a career civil servant with the United States Coast Guard with more than 25 years of service. Mr. Strong has been a member of the Arctic Council Emergency Prevention, Preparedness and Response (EPPR) Working Group since 2009 and is the current chairperson of the EPPR Search and Rescue Expert Group. Mr. Strong previously served as the US Coast Guard Mass Rescue Program Manager and as an Urban Search and Rescue Program Manager with the United States Federal Emergency Management Agency. Mr. Strong is a licensed Paramedic and holds a bachelor and master's degree in Emergency Health Services Management from the University of Maryland, Baltimore County.
---
Nancy Kinner, Director of the Center for Spills in the Environment at the University of New Hampshire
Prof. Kinner has directed the Coastal Response Research Center (CRRC), a partnership between UNH and the National Oceanic and Atmospheric Administration (NOAA), and the Center for Spills and Environmental Hazards (CSE) since 2004. Her focus is environmental hazards and risks (e.g., oil/chemical spills, natural disaster response) including those that apply to the Arctic. Kinner has facilitated workshops on topics such as the state of science of dispersants and dispersed oil in Arctic waters and oil spill modeling in sea ice infested waters. She believes that a deep exploration into the science behind environmental issues and determining what is truly known and/or uncertain can result in stakeholders realizing they agree as to the path forward for research.
---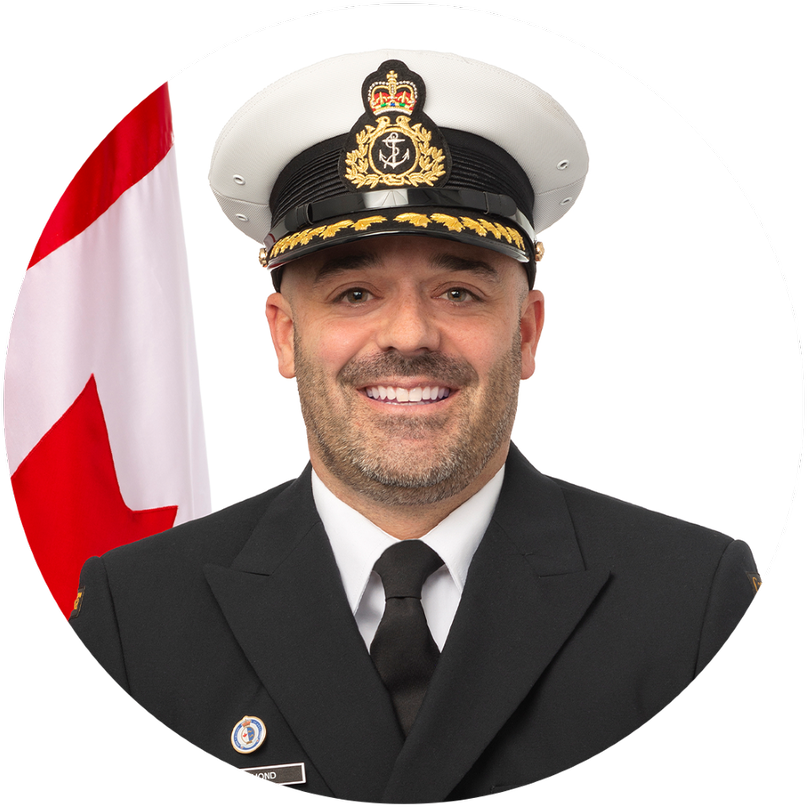 Keven Raymond, Response Director, Central Region, Canadian Coast Guard
After having sailed in the private sector for several years, Keven Raymond joined the Canadian Coast Guard in 2010 within the Marine Communications and Traffic Services (MCTS), working mainly in Les Escoumins and Quebec MCTS, holding various positions such as officer-in-charge and regional program specialist. He joined the Vessels of Concern Program as Superintendent in 2019 and has became the Regional Director of Response in May 2021. Mr. Raymond's extensive experience in dealing with operational issues related to the management of marine search and rescue incidents, environmental response activities, wreck removals and incidents of all types will make an important contribution to the continuity of this regional branch. Keven Raymond has a university degree in Economics and also holds a valid Navigation Officer's Certificate. He is also a graduate of the Canadian Coast Guard College's Marine Communications and Traffic Services.
---
Lunchtime Keynote Speaker 
David Balton, Executive Director of the U.S. Arctic Executive Steering Committee
David Balton is the Executive Director of the U.S. Arctic Executive Steering Committee, created by an Executive Order to advance and coordinate and U.S. policies and activities in the Arctic region. He is responsible for facilitating interagency coordination efforts related to implementing the guidance and strategic priorities developed by the Steering Committee.
He previously served as the Deputy Assistant Secretary for Oceans and Fisheries in the Department of State's Bureau of Oceans, Environment and Science, attaining the rank of Ambassador in 2005. Ambassador Balton was responsible for coordinating the development of U.S. foreign policy concerning oceans and fisheries, and overseeing U.S. participation in international organizations dealing with these issues. His portfolio included managing U.S. foreign policy issues relating to the Arctic and Antarctica.
Ambassador Balton functioned as the lead U.S. negotiator on a wide range of agreements in the field of oceans and fisheries and has chaired numerous international meetings. During the U.S. Chairmanship of the Arctic Council (2015-2017), he served as Chair of the Senior Arctic Officials. His Arctic Council experience also included co-chairing the Arctic Council Task Forces that produced the 2011 Agreement on Cooperation on Aeronautical and Maritime Search and Rescue in the Arctic and the 2013 Agreement on Cooperation on Marine Oil Pollution Preparedness and Response in the Arctic. He separately chaired negotiations that produced the Agreement to Prevent Unregulated High Seas Fisheries in the Central Arctic Ocean.
Ambassador was a Senior Fellow at the Woodrow Wilson Center, and a member of the Wilson Center's Polar Institute, from 2018-2021.
Ambassador Balton received his A.B. from Harvard College in 1981 and his J.D. from Georgetown University Law Center in 1985. He has also appeared as a soloist with the National Symphony Orchestra in Washington, D.C. (juggling oranges).
---
Panel 3: International Cooperation
What other actors have a security role to play in the Arctic, and how can Canada and the United States work with them, including the Nordic Five states, the Arctic Council and NATO?
Roland Paris (moderator), Professor of International Affairs and Director of the Graduate School of Public and International Affairs at the University of Ottawa
Roland Paris is Professor of International Affairs and Director of the Graduate School of Public and International Affairs at the University of Ottawa. He is also a Research Associate of the Royal Institute of International Affairs (Chatham House). He has held several positions in the Canadian government, including Senior Advisor to the Prime Minister, and has won numerous awards for his research, teaching, and public service.
---
Jon Elvedal Frederiksen, Norwegian Ambassador to Canada
Before becoming Norway's ambassador to Canada, Jon Elvedal Fredriksen was a diplomatic advisor to the Prime Minister of Norway. He has previously been Norway's Ambassador to Ukraine and Consul General of Norway in Murmansk, Russia, and has extensive experience with Arctic affairs and security policy. Mr. Fredriksen is a graduate of the University of Tromsø, Norway in Russian studies, world literature and structural linguistics. He conducted additional studies in Stuttgart, Germany and trained as an officer with the Engineer Corps of the Norwegian Army.
---
David Angell, Canada's Ambassador and Permanent Representative to NATO
(BA [Political Science], Yale University, 1986; MA [Political Science], University of Toronto, 1987; MPhil [International Relations], University of Cambridge, 1988) is Ambassador and Permanent Representative of Canada on the North Atlantic Council. He served as Assistant Secretary to the Cabinet, Foreign and Defence Policy, at the Privy Council Office from 2016 to 2019. He has also served as High Commissioner to Kenya (2012 to 2016); as Director General for International Organizations, Human Rights and Democracy (2009 to 2012), for International Organizations (2008 to 2009) and for Africa (2007 to 2008); and as High Commissioner to Nigeria (2004 to 2007). Mr. Angell was the G8 Deputy Personal Representative (2001 to 2004) and Personal Representative (2007 to 2012) for Africa and, as such, a principal organizer of the 2002 and 2010 G8 Summits at Kananaskis and Muskoka. He has served at the United Nations (1996 to 2001), including as Alternate Representative on the UN Security Council (1999 to 2000), before which he was the advisor to General John de Chastelain on the International Body on the decommissioning of arms (1995) and the Multi-Party Negotiations on Northern Ireland (1996). Mr. Angell has also served at the Embassy in Washington, D.C. (1991 to 1993). He is a recipient of the Queen Elizabeth II Diamond Jubilee Medal (2013).
---
Matthew T. Bell Jr., RADM, USCG (ret), Dean of the TSC School of Arctic and Climate  Security Studies
Former Commander, Seventeenth Coast Guard District, Juneau, AK, Rear Admiral (Ret.) Matthew T. Bell Jr. joined the Ted Stevens Center for Arctic Security Studies as Dean On 25 April 2022. He is responsible for the executive education program designed with the end goals of protecting the U.S. homeland, maintaining a favorable balance of power in the region, and promoting a shared approach to regional security and respect for the existing rules-based order. His thirty-six year Coast Guard career includes numerous operational tours in Alaska, including two command afloat assignments in Kodiak and most recently as the Commander, 17th Coast Guard District in Juneau where he was responsible for Coast Guard operations throughout Alaska, the North Pacific Ocean, Bering Sea and Arctic Ocean. Dean Bell is a 1984 graduate from Northern Arizona University, earning a Bachelor of Science in Chemistry. He entered the Coast Guard in 1985 through Recruit Training Center Cape May and received his commission in 1986 upon graduation from Officer Candidate School. He holds a Master of Science in Chemistry awarded by Northern Arizona University in 1993 and is a graduate of Harvard University, National Preparedness Leadership Initiative.
---
Jacob Bay Lindkvist, Deputy Head of Mission, Embassy of Denmark
Jacob Bay Lindkvist has served as a Diplomat in the Ministry of Foreign Affairs of the Kingdom of Denmark since 2012. In the summer of 2022, he took up the position as Minister-Counsellor and Deputy Head of Mission at the Royal Danish Embassy in Canada. From 2018-2022 Jacob worked as Senor Advisor in the Department for Arctic and North American Affairs in the Ministry of Foreign Affairs where he served as Team Lead for the Ministry's Arctic Unit. Within this period, Jacob was temporarily tasked with the job of drafting and coordinating the evaluation the Evaluation Report on Denmark's 2021 Evacuation from Afghanistan. From 2015-2018 Jacob was posted to the Royal Danish Embassy in Chinas as First Secretary. Prior to this Jacob served as Head of Section in various Departments of the Ministry of Foreign Affairs, including the African Department, and the Department for Development Policy and Multicultural Cooperation.
---
Panel 4: Social and Economic Development
What broader economic and social developments need to be pursued in the Arctic region to help safeguard security, and how can Canada and the United States work together in such areas as technology, infrastructure, and energy?
Heather Exner-Pirot (moderator), Director of Energy, Natural Resources, and Environment program at Macdonald-Laurier Institute
Heather Exner-Pirot is a Senior Fellow and Director of the Natural Resources, Energy and Environment program at the Macdonald-Laurier Institute. She is a Global Fellow at the Wilson Center's Polar Institute in Washington DC and the Managing Editor of the Arctic Yearbook. Exner-Pirot is a member of the GlobalArctic Mission Council and the Canadian Defence and Security Network, and a Network Coordinator at the North American and Arctic Defense and Security Network. She sits on the Boards of the Saskatchewan Indigenous Economic Development Network, Canadian Rural Revitalization Foundation and The Arctic Institute. She is also the Research Advisor for the Indigenous Resource Network. Dr. Exner-Pirot obtained a PhD in Political Science from the University of Calgary in 2011.
---
Jennifer Spence, Arctic Initiative Senior Fellow at the Harvard Kennedy School's Belfer Center for Science and International Affairs
Dr. Jennifer Spence is an Arctic Initiative Senior Fellow at the Harvard Kennedy School's Belfer Center for Science and International Affairs with expertise related to sustainable development, international governance, institutional effectiveness, and public policy. Dr. Spence has a particular passion for working with Northerners to understand and respond to the opportunities and challenges facing the Arctic region. Dr. Spence is also an Adjunct Professor with Carleton University's Northern Studies Graduate Program and was the Executive Secretary of the Arctic Council's Sustainable Development Working Group until 2023. Previously, she worked for 18 years with the Government of Canada in senior positions related to resource management, conflict and change management, strategic planning, and leadership development.
---
Madeleine Redfern, President of the Ajungi Consulting Group and Former Mayor of Iqaluit
Madeleine Redfern from Iqaluit, Nunavut is an Indigenous woman involved in high-tech and innovation. She is actively involved in transformative technologies in telecommunications, transportation and energy. Madeleine is the COO of CanArctic Inuit Networks Inc. working to build 5000 km of subsea fibre optic cable into and through Canada's north to serve communities, private sector and defence and support the development of an Arctic digital sector.
---
Edward Alexander, Co-Chair of the US Gwich'in Council International
---
           Lisa Koperqualuk, President of Inuit Circumpolar Council Canada 
---
Closing Session
What priority lessons can be learned from the day's deliberations to help improve Canada-US security collaboration in the Arctic? Conference co-chairs Vincent Rigby and Chris Sands will summarize the day's discussions and identify the top priorities for greater Canada-US security cooperation over the next decade.
Vincent Rigby, Former National Security and Intelligence Advisor to the Prime Minister
Vincent Rigby is the Max Bell School of Public Policy's McConnell Visiting Professor for 2022-2023. He recently retired from Canada's Public Service after 30 years in a variety of departments and agencies across government, including the Privy Council Office, Global Affairs Canada, Public Safety, the Department of National Defence and the former Canadian International Development Agency. His career focused on security and intelligence, foreign policy, defence, and development issues. His last position was as National Security and Intelligence Advisor to the Prime Minister from 2020 to 2021. In addition to his position at the Max Bell School, he is also a senior fellow with the Norman Patterson School of International Affairs at Carleton University, as well as a senior advisor with the Centre for Strategic and International Studies in Washington DC. He holds an MA in history from Carleton University.
---
Christopher Sands, Director of Canada Institute 
Christopher Sands, PhD, Director of the Wilson Center's Canada Institute, is an internationally renowned specialist on Canada and US-Canadian relations. He is also an adjunct professor of Canadian Studies at Johns Hopkins University's Paul H. Nitze School of Advanced International Studies (SAIS). He regularly gives testimony to the U.S. Congress and the Canadian Parliament, is a widely quoted source on Canadian and has published extensively over a career of more than 25 years in Washington think tanks.