November 27, 2018
The Globe and Mail Centre, Toronto, Ontario
The Max Bell School of Public Policy co-hosted a panel discussion with the McGill Alumni Association of Toronto, on the future of credibility for journalists and news organizations in the era of so-called 'fake news'.
---
November 20, 2018
Faculty Club, McGill University
The Max Bell School of Public Policy welcomed Carolyn A. Wilkins, Senior Deputy Governor at the Bank of Canada, for a luncheon at the Faculty Club at McGill University. Ms. Wilkins shed light on the major public policy issues surrounding monetary policy frameworks and how those issues have increased in complexity in the post-crisis world.
---
October 30, 2018
Faculty Club, McGill University
For many observers, the American media's commitment to "balance" contributed to President Trump's victory by normalizing his views and behaviour and fueling the public's belief that "both sides are corrupt". This problem is only amplified when it comes to reporting on far-right nationalist groups, where the mere act of covering them can arguably provide them with undeserved legitimacy.
The Max Bell School of Public Policy welcomed Phil Gohier, Mark Lloyd, and Jennifer Ditchburn for a conversation moderated by Andrew Potter, which explored the demands and responses of responsible journalism in dealing with these challenges.
---
October 2, 2018
Canada House, London, UK
McGill University and the Max Bell School of Public Policy presented a provocative panel discussion about pressing social and economic issues, the inherent challenges facing the community of nations, and the role that universities might play in helping us forge a path through these trying times. The event featured panelists Daniel Costello, Suzanne Fortier and Prof. Stephen Toope, and was moderated by Christopher Ragan. 
---
September 25, 2018
Faculty Club, McGill University
In the wake of the 2016 U.S. Presidential Election, Facebook received significant criticism regarding the potential impact of its platform on election integrity. What has the company been doing since then to better secure its platform from bad actors and prevent abuse? What can be done to stop the spread of misinformation online? Is there a role for government intervention, and what might that look like?
The Max Bell School of Public Policy welcomed Kevin Chan, Facebook Canada's Global Director and Head of Public Policy, for a discussion of how fake news impacts politics and elections, and on Facebook's strategies to fight the spread of misinformation.
---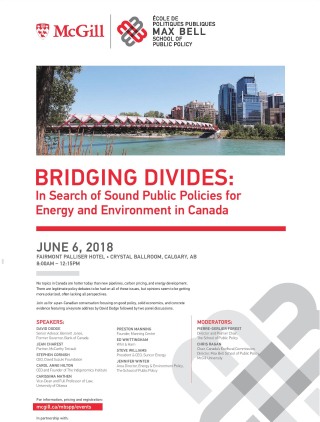 June 6, 2018
Fairmont Palliser Hotel, 133 9th Ave SW, Calgary, AB, T2P 2M3, CA
The Max Bell School of Public Policy, University of Calgary's School of Public Policy, and Canada's Ecofiscal Commission came together for a pan-Canadian conversation focusing on good policy, solid economics, and concrete evidence featuring a keynote address by David Dodge, followed by two panel discussions. The first panel focused on public policies that work for the economy and the environment, and the second addressed good public policies for Canada as a whole.    
---
April 10, 2018
W Marriott Essex House, New York
From domestic taxation to global security, the Trump administration has consistently highlighted that national interests will be paramount in U.S. policy decisions. But what does this really mean for our day-to-day lives? And what does it mean for our neighbors in the global community? What price will we pay for our protectionist tariffs? Will the inflow of immigrants be slowed and environmental protection gutted? Will our long-standing military alliances be weakened? Will this new U.S. doctrine make America and the world safer and more prosperous or… something else?
On April, 10, 2018, the Max Bell School brought together an expert panel in New York, to answer these questions. The panelists included Chris Ragan, Director of the Max Bell School of Public Policy; Dominic Barton, Global Managing Partner of McKinsey & Co, the Max Bell School's Advisory Board Co-Chairman; Laura Dawson, Director of the Canada Institute in Washington D.C.; & Marc-André Blanchard, Permanent Representative of Canada to the United Nations.
---
April 4, 2018
Faculty Club, McGill University
The policies and the politics of the U.S. Presidency reach far beyond America's shores. Given our historical relationship, integrated economies and many shared objectives, it is no surprise that Canadians watch the White House with special interest. On April 4, 2018, the Max Bell School welcomed a panel of experts to discuss the changing tide of the Presidency and how it has impacted policy and politics in the United States and Canada. The panel included journalists Jackie Calmes, Andrew Cohen, Lindsay Duncombe and John Farrell. It was moderated by Pulitzer Prize-winning journalist David Shribman.