11th REGAL Student's Day Awards 
Congratulations to our graduate students who received an award at the 11th REGAL Student's Day (JER2014) organized by REGAL (Aluminum Research Centre regrouping 6 universities and 1 Cegep).  Fifteen (15) winners for a total of $13750.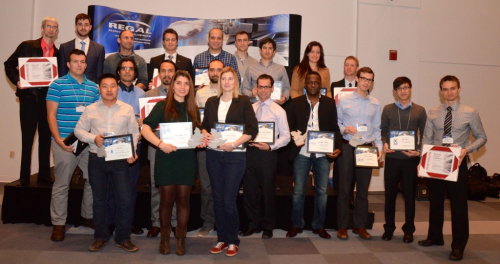 Neslihan Alpay                        Alu Québec Award
Ryan Chou                                 Dynamic Concept Award
James Michael Shockley     Award from Chaire Collégiale en Transformation de l'Aluminium
Congratulations to Philippe Hendrickx who received the RioTinto Alcan scholarship for 2014-2015. He also presented his research work as a selected student from REGAL-McGill.
 Dr Florence Paray
Institutional Coordinator at McGill
Aluminium Research Centre REGAL
---
Congratulations to the recipients of the 2014 Graduate Research Excellence Awards!
Gold Medal - Shirin Kaboli
Silver Medal - Adam Jordens
Bronze Medal - Abu Syed Kabir
Yearly Achievement
Amir Rezaei Farkoosh
Amir Nazari
Clodualdo Aranas
Darryel Boucher
Fernanda Del Castillo
Mohammad Attarian Shandiz
Jeffrey Templeton
Jing Su
Junghwan Kim
Mandana Bornapour
Mathieu Sauvageau
Michael Shockley
Shiva Mohammadijam