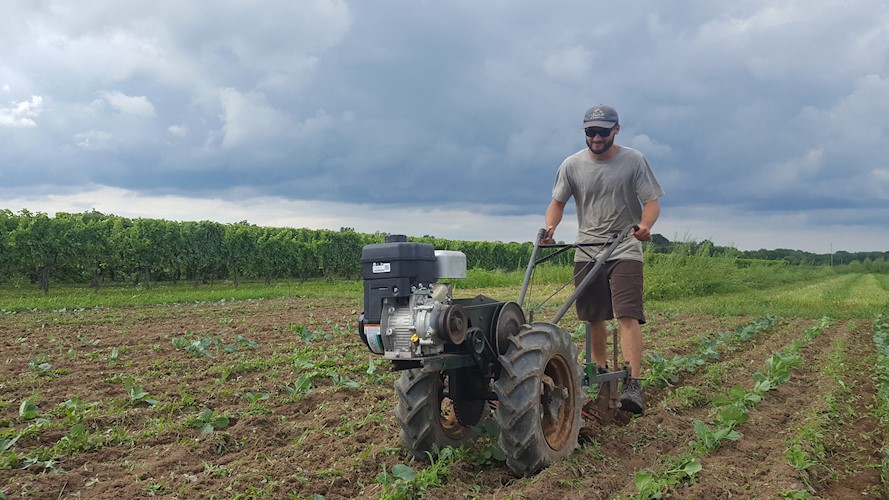 About
 Feeding the world is one of the top challenges the world faces today. Sustainable agricultural production and food systems are essential for producing the food we need. As food production can also damage the environment, food systems must be designed with the protection of water, soil and biodiversity in mind. In this program, you can be part of this growing, interdisciplinary, solutions-oriented field.
This major will teach you about the biology of cultivated plants and animals, and how to grow food while maintaining a healthy environment. Practical experience is key; we have unique facilities where you can practice what you learn. Our on-campus farm includes crop fields, orchards, greenhouses, and dairy, swine and poultry facilities for hands-on experience. Much of what we grow on the farm is used by McGill Food and Dining Services, so as you learn, you are helping to feed your fellow McGill students!
You will also have great opportunities to learn off-campus. Field studies and internships are encouraged, with many students choosing to spend a summer applying what they have learned and gaining new, specialized knowledge and work experience either at home or abroad. Students in this program have spent summers on projects such as interning on a local dairy farm, analyzing insect populations in India, researching the genetic improvement of crops in Quebec City, giving conferences to youth and women in rural Senegal, working in our own student-run ecological gardens, and much more.
If you are interested in being a Professional Agrologist, doing the Professional Agrology specialization, along with one of the others, will qualify you to apply to the Order of Agrologists of Quebec (OAQ).  You may also be eligible for professional certification in other provinces and countries.
For more information, please contact the bsc-advisor.agenvsc [at] mcgill.ca (student advisor).
Specializations
Each specialization consists of 24 credits of courses (required and complementary) that provide a coherent package designed to prepare you for a future career in a given discipline.
Suggested Specializations
Animal Production*: Livestock production and efficiency at the national and international levels; Animal nutrition, reproduction and breeding,maintaining respect for the environment and the welfare of animals
Ecological Agriculture*:  Integrates agricultural production and sustainability; Highlights the relationships among soils, plants, insects, animals and humans
Plant Production*: Biology, physiology, breeding, propagation and management of domestic plants
Professional Agrology:  Agrology focuses on the science and technology required for agricultural production; Students in this major wishing to become members of the Order of Agrologists of Quebec (OAQ) must complete two specializations, this one, plus one of the others listed here *
* Membership in the Order of Agrologists of Quebec (OAQ) is also possible through the Agricultural Economics major or the program in Bioresource Engineering.
Courses
The Agro-Environmental Sciences Major consists of a core of 42 credits plus a 24-credit Specialization.
To view the list of courses:
Careers
Career paths include:
■ Professional Agrologist
■ Livestock management
■ Farm management
■ Sustainable development
■ Soil and water management
■ Pest and disease management
For more career options: mcgill.ca/caps/discipline
Professional Accreditation
Students who wish to qualify for the admission exam of the Ordre des agronomes du Québec (OAQ) will need to do 2 specializations–Professional Agrology and one of Animal Production, Ecological Agriculture, Plant Production, or Soil and Water Resources. In the province of Québec, only members of the OAQ can legally call themselves agrologists and work as such. The practice of agrology is regulated differently in other Canadian provinces and countries.