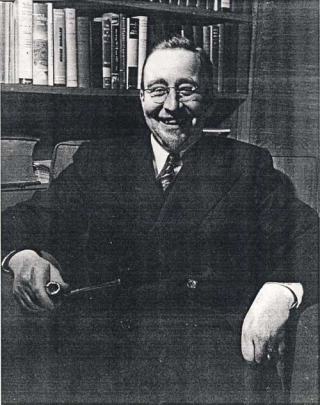 The Mossman Collection on the History of Science and of Ideas is the gift of Drs. Donald and Dorothea Mossman. Avid readers, the Mossmans collected a large personal library with emphasis on the history of science and of ideas. This collection was donated to McGill University in 1974, and it became available to scholars with the opening of the Physical Sciences and Engineering Library in 1982. 
For many years, the Mossmans regularly contributed generous funds towards the development of the Mossman Collection. In 1982, an additional gift from The Friends of McGill University Inc.* established an endowment not only to purchase library materials but also to inaugurate a lecture series on the History of Science and of Ideas given by recognized scholars. To quote the Mossmans, "Though especially oriented toward the History of Science, [this donation] is intended to encourage the inclusion of important events in the History of Ideas in the periods studied....This we firmly believe will augment the cultural values inherent in the general study of the History of Science."
Mossman Lecture
With this endowment, and a later bequest, Dr. Mossman also established two named lectures in the History of Science and Ideas in honour of his two great friends at McGill, D. Lorne Gales and Elizabeth B. McNab.
Elizabeth B. McNab was a graduate of McGill, (B.A. 1941) and had a distinguished career at McGill, becoming the first woman to hold the position of Director of Annual Giving at a Canadian University and, later, the first woman to become head of University Development. Her association with McGill spanned 40 years. Her activities in alumni relations and fundraising took her to New York where she met and became friends with Dr. Donald Mossman who was then a professor at Hunter College. Elizabeth B. McNab passed away December 31, 2006
D. Lorne Gales, (B.A. 1932, B.C.L. 1935, LL.D. 1979), was the founder of the McGill Development Office and a member of the original McGill University Rowing Club, circa 1930.  This lecture, funded through the generosity of the late Dr. Donald D. Mossman (B.Sc.'23, M.A.'24 (Toronto), Ph.D.'33 (Columbia), celebrates the love of learning and the friendship of D. Lorne Gales and Donald D. Mossman. D. Lorne Gales was deeply involved with McGill for over 63 years, from his student athlete days through his role as General Secretary of the Graduates' Society.
Upcoming 
More information on the 2024 lecture coming soon!
Past Lectures
D. Lorne Gales Lectures
Beyond Deep Time: Scale in the Literary Imagination, Benjamin Morgan, Associate Professor, Department of English Language and Literature, University of Chicago (March 2022)
Race to the Future? Reimagining the Default Settings of Technology & Society, Ruha Benjamin, Associate Professor in the Department of African American Studies, Princeton University (October 2020)
Why is Climate Action So Hard?  Professor Philip Kitcher, John Dewey Professor of Philosophy, Columbia University (March 2018)
You Are What You Eat: Historical Changes in Ideas About Food & Identity, Steven Shapin, Franklin L. Ford Professor, History of Science, Harvard University (October 2013)
Sir Hans Sloane: Science and Entrepreneurship in the Seventeenth-Century, Professor Lisa Jardine, Queen Mary, University of London (September 2010)
Environmentalism and the Rethinking of Intellectual, Property, Professor Mario Biagioli, Harvard University (December 2009)
Truth, Objectivity, and the History of the Scientific Self, Professor Dr. Lorraine Daston, Max-Planck-Institut für Wissenschaftsgeschichte (October 2006)
Public Experiments?, Professor Simon Schaffer, Cambridge University (September 2005)
Beatty, Mossman and Cummings Lectures: Ape or Angel? Dr. Eugenie C. Scott, Dr. Paul Ewald, Dr. Steven Mithen (October 1999)
Centenary Lecture: Research in Universities: Purely Applied, Professor Kelvin K. Ogilvie, Acadia University (March 1998)
Image and Logic: A Material Culture of Microphysics, Professor Peter L. Galison, Harvard University (March 1997)
The Hidden Value of Nature, Professor Thomas Eisner, Cornell University (October 1995)
Beethoven, Newton and Sartre: Science and the Humanities, Professor Alan Paige Lightman, MIT (March 1995)
Patronage and the Origins of Modern Science, Professor Richard S. Westfall, Indiana University (March 1994)
Columbus and Copernicus, Professor John L. Heilbron, U of California, Berkeley (April 1992)
Light and Life: Niels Bohr's Legacy to Contemporary Biology, Professor Gunther S. Stent, U of California, Berkeley (February 1989)
In Search of Wholeness in Biology, Professor Richard Levins, Harvard University (February 1988)
Words, Objects, Images in Scientific Thought, Dr. I. Bernard Cohen, Harvard University (January 1986)
Thought The Origins of Terrorism, Professor James H. Billington, Smithsonian Institution (March 1983) 

Elizabeth B. McNab Lectures
The Future Is Now: Solving the Climate Crisis with Today's Technologies, Bob McDonald, science journalist, author, CBC host, (April 24, 2023)
Science & Art in a Sixteenth-Century Workshop: Hands-On History in the Making and Knowing Project, Professor Pamela Smith, Columbia University (March 22, 2021)
Even a Moon Shot Needs a Flight Plan: Genetics and Ethics in the Obama Administration, Alondra Nelson, President, Social Science Research Council & Professor of Sociology, Columbia University (September 2018)
Public Ethnography and the Fabulation of Power, João Biehl, Princeton Universit (October 2015)
Genes, Genomes, and the nature-nurture debate, Professor Evelyn Fox-Keller, MIT (November 2012)
Building, Crashing, Thinking: Ink Blots and Purposeful Circuits, Professor Peter Galison, Harvard University (February 2010)
The Boys Upstairs: Projecting Change in the American Film Industry, 1926-1933, Professor Emily Thompson, Princeton University (October 2008)
Recordings in the Brian: Wilder Penfield and the Sciences of Remembering in the mid-20th Century, Professor Alison Winter, University of Chicago (April 2007)
The open-source campaign in Victorian England, Professor Adrian Johns, University of Chicago (April 2007)
Sciences at the crossroads: The end of the Galilean break?, Professor Isabelle Stengers, Université Libre de Bruxelles (March 2006)
We Have Never Been Human: Companion Species in Nature Cultures, Prof. Donna Haraway, U of California, Santa Cruz (February 2005)
Skywatchers, Shamans & Kings: Astronomy & the Archaeology of Power, Dr. E.C. Krupp, Griffith Observatory (September 1997)
Six Days or One Big Bang? Reverend Stanley Jaki, Seton Hall University (September 1996)
Science in Antiquity: The Greek and Chinese Cases Compared, Professor Geoffrey Lloyd, Cambridge University (September 1995)
The Royal Institution Davy & Faraday: A Tale of Contrasting Geniuses, Sir John Meurig Thomas (December 1994)
The Two Principles of Language, Dr. Steven Pinker, MIT (October 1993)
Leonardo's Vision: Problems of Seeing and Representing in Science and Art, Professor Martin Kemp, University of St. Andrews (November 1992)
What is the Good of History of Science?, Professor Lewis Pyenson, Université de Montréal (February 1989)
On evolution, Professor Elliot Sober, U. Wisconsin (March 1987)
The Montgolfier Brothers and the Invention of Aviation - Appearance and Reality, Professor Charles C. Gillispie, Princeton University (October 1983)
The Newtonian Scientific Revolution and its Significance, Dr. I. Bernard Cohen, Harvard University (November 1982)
---
The Friends of McGill University Inc. is a US corporation incorporated in 1945. It provides grants for charitable, scientific, educational, and literary activities, including providing scholarships to enable students from the US to enter McGill University.