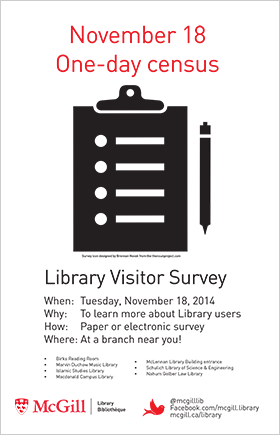 On November 18, 2014, the McGill Library held a one-day survey to learn more about its users. See the announcement on McGill News and Events.
During that day, the Library asked all those entereing library spaces during service hours to tell us:
Their status (e.g., McGill undergrad, member of the public, etc.)
Their faculty, if applicable
Their primary reason for coming to the Library that day
The survey was very short (3 items), and captured a snapshot of McGill Library users, and their use of space, collections and resources coming into the following places:
McLennan Library Building entrance (for users of the Humanities and Social Sciences Library, Rare Books and Special Collections, Archives, and Blackader-Lauterman Library)
Schulich Library of Science & Engineering
Nahum Gelber Law Library
Marvin Duchow Music Library
Birks Reading Room
Islamic Studies Library
Macdonald Campus Library
Thank you to all who participated!
Results of the one-day survey
Number of survey responses compared to daily usage statistics
| | |
| --- | --- |
| Gate count (number of visitors during all opening hours) | 14,931 |
| Survey responses (during service hours) | 6,627 |
| Response rate | 44% |
| Computer logins (to McGill Library workstations) | 2,544 |
| Physical items loaned | 1,800 |
Survey responses by branch
| Branch Library | # responses | % |
| --- | --- | --- |
| Birks Reading Room | 79 | 1% |
| Islamic Studies Library | 193 | 3% |
| Nahum Gelber Law Library | 878 | 13% |
| Macdonald Campus Library | 419 | 6% |
| Humanities and Social Sciences Library | 3734 | 56% |
| Marvin Duchow Music Library | 425 | 6% |
| Schulich Library of Science and Engineering | 898 | 14% |
| Total | 6626 | 100% |
Survey responses by user's faculty (for McGill students and professors)
| Faculty | # responses | % |
| --- | --- | --- |
| Faculty of Agricultural and Environmental Sciences | 472 | 7% |
| Faculty of Arts | 2,279 | 35% |
| School of Continuing Studies | 66 | 1% |
| Faculty of Dentistry | 34 | 1% |
| Faculty of Education | 188 | 3% |
| Faculty of Engineering | 624 | 10% |
| Desautels Faculty of Management | 440 | 7% |
| Faculty of Law | 485 | 8% |
| Faculty of Medicine | 363 | 6% |
| Schulich School of Music | 263 | 4% |
| Faculty of Science | 1,135 | 18% |
| Faculty of Religious Studies | 44 | 1% |
| Faculties of Arts and Science | 33 | 1% |
Respondents' primary reasons for visiting the library today
| Reason for Visiting the Library | # responses | % |
| --- | --- | --- |
| To study or get work done - alone | 4,472 | 67% |
| To study or get work done - in a group | 813 | 12% |
| To get help from a librarian or library staff | 69 | 1% |
| To consult / borrow print material | 481 | 7% |
| To access a computer / the internet | 141 | 2% |
| To use the printer / scanner | 208 | 3% |
| To eat (only available to those entering McLennan Library Building) | 70 | 1% |
| To relax | 66 | 1% |
| My office is in this building (only available to those entering McLennan Library Building) | 13 | 0% |
| Other reason | 251 | 4% |
| Prefer not to answer | 42 | 1% |
Proportion of McGill community visiting the Library by user group
| User Status | # Responses | McGill Population | % of Population Responding |
| --- | --- | --- | --- |
| Undergraduate students | 5,369 | 26,725 | 20% |
| Graduate students | 779 | 9,511 | 8% |
| Professors and course instructors | 64 | 3,108 | 2% |
| Staff | 60 | 3,457 | 2% |
| Postdoctoral students | 19 | 669 | 3% |
| Medical and dental residents | 39 | 1,389 | 3% |
| Overall | 6,330 | 44,859 | 14% |
Proportion of McGill students visiting the Library by faculty affiliation
| Students' Faculty Affiliation | # Responses | McGill Population | % of Population Responding |
| --- | --- | --- | --- |
| Faculty of Agricultural and Environmental Sciences | 472 | 1,937 | 24% |
| Faculty of Arts | 2,279 | 8,430 | 27% |
| School of Continuing Studies | 66 | 4,642 | 12% |
| Faculty of Dentistry | 34 | 245 | 14% |
| Faculty of Education | 188 | 2,951 | 6% |
| Faculty of Engineering | 624 | 4,507 | 14% |
| Desautels Faculty of Management | 440 | 2,975 | 15% |
| Faculty of Law | 485 | 880 | 55% |
| Faculty of Medicine | 363 | 5,477 | 7% |
| Schulich School of Music | 263 | 857 | 31% |
| Faculty of Science | 1,135 | 5,721 | 20% |
| Faculty of Religious Studies | 44 | 108 | 41% |
| Faculties of Arts and Science | 33 | 620 | 5% |