The Student Ambassador Program connects admitted and prospective candidates with current McGill Law students. Student ambassadors are keen to share their perspectives with you. They can answer your questions, show you around the Faculty, and tell you more about the advantages of studying law at McGill. To contact a Student Ambassador, undergradadmissions [dot] law [at] mcgill [dot] ca (send them an email).
Nous avons aussi des ambassadeurs francophones: cliquez sur le lien Français en haut à droite pour les rencontrer.
Meet six of our student ambassadors through a series of short videos.
---
Robin
I studied at Marianopolis College (Cegep), where I graduated with diplomas in pure & applied science (honours), and in law & social justice ("with distinction") I was then directly admitted to McGill's Faculty of Law. I'm currently completing a commercial negotiation and dispute resolution major, and I have published several scholarly articles. I plan on continuing my education in graduate studies in law.
I strongly believe that students should do more than just study. Personally, I am involved in McGill's student government by having been (and currently sitting) on McGill's Judicial Board since 2014.
Growing up in Montreal I have had the exceptional opportunity to learn both English and French, in addition to the Romanian I speak with my maternal grandparents and the Spanish I learned in school. I have extensively studied history and classical philosophy and greatly enjoy talking about both. Last, and certainly not least, when weather (Montreal's famous winters come to mind!) and workload permit, I greatly enjoy playing golf and tennis, which I have been practicing for 17 years now, rowing, and cycling.
---
Brooke
I was born in Hong Kong and grew up in Vancouver, where I graduated with French Immersion and completed a Bachelors of Arts, Honours, in International Studies. One summer during my undergrad, I studied at Oxford University.
I love the West Coast and am always finding ways to return to Asia. This past summer, I returned to Hong Kong for legal internships. In previous summers, I've worked with a charity preventing child malnutrition, which has allowed me to travel to North Korea several times on confirmation visits. As a 2L, I participated on the Hot Cities of the World Tour to Qatar, Hong Kong and Indonesia with the Desautels Faculty of Management.
I enjoy traveling, CrossFit, and finding cafes in Montreal brewing beans roasted in Vancouver.
---
Soo-Jin
I grew up in Toronto, but I was born in Seoul and have lived in Grand Rapids, Michigan as a child. I have a B.A. in English Literature with a minor in French at Calvin College, Michigan.
I like to go camping and travel in the backpacking way. One of the most rewarding experiences I've had was working with high school students as an English language assistant in France. They can be the toughest audience, but they make you tougher!
I'm now in my first year at McGill's Faculty of Law. I'd love to meet and chat about both light and serious things.
---
Jeansil
A Montreal native, I have had the privilege of being raised in the multicultural mosaic that is our city. I identify myself as a privileged cisgender gay male of colour living heteronormative society. I am a fervent advocate for the respect of human rights, notably for vulnerable and marginalized populations, and I am one of the founding members of the Montreal's first legal clinic for Trans* folk. I have focused much of my personal and professional development around LGBTQ populations, trans* liberation, people who live with HIV and/or AIDS and people who use drugs and engage in sex work
I have a preference for interdisciplinary studies. In college, I was enrolled in a trilingual DEC at the Collège International des Marcellines. There, I was given the opportunity to experience an Étudiants Sans Frontières program in San Cristobal de las Casas in Chiapas Mexico, where I also worked with Habitat for Humanity Mexico. In undergrad, I obtained a baccalaureate degree in Arts (Major in Communication Studies with Minors in Religion and in Globalization).
I'm currently in my third year at the Faculty. I did a Human Rights Internship at the Canadian HIV/AIDS Legal Network this summer. I am currently completing an internship at the Coalition des organismes communautaires québécois de lutte contre le SIDA under the Legal Clinic Course program, where I'm also a coordinator.
---
André
I am from Penetanguishene, Ontario and I've completed an Honours degree in Speech Communication and Business from the University of Waterloo. Throughout my degree, I had the pleasure of studying and working in Alberta, Prince Edward Island, France, and Israel.
While in my undergrad, I was actively involved in the Aboriginal Student's association, the Speech Communication Society, and intramural dodgeball.
For the last two years, I had been working for the University of Waterloo as their Aboriginal Liaison Officer. I had the chance to promote the University of Waterloo to Indigenous students all over Ontario and Quebec.
Some of my hobbies include skiing, hiking, birdwatching, cooking, coffee dates, and listening to music.
---
Julie
Born and raised in Montreal, I'm a part-time student in my second year at the Faculty. I did my DEC in Modern Languages at Dawson College, then completed a B.A. in Psychology at Concordia University. Before coming to the Faculty of Law, I also pursued graduate studies in Business Administration at Concordia's John Molson School of Business.
My interests include constitutional and criminal law, but my true passion is advocacy; some of my prior volunteer work included being on the Board of Directors for both provincial and national organizations focused on the needs of postsecondary students with disabilities. My favorite escape from the stress of law studies is music and, especially, singing in a local community-based choir.
Please don't hesitate to contact me if you have any questions, especially any queries you may have about studying at the Faculty with a disability, or on a part-time basis.
---
Naiara
Originally from Buenos Aires, Argentina, I have lived in Montreal since the age of nine, and am happy to call this great city my home. I completed an Honours Bachelor of Arts in Ethics, Society and Law, with minors in Math and Anthropology from the University of Toronto. I also participated in a summer abroad at the Hebrew University of Jerusalem, where I took a course in International Law.
In my first year at McGill Law, I was involved with L.E.X. McGill, the Student Well-Being Committee, and the Legal Information Clinic at McGill.
Outside of school, I enjoy travelling, baking, reading, and all kinds of sports, including gymnastics, swimming, yoga, and snowboarding.
I love chatting with students, and would be happy to answer any questions regarding Law School, McGill, Montreal, or anything else that may come up!
---
Tom
I completed a BSc in Psychology at Dalhousie University.  After completing my undergrad, I worked for two years in neuroimaging research at the Douglas Hospital/McGill, and then travelled through South-East Asia before enrolling in Law at McGill.
Aside from Law, I love talking about science and technology, theory of knowledge, ethics, and the Montreal Canadiens.
If you're stressed out about what your future may hold, let's grab a coffee and I'll bring you back down to earth: I'd be glad to answer any of your questions about our great program!
---
Rachelle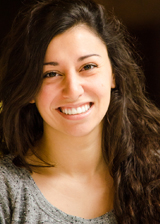 I grew up in Grand Bay-Westfield, New Brunswick and I am an east-coaster through and through! I was a varsity athlete in my undergrad, playing midfield on the SMU field hockey team and have been playing hockey since I was six.
I hold a Bachelor of Commerce with concentrations in Economics, Global Business and Finance from Saint Mary's University in Halifax. I also did a semester abroad through the University of Virginia called "Semester at Sea" where we travelled to 13 different countries by boat and I spent a semester working at Vimy Ridge, a Canadian National Historic Site in France.
I'm now in my second year at McGill Law, and I am involved in many different activities around the Faculty. I'm starting this year at the Legal Information Clinic and Student Advocacy! If you have any questions at all about the transition to law life, or the faculty in general, do not hesitate to ask!
---
Jeanelle
Jeanelle is originally from Ottawa, Ontario. She did her B.A. (Honours) in Political Studies with a minor in Economics at Queen's University, where she was President and Research Director of the Queen's University Policy Association. Jeanelle has also spent time working on Parliament Hill, both as a Jaimie Anderson Parliamentary Intern and as a Policy Advisor in the Office of the Liberal House Leader.
Jeanelle is in her third year at the Faculty, where she is a Managing Editor for the McGill Journal of Law and Health and a member of the Educational Equity Advisory Group. She also works as a research assistant, is a member of the McGill Business Law Association and has volunteered with the Legal Information Clinic. She hopes to go on exchange for her final semester at McGill, after which she will be articling at Blake, Cassels and Graydon LLP.
Jeanelle is also an avid musician; she has obtained both her Grade 10 voice and piano examinations under the Royal Conservatory of Music, in addition to completing a vocal jazz residency at Stanford University. She looks forward to answering any questions (en français ou en anglais!) that you might have about the program.
---
Matthew
Matthew is a third-year student at the Faculty of Law and is concurrently pursuing studies in Art History as part of a minor.  he graduated from McGill University with a Bachelor of Arts in History with First Class Honours and was the valedictorian for the Faculty of Arts.
Matthew's academic interests lie in contemporary Canadian art and the intersection of intellectual property law and the creative industries. He is a convenor for this year's Student-Initiated Seminar on fashion law, the first of its kind to be offered at a Canadian law faculty. He will participate in the 7th Annual Harold G Fox Intellectual Property Moot as a member of McGill's team. He is also a Tutorial Leader for the first-year Legal Methodology course.
Outside his studies, Matthew serves as a caseworker at the Legal Information Clinic at McGill, the McGill Students' Legal Startup Clinic and the Clinique juridique des artistes de Montréal, providing legal information to community members. In his spare time, he enjoys attending vernissages, watching the latest film by a Québécois director and writing the occasional style article for the Quid Novi. Matthew spent the past summer interning at law firms in Singapore and Hong Kong and is keen on improving his Cantonese in order to facilitate an eventual return to Asia.
---
Jillian
I am originally from Montreal, but I moved to Ontario for three years to pursue my undergraduate degree.
In 2012, I graduated with a DEC in Honour Social Sciences from John Abbott College. This past June, I graduated from the University of Ottawa with a Bachelor's degree in Philosophy with a concentration in Ethics & Society and a minor in Religious Studies.
Two of my greatest passions are music and travel. I have performed in several musical plays, benefit events, and wrote and recorded an album. This past summer, I spent two months visiting 9 different countries before beginning law school.
---
Dana
Dana was born and raised on Bell Island, Newfoundland. Prior to her legal studies, she worked with several non-profit francophone associations in St. John's.
Dana holds a Bachelor of Arts (Honours) in French from Memorial University, where her research focused on a sociolinguistic study of the French language in Saint-Pierre-et-Miquelon.
Dana has spent time abroad, including a year in Saint-Pierre working as an English Language Assistant and a year in Nice studying at the Université de Nice-Sophia Antipolis.
Currently in her third year of the BCL/LLB program, Dana volunteers with the Legal Information Clinic at McGill and enjoys hiking, playing guitar and travelling in her spare time.
---
Liam
Originally from Guelph, Ontario, I've been lucky enough to call Montreal home for the past five years.
Before coming to law school I completed a Bachelor of Science degree in biology also at McGill University, with a minor in political science. Highlights of my science degree included traveling to Barbados for a tropical ecology field course and to Labrador as a research assistant.
Now in my second year of law school, my academic interests include intellectual property law, environmental law and the interaction between law and science.
Outside of school I'm involved in research with the Centre for Intellectual Property Policy and volunteer work for Evidence for Democracy. I also enjoy playing tennis, being outdoors and exploring the city. I'm happy to answer any questions prospective students may have!
---
Basia
I'm currently in my first year at McGill Law. Coming from a music background, it was important to me to utilize music as a means for social development and I volunteered in many organizations. I worked in organizing benefit concerts, raising over $12,000 for a rotating education fund, medical care and self-reliant agriculture for two Cambodian orphanages.
Furthermore, I worked to send groups of university music students to perform at both campuses of the Ottawa Hospital. I also served as a legal assistant in copyright/patent firms during my summers.
---
Neva
Originally from Pickering, Ontario, I've lived in the beautiful city of Montreal for two years now, and am excited to be in my first year of McGill's BCL/LLB program.
Having grown up with a love of music, I hold a Bachelor's degree in Music in Voice Performance from Wilfrid Laurier University and a Master's of Music in Voice and Opera performance from McGill University, and have had the joy of singing on a variety of stages. Hoping to combine my experience as an artist with a legal education, my legal interests are intellectual property law, contract law, labour law and alternative dispute resolution, although I'm eager to learn about other areas that could pique my interest! During my time here in McGill's Law Faculty, I've become involved in a variety of clubs, and have taken on a placement with Pro Bono Students Canada.
Outside of school, you'll usually find me at the gym (I lift!), exploring Montreal, learning languages (current challenge: Spanish!) and of course, singing! I believe in keeping an active and balanced lifestyle, and I'd love to talk to you about McGill Law, or life outside of it!
---
Alexander
Born and (mostly) raised in the beautiful city of Montreal, Alexander completed an Honours Political Science degree at Concordia University prior to beginning his legal studies.
He tells us he is a big supporter of both Arsenal and the Brazilian national soccer teams.
Currently in his second year of the BCL/LLB program, Alexander has been involved with the Legal Information Clinic at McGill as well as the Black Law Students' Association of McGill and the MccGill Entertainment and Sports Law Students' Association.
Fluent in English, French and Creole, Alexander will gladly answer any questions prospective law students may have, so please do not hesitate to give him a shout.
---
Hannah
I hold a Bachelor's degree from McGill University in Political Science with a minor in Economics and another in Women's Studies. At the law faculty my favorite courses were those with a focus on human rights, democratic theory, public administration, employment law and migrants' rights.
I'm a Montreal native and proudly consider myself part of the greater McGill community. I hold a strong commitment to social justice and try to stay involved in local volunteer work that reflects my values.

I am a social and outgoing person, and I enjoy meeting new people and making new connections, so don't hesitate to contact me if you have questions about the BCL/LLB program.
---
Emily
I am a native Montrealer and I love to take advantage of everything that this city has to offer - exploring its many neighbourhoods, trying out cafes and restaurants, going to museums, shows and concerts.
I'm currently in my third year. My legal interests are primarily in the area of law and technology, intellectual property, business law, and media,  communications and entertainment, though I'm also very interested in Canadian politics and the future of the law and legal careers in Canada. I did my undergraduate degree at McGill University with an honours major in political science and a minor in communications studies. During my undergrad, I studied abroad at the University of Leeds in the United Kingdom.
At the Faculty, I am currently a caseworker at the McGill Students' Legal Startup Clinic and a junior editor for the Yearbook of International Investment Law and Policy. I have also been a part of Actus Reus, the Faculty of Law's theatre troupe and the High School Outreach Program, as well as a member of various clubs.
---
Adam
I was born and raised in Waterloo, Ontario, but I have had a few other homes over the years including Napier, New Zealand and Nice, France. I hold an Honors Bachelor of Arts from the University of Western Ontario.
Since coming to McGill, I have been involved at the Law Faculty as a volunteer for the Legal Information Clinic at McGill, the McGill Law Squash Club and as a Student Ambassador. During the past two summers, I have worked at law firms in Ontario, where I will also be returning to complete my articling.
In my spare time, I'm an avid runner and I play squash, tennis and golf. I also love to ski and hike when I can get outside of the city. Beyond that, I am passionate about current affairs, finding the latest great music and television and hanging out with friends."
---
Sarah
I completed my Honours B.A. in Political Science and Ethics, Society, and Law from Trinity College at the University of Toronto. As an undergrad, I was heavily involved both on- and off-campus, with organizations such as Amnesty International, the World University Service of Canada, and Best Buddies. One highlight of my final year was conducting research on refugee policy reforms at the Canadian Centre for Victims of Torture.
Originally from Montreal, I lived in Toronto for over a decade before returning to my hometown for law school. Summers have mostly been spent abroad, more recently studying and working abroad in the Czech Republic, France, and South Korea. Other hobbies include (attempting) rock climbing and yoga, baking, and discovering new cafes and restaurants.
---
Stacey
I am originally from Elora, Ontario and I completed a Hon. B. Soc. Sc. at the University of Ottawa in Political Science and History. I also spent a year on exchange at Sciences Po Paris. I came directly to McGill Law following my undergraduate studies.
I am currently in my third year at McGill Law. At the Faculty, I am English Executive Editor of the McGill Law Journal, a Research Assistant at the Centre for Intellectual Property Policy, and a Group Assistant for a first year course.
In my spare time, I love playing the piano, being outdoors, and playing ice hockey.
---
Sunny
Born in Taipei and raised in Edmonton, I grew up juggling Mandarin and English, with French and German being added to the mix later on.
l graduated from the University of Alberta with a  Bachelor of Commerce (Accounting). It was during this program that I finally had the chance to see a bit of Europe, completing an exchange in Vienna with sporadic trips to France, Hungary, Croatia, Poland, and Slovenia.
Currently, I'm the Managing Editor for the McGill Journal of Dispute Resolution. Outside of school, my hobbies include bouldering and cooking.
Moving to Montreal has been an excellent experience, so please let me know if you have any questions about changing cities or even what it's like to study law after studying business.
---
Stephanie
I was born in Montreal and raised in suburban Ottawa. I developed an interest in Canadian politics during my undergrad that led me to work on Parliament Hill as a page, tour guide, and staffer.
I worked for a British Member of Parliament for a semester where I spent most of my time assuring people that I wasn't American. I have a Bachelor of Arts (Honours) with a major in Political Science from Carleton University and I participated in an exchange program with the University of Leeds. In my spare time, I pretend to be good at tennis and sample the cheesecake that this city has to offer.
At McGill, I have been a Pro Bono volunteer and I played soccer with the Chancellor Day team. Feel free to get in touch if you have any questions!
---
Melissa
A 2nd year student in the B.C.L./LL.B program, I am originally from the small town of Metcalfe, Ontario. As a student, I spent several summers working with youth with disabilities at Easter Seals Camp Merrywood. I studied at the University of Ottawa, where I completed a Bachelor of Social Science in political science. I also completed a Bachelor of Education at Queen's University. Prior to coming to McGill, I worked at Parliament in a number of roles. Most recently I worked on international research collaboration and higher education policy as an analyst at Universities Canada.
Outside of school, am an avid gardener and baker. I'm a leader with Girl Guides of Canada and I enjoy volunteering with Best Buddies International's e-Buddy program.
At the Faculty, I am a member of the Law Peer to Peer Support Program, a volunteer with Law-Education-Connexion and the co-coordinator of the disability and the law portfolio of the Human Rights Working Group.