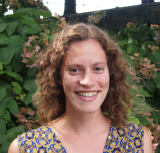 Assistant Professor, BA (Brown), MPhil (Cambridge), MA, PhD (Princeton)
anna.berman [at] mcgill.ca (e-mail)
Professor Berman's primary area of research is the family in the nineteenth-century novel, with a focus on Tolstoy and Dostoevsky. She is interested in literary depictions of siblinghood, kinship, and forms of love that provide an alternative to the standard romantic love/marriage plot. Berman also studies Russian opera, with a particular interest in adaptations of literary texts. Her teaching focuses on nineteenth-century Russian literature and opera.