Congratulations to our Master's students for being awarded the prestigious Canada Graduate Scholarship this year! Collectively administered by CIHR, NSERC, and SSHRC, the CGS-M program recognizes students who display high achievement in their studies. Below are several of our students who received the CGS-M for 2020-21: 
Nina Caporicci-Dinucci
(Dr. Jo Anne Stratton)
"Characterizing the role of ependymal cells in MS pathology and neuroinflammation"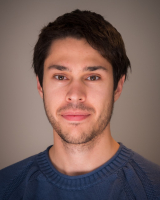 Jean-Pierre R. Falet
(Drs. D. Arnold and T. Arbel)
"Development of a deep learning algorithm to predict disability progression in progressive multiple sclerosis using baseline clinical information and magnetic resonance imaging of the brain"
Siavash Kermani Koosheh
(Dr. E. Kobayashi)
"Imaging of the metabotropic glutamate receptor (mGluR5) abnormalities in patients with mesial or neocortical temporal lobe epilepsy"
Eric Mokri
(Dr. J. Mendola)
"MEG studies of Perceptual Competition"
Suijian Zhou
(Dr. M. Prager-Khoutorsky)
"Circumventricular Organs: a Potential Adult Neural Stem Cell Niche"
Justine Ziolkowski
(Dr. M. Chakravarty)
"Multimodal integration of cortical morphometry markers in Autism Spectrum Disorder"