Event
Queerness and Faith: Young Adult Panel
Wednesday,
October
19,
2022
18:00
to
20:00
Morrice Hall
3485 rue McTavish, Montreal, QC, H3A 0E1, CA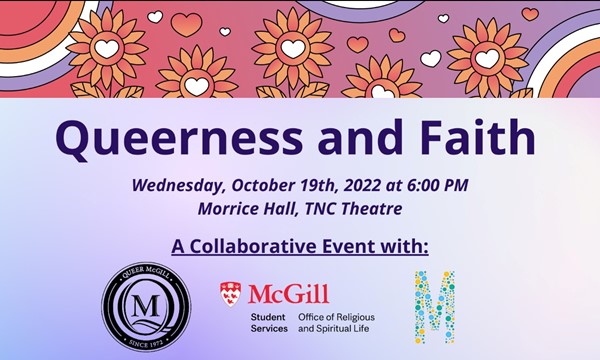 ****HAVING TROUBLE REGISTERING? PLEASE EMAIL MORSL AT MORSL [at] MCGILL.CA DIRECTLY TO LET US KNOW YOU ARE COMING****
Join us for a conversation with Queer panelists from diverse faith backgrounds as we listen to their stories about navigating queerness and faith as young adults.
A collaboration with Queer McGill (QM) and the McGill Office of Religious and Spiritual Life (MORSL).
Please note that at this indoor event, we strongly encourage wearing a mask to prevent the spread of COVID and seasonal viruses. Please note that phones will not be allowed at this event due to the sensitive subject matter. To attend, you must register on this site. This event is open to the greater community in addition to students.