Meet the Team
Pauline L'Ecuyer
Director
As the Director of International Student Services and The MasterCard Foundation Scholars Program, Pauline ensures that McGill policies and procedures support the needs of international students.
She has been instrumental in the life cycles of McGill students for over 25 years, working in several units including student recruitment, international student development, and donor relations.
In addition to her passions for student success, Pauline enjoys learning about the cultural milieus of McGill's international student body.
Anastasia Koutouzov
Associate Director
Ana oversees Immigration and International Health Insurance portfolios. She also provides advice on temporary resident documents. 

Ana began working at McGill in 2005 and completed a Bachelor of Commerce at McGill University.

She loves learning and growing as a person. She loves her job because she gets to work every day with a unique, dynamic and most knowledgeable team that inspires her to be a better individual. And she also enjoys meeting with the most diverse international student population from over 150 countries.

Ana hopes to empower students with essential tools and key information which will contribute to their academic success and well-being. Ana deeply cares about health and well-being of every individual. She lives by the following saying: "if we cannot be clever, we can always be kind", by Alfres Fripp.

Immigration Advisors
Nicole Duong
Immigration Advisor

Since joining ISS in 2017, Nicole has been assisting McGill's international students navigate Canada's immigration system. A typical day involves advising students during drop-in hours, communicating with incoming students from around the world, and brainstorming creative solutions with her dedicated colleagues.
Nicole is also committed to collaborating with colleagues in advocating for internal and external policy changes that will benefit students, staff, and their family members.
Before joining ISS, Nicole taught middle-school in Philadelphia, did literacy development work in Kingston, Jamaica, and articled and worked as a staff lawyer with Legal Aid Ontario.
Melissa Paulmier
Immigration Advisor
Since 2015, Melissa strives to empower and provide solutions to students through her position as Immigration Advisor. 
Melissa's passions for human and animal rights and environmental justice reflect throughout her career.
She holds a bachelor's degree in Law from Université de Montréal, as well as a Bachelor of Science from McGill University.
Mastercard Foundation Scholars Program Team
Stephanie Babb
Advisor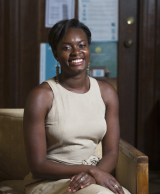 Stephanie is from Trinidad and Tobago, but has also lived in England, Egypt and currently Canada.
During her time as an undergraduate student at McGill she was a part of the International Student Leadership Program run by ISS. Upon graduation in 2016, with a Bachelor of Science in Environmental Science and a minor in International Development Studies, Stephanie joined the International Student Services team as a Communications and Student Development Intern.
Following her intern position, Stephanie took on a new role with the Mastercard Foundation Scholars Program as an International Student Associate, advising and preparing incoming MCF scholars as well as providing support to existing scholars. 
Eliana Charlebois Gomez
Advisor

Born in Colombia, from a Canadian father and a Colombian mother and raised in seven different countries, Eliana enjoys the beauty that comes with diversity and as a result, can rapidly adapt to any new situation or challenge.

Eliana has a Bachelor of Arts Degree in Political Science from McGill, has worked in Medellin, Colombia, and completed an Education and Pedagogy Certificate. She has been extensively involved in community development working on projects in 15 Colombian cities coordinating events, organizing electoral debates, and facilitating clean election workshops.

Now, as a Mastercard Scholars Program Advisor, she gets to learn from and work with inspiring people every day.
Tina Gjertsen
Advisor

Tina is originally from Montreal, and has been a member of the McGill community since 2009.
After several years as a program administrator and student advisor with McGill's MBA program, Tina joined International Student Services in March 2018. Tina provides ongoing advising to MasterCard Foundation scholars throughout their studies and helps to support and develop the program's initiatives.
Tina holds a B.A. in Education, and has been involved with charitable projects overseas in Asia, the Pacific and Africa. Her role with the MasterCard Foundation Scholars Program brings together her passions for education and international development.
Carolina Romero Martinez
Administrative Coordinator
Proudly born in Bogota, Colombia, Carolina endeavors to follow one of her greatest passions: helping students find solutions to their needs. This passion has brought her to the ISS as the administrative coordinator of the MasterCard Foundation Scholars Program.
After 6 years of work on Internationalization of Higher Education in Colombia, Carolina moved to Montreal in 2016 and joined a tutoring center in Montreal as part of the administrative staff. In February 2018, she joined MasterCard Foundation Scholars Program's team to manage administrative issues and provide internal support to the program.
Carolina hold a Degree in Business Administration and International Affairs from Autonoma University in Bogota, Colombia (2007). In 2012, she completed successfully her Diploma in Management and Strategic Management of Financial Planning for professionals working in the field of Internationalization in Higher Education from Carl Von Ossietzky University in Oldenburg, Germany.
Communications Team
Emily Love
Manager, International Student Development and Communications (Leave Replacement)

After a decade of work serving international students in the United States, Emily has returned to McGill where she completed her undergraduate and graduate degrees.
In her role at ISS, Emily will organize events such as International Student Orientation and the International Buddy Program. She will also lead the team's outreach and communications to students through social media, a monthly newsletter, the website and email.
Emily tends to travel to places that begin with the letter P. For instance, she has travelled to Panama, Peru, Paris, Provence, and would soon like to visit Poland.
Administrative Team
Samantha Parasuco
Senior Administrative Coordinator
Samantha is a born Montrealer who has been working at McGill since 2012.  
She is responsible for the administration of the international student health insurance plan and the smooth running of ISS administrative logistics.
Sam is also a hair stylist when she has the time and she loves dogs.

Francesca Siracusa
Service Representative


Francesca will make you feel welcome with her warm smile and disposition.
She is committed in helping students and ensuring that their experience at ISS is pleasant.
She holds a Bachelors of Arts from Concordia University.
She is passionate about languages (knows 5 languages) and enjoys being exposed to different cultures.
One of her mottos is "Anything is possible if you believe"

Evangelea Toufexis
Service Representative
Since joining the team in 2017, Evangelea enjoys receiving useful travel tips from our international student body.
She is responsible for answering student's inquiries about immigration documents and health care, booking drop-in appointments, and front-line duties.
In addition to her love for travelling, Evangelea enjoys culinary gifts from her Greek and Irish heritage, and completed a BA in Psychology from Concordia University in 2015.