News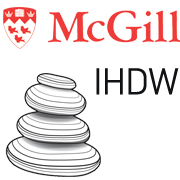 We are pleased to share with you some of the activities that have been organized and supported during the first year since the official launch of the Institute for Human Development and Well-Being with our newsletter. 
Please click here to read the newsletter.
The Institute for Human Development and Well-Being (IHDW) is a transdisciplinary unit led by McGill's Faculty of Education. The IHDW draws together researchers from McGill's Departments of Family Medicine, Educational and Counselling Psychology, Integrated Studies in Education, Anthropology, Kinesiology and Physical Education, Psychiatry, the School of Urban Planning, the School of Social Work, and the Faculty of Dentistry. The Institute's work addresses the role that leadership and policy-making can play in human development and well-being for individuals who:
Suffer from physical, psychological and intellectual disabilities.
Have experienced emotional, physiological and mental health issues.
Belong to traditionally at-risk populations including those with low socioeconomic status, Indigenous peoples, and minorities.
We hope you will enjoy learning about us through our IHDW Newsletter.