WINTER 2017
January
Queer Research Colloquium
Queer Research Colloquium
January 27, 2017
9:30 - 5:30
Location: 3475 Rue Peel  (A few buildings south of the IGSF office)
The Institute for Gender, Sexuality and Feminist Studies invites you to attend a Queer Research Colloquium on January 27, 2017. The QRC is a forum for the scholarly community at McGill to exchange ideas and share research pertaining to queer and GLBTQI2 studies.
Reception to follow 5:30 @ the IGSF 3487 Peel St., 2nd Floor
Schedule
9:30 - 9:40am – Welcome
Mary Bunch and Dolleen Manning
9:40 - 11:00 am  –Place, Space and Marginality
Chair Natalie Oswin
Clinton Glenn – "Mes esames žmonės – ne propaganda! (We are people – not propaganda!)": Symbolic Urban Geography, LGBT Activism, and the Baltic Pride 2016 March in Vilnius, Lithuania
Gilly Hartal – Queer Activist Spaces in the Periphery: An Israeli Case Study
Ben Demers – Amidst bashings and bath raids: The Toronto Gay Street Patrol and early efforts at police accountability. 
11:15-12:35 pm Making Culture Queerly
Chair: TBA
Olivia Dreisinger – Gimp Sue Gets the Girl: Disability, Un/desirability, and Fanfiction 
Lloyd Whitesell  – The Uses of Extravagance in the Hollywood Musical
Sarah Gelbard – Boycotting the Queers: punk space and/or safe space in Ottawa
12:35pm - 1:15pm  –  LUNCH
1:15 – 2:15:  Keynote:  Scott Lauria Morgensen
2:30- 3:50pm – Homerotic Imaginaries
Chair: TBA
Yuriy Zikratyy – The Homoerotics of Philanthropy: Past and Present
Kristin Franseen – "Kindred Concert-Topics": Edward Prime-Stevenson's Queer Repertory
Jacob Evoy – Queer Futurity and Reproduction: Harnessing the Power of Normative Fear
4:00-5:20pm – Queer/Trans* Becomings
Chair Alanna Thain
Gabriela Kassel Gomez – On the Margins of Education: School (dis)Connectedness and Mental Health of Trans* Youth 
Ralph Haddad – The radical possibilities of language: the formation of Arab queerworlds
Fernanda Capibaribe – Queer pedagogy as a 'way out' of gender violence: approaching feminist becomings against essentialisms.
5:30 – 8 pm Reception at IGSF - 3487 Peel St., 2nd Floor
February
Esquisses Talk by Prof. Jeremy Tai - An Archive of Queer Desire: Missed Connections in Postsocialist China
Esquisses is a lunch-time series of works-in-progress by researchers at McGill
When
: Wednesday, February 22, 2017, 12:30 - 2:00 pm
Where
: IGSF Seminar Room, 3487 Peel Str, 2nd Floor (not accessible)
In recent years, popular and scholarly accounts of contemporary China have perceived a moral crisis on the nation's streets, pointing to cases of injured bodies left to die and Good Samaritans extorted. To address this world of unprecedented blasé and calculating attitudes, critics often center their analyses on the lack of trust between strangers in a society that privileges kinship. I am interested in how a focus on queer sociality can intervene in and trouble these conversations on the figure of the stranger and the orientations of Chinese urban life. In this talk, I turn to Craigslist-style missed connections posted online by gay men living in the interior city of Xi'an. I explore the significance of leaving a record of fleeting encounters within the context of government campaigns, urban renewal, and migration and consider what these traces of cruising and intimacy can tell us about queer space and time in postsocialist China.
Register
here
.
March
Film Screening w/ Festival Massimadi: Diaspora/Situations & Rainbow Revolution
When
: Wednesday, March 1, 7 pm | 19h
Where
: IGSF Seminar Room, 3487 Peel Str, 2nd Floor (not accessible)
Film: Diaspora / Situations
Directed by | Réalisé par Tarek Lakhrissi
Genre: Documentary | Documentaire
Running time | Durée: 40 min
Country | Pays: France
Year | Année: 2016
Conçu à partir d'entretiens, diaspora/situations est une série de brefs portraits vidéos de personnes minorisées (de par leur couleur de peau, leur genre, leur identité religieuse, sexuelle...) qui réfléchissent à l'impact intime de la diaspora sur leur façon de vivre. Disponible en ligne sur YouTube, le webdocumentaire a pris forme à la suite de rencontres décisives, d'échanges secrets et hasardeux, entre deux stations de métro à Montréal, dans une chambre mal rangée à New York ou en banlieue de Paris. Ce projet qui est devenu depuis un documentaire, a pour but de rassembler plusieurs voix — à la fois rares, spirituelles, marginalisées, libres, piégées, poétiques, savantes; de les donner à voir, de leur rendre hommage dans toutes leurs complexités.
//
Conceived from interviews, diaspora / situations is a series of short portraits of minors (by their skin color, gender, religious identity, sexuality, etc.) who reflect on the intimate impact of the diaspora on their way of life. Available online on YouTube, the web documentary took shape following decisive encounters, secret and hazardous exchanges, between two metro stations in Montreal, in a poorly arranged room in New York or in the suburbs of Paris. This project, which has since become a documentary, aims to bring together several voices -- at once rare, spiritual, marginalized, free, trapped, poetic, scholarly. To make them be seen, to pay homage to them in all their complexities.
​​
Film : Rainbow Revolution
Directed by | Réalisé par Kaneal Gayle
Genre : Documentary | Documentaire
Language | Langue: English | Anglais
Country | Pays : Jamaica | Jamaïque
Running time | Durée : 50 mins
Year | Année: 2016
Documenting the first ever week of Pride events in Jamaica 2015, a country often labelled as one of the most homophobic countries on earth. The focus was on the face of PRiDE, Simone Harris featuring her life, bravery as well as her contribution to what was Jamaica's first ever PRiDE week celebration.
The film will be followed by a discussion with the Jamaican director Kaneal Gayle via Skype
//
Ce documentaire raconte la première semaine de la toute première édition des festivités de la Fierté en 2015 en Jamaïque, pays réputé comme étant le plus homophobe de la planète. Tout en mettant l'emphase sur les événements de la Fierté, le film met en vedette Simone Harris et nous raconte sa vie, sa courage ainsi que sa contribution pour la réalisation de la première célébration de la Semaine de la Fierté en Jamaïque.
Le film sera suivi d'une discussion via Skype avec le réalisateur jamaïcain Kaneal Gayle.
Esquisses Talk by Visiting Prof. Dolleen Tisawii'ashii Manning – Seeing with my Side-Eye: Reading Merleau-Ponty adjacent to Anishinaabe Mnidoo Ontologies
Esquisses is a lunch-time series of works-in-progress by researchers at McGill

When: Wednesday, March 22, 2017, 12:30 - 2:00 pm
Where: First Peoples' House (accessible), 3505 Peel St.

My mother, Rose Manning baa, spoke about an Anishinaabe way of knowing – what I call mnidoo-consciousnessing – as a kind of attentiveness toward what is apprehended from the corner of one's eye. Reading Merleau-Ponty alongside Ojibwe other-than-human persons (mnidoo) ontology requires not only a shared sightline between the visible and the invisible, but also a sideways intuiting. My point of departure from Merleau-Ponty might best be understood through his ontology of the flesh, which involves a reversed look, and an entwinement between discrete bodies. His articulation of intersubjectivity and chiasm act as a foil for my contemporary theorizations of pre-Columbian Anishinaabe (human being/Indian) other-than-human interrelationality. We visualize this investigation through light refraction and handheld spear fishing, and again through the flocking murmuration of birds. Informed by an Ojibwe mnidoo worldview, my interpretation of Merleau-Ponty's work is "incorporated," and as such, is also imparted with my particular "acquisition" of Anishinaabe knowledge, which can never entirely be cleaved from my being-in-the-world. All the same, I endeavor to convey how his theories overlay, intermingle, and diverge from my own.
April
Esquisses Talk by Prof. Michelle Cho - 'New Breed': Race, Gender, and Parahuman Performance in Kpop
Esquisses is a lunch-time series of works-in-progress by researchers at McGill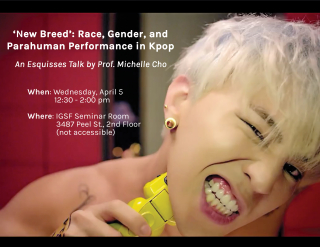 When: Wednesday, April 5, 2017, 12:30 - 2:00 pm
Where: Brown 3001 (This building is accessible), Brown Student Services Building, 3600 McTavish St.
In this presentation, I analyze recent Korean pop music videos that use supernatural and fantastic tropes, transforming Kpop performers into animals, aliens, androids, or vampires, to signify a mode of postnational identity forged in particular by diasporic and international reception. I examine the implications of this coding of transhumanism as cosmopolitanism for shifting norms of gender presentation, racial embodiment, and Asian-diasporic identity.
Bio
: Michelle Cho is a Korea Foundation Assistant Professor of East Asian Studies and World Cinemas at McGill University. Her research appears in Cinema Journal, Acta Koreana, The Korean Popular Culture Reader, Hallyu 2.0: The Korean Wave in the Age of Social Media, and Simultaneous Worlds: Global Science Fiction Cinemas. She is completing a book about millennial South Korean genre cinemas, and her new project relates Korean politics and popular culture, with a focus on gender, celebrity, minority representation, diasporic reception, and media convergence.
Register
here
.
Essai et erreur : concepts spéculatifs pour une société ouverte et collaborative (Conférence de l'artiste Cornelia Sollfrank)
Mercredi 5 avril 2017, 18h
 
IGSF seminar room | 2e étage, 3487 rue Peel
IGSF et le Studio XX ont le plaisir de présenter une conférence de Cornelia Sollfrank (Allemagne). Sollfrank (Ph. D.) est artiste, chercheure et professeure d'université. Elle a étudié la peinture à l'Académie des beaux-arts de Munich et à l'Université des Arts de Hambourg et a obtenu son doctorat de l'Université de Dundee (Royaume-Uni). Les sujets récurrents dans son travail artistique autour des médias numériques sont le statut d'auteur-e, les nouvelles formes d'organisation politique, les féminismes et le droit d'auteur. Elle travaille actuellement à l'Université des Arts de Zürich comme chercheure associée au sein du projet "Creating Commons". La conférence se tient dans le cadre de son exposition COMMONS LAB au Studio XX.
Recherche féministe participative et justice épistémique: mission possible? Défis, enjeux éthiques et leçons apprises sur le terrain // Feminist participatory research and Epistemic justice: Mission possible? Challenges, ethical issues, and lessons learnt from the field
​Ce séminaire interactif, aura lieu le
6 Avril
,
 s'inspire de la collaboration de trois chercheurs de différentes institutions qui ont partagé, comparé et réfléchi collectivement leurs expériences individuelles de recherche féministe participative sur plusieurs sujets dans divers contextes sociocondes: la grossesse chez les adolescentes et la cyber-violence à Montréal, l'hypersexualisation des filles au Québec et la marginalisation des femmes rurales au Burkina Faso et au Rwanda. En s'appuyant sur les leçons apprises sur le terrain, nous illustrerons et mènerons une discussion sur les questions pratiques, méthodologiques et théoriques qui ont émergé de notre analyse, en mettant l'accent sur la façon de faciliter et de conceptualiser la coproduction des connaissances et sur la façon d'articuler et de'aborder les nombreux défis éthiques (souvent non reconnus) inhérents à ce type de recherche.

Notez que les présentations seront en français, mais les périodes de questions et les échanges de vues seront en français et en anglais. Pour plus d'information, visitez ce site-web.

Inscrivez-vous ici.

//
This interactive seminar on April 6 draws on the collaboration of three researchers from different institutions who have been sharing, comparing, and reflecting collectively on their individual experiences of conducting participatory feminist research on several topics in a variety of sociocontexts: teen pregnancy and cyber violence in Montreal, the hypersexualization of girls in Quebec, and the marginalization of rural women in Burkina Faso and Rwanda. Drawing on lessons learned in the field, we will illustrate and lead a discussion on the practical, methodological, and theoretical issues that emerged from our analysis, focusing on how to facilitate and conceptualize the co-production of knowledge, and on how to articulate and approach the many ethical challenges (often unrecognized) inherent to this kind of research.

Note that the presentations will be in French but the Q&A periods and exchange of views will be both in French and English. For more information (in French), visit this site.

Register here.
Feminist Research Colloquium
​
When
: April 6th & 7th
Where
: Morrice Hall 017, 1:00 PM-6:00 PM
This venue is wheelchair accessible This colloquium features two days of panel discussions showcasing the end of year projects of undergraduate honours and graduate students at the Institute for Gender, Sexuality and Feminist Studies. The Keynote speaker is Jin Haritaworn – Assistant Professor of Gender, Race, and Environment at York University.
Facebook Event: https://www.facebook.com/events/416023822093418/
Prof. Jin Haritaworn Workshop and Talk: "Archiving against queer nostalgia"
Friday April 7 11:30 am – 1:00pm
Jin Haritaworn will be facilitating a workshop lunch for students and faculty of colour in Arts 160 (The Arts Council Room). Light lunch will be served. 
Friday April 7 4:45 – 6:00pm
Keynote Address: Jin Haritaworn – "Archiving against queer nostalgia"
Wheelchair access, gender neutral/accessible restroom, and ASL Translation available
Please assist us in keeping this space accessible, respectful and scent free by avoiding perfumes and scented lotions, and respecting gender pronoun preferences.
My Beloved is a Bass Line: Musical, De-colonial Interventions in the Politics of Love as a Cultural Practice - A Talk by Dr. Heidi Epstein, Associate Professor, Department of Religion and Culture, St. Thomas More College University of Saskatchewan
When:Tuesday, April 25, 1:00-3:00 pm
Where: IGSF Seminar room, 3487 Peel, 2nd Floor (not accessible)

What meanings might be composed from the Song of Song's amatory and horticultural language if it is read with a sense of love as irreducibly "de-colonial"? For Chela Sandoval, (2000) 'true love' resides in the "double consciousness", interstitial agency and "tactical sign-reading" with which colonised subjects deconstruct "Euro-American artifacts" like 'love,' 'soul,' 'knowledge' to then redefine them in de-colonial terms. I construct a womanist intertextual matrix for the Song to illustrate how productive this hermeneutic shift might be. In Alice Walker's search for her foremothers' gardens (1983), gardens and songs compose an ambivalent metonymic economy. Songs as gardens and gardens as songs trigger haunted longing; they are goads for remembrance, rebellion and public grieving. Toni Morrison's 'commentary' on the Song (Beloved) circulates similar de-colonial energies.

Such intertexts chasten the whiteness of earlier resistant readings of the Song that mobilised it to contest the heteronormative politics of love as a cultural practice. De-colonial intertexts beg re-signification of the Song's musicality, its garden imagery, its female protagonist's blackness and vineyard migrations in terms that critically intervene in the racial and economic politics of love as a cultural practice. Additionally, given that music figures centrally in Walker's, Morrisons's and Sandoval's genealogies of love, a de-colonial reading of the Song mandates construction of a subaltern musical archive within the Eurocentric discourse of sacred eroticism which the Song subtends as an ur-text: if the Shulammite's erotic longing and seeking are re-read as de-colonial and "trickster"-esque, she begets a subaltern musical family tree—audible today, I shall argue, in the 'shulammitc' bass-playing and protest-singing of Meshell Ndegéocello.
Esquisses Talk by Visiting Prof. Rachel Hurst– Settler Fantasies and Colonial 'Before and After' Photography
Esquisses is a lunch-time series of works-in-progress by researchers at McGill
When
: Wednesday, April 26, 2017, 12:30 - 2:00 pm
Where
: Peterson Hall 116 (accessible)
Focusing on how colonial violence was legitimized as a part of nation-formation and the construction of citizenship in Canada from the mid-19th to the mid-20th centuries, this research looks at parallel processes within visual culture that uphold the legality of settler violence in order to 'unsettle' settler lawfulness. Rachel's research is broadly concerned with the relationships between (visual) culture, embodiment, and power, from the perspectives of psychoanalysis, feminist theory, and decolonial thought. She is the author of
Surface Imaginations: Cosmetic Surgery, Photography
, and
Skin
(McGill-Queen's University Press, 2015). She is also co-editor of
Skin, Culture and Psychoanalysis
(Palgrave, 2013).
Register
here
.
While No One Was Looking: Art and Decolonial Action in Montreal
When: April 26 - May 6, 2017 | Vernissage on Friday, April 28, 2017
Where: MainLine Gallery (3905 St-Laurent
**La version française suivra**
While No One Was Looking presents a space for dialogue and encounter around Montreal's past, present, and future. The project invites students, faculty and members of the public to engage with Montreal's 375th anniversary through a free, public art exhibition, complimentary magazine, and multiple outreach activities, including an artist panel discussion and on-campus exhibit in the Department of Art History and Communication Studies (Arts West), that highlight histories of resistance and survival kept alive today through local art and scholarship.
The exhibition and magazine, titled Art/iculation, incorporate artworks, essays, and interviews, focused on, and ultimately celebrating, the act of bearing witness—with particular focus on the written and unwritten histories of the land on which Montréal was colonised, the unceded territory of the Kanien'kehá:ka nation of the Haudenosaunee Confederacy.
The MainLine Gallery, an accessible space at the corner of St-Laurent and Napoleon, will host the art exhibition and magazine release, designed, organized and curated by the McGill Art History and Communication Studies Graduate Student Association (AHCS GSA). Exhibition and magazine texts will be bilingual.
All are welcome to join the exhibition vernissage and magazine release event at MainLine Gallery (3905 Boul St-Laurent) on Friday, April 28, from 7 - 11 pm. Please visit WNOWL.wordpress.com for regular updates.
//
While No One Was Looking présente un espace pour la rencontre et le dialogue autour du passé, présent et futur de Montréal. Le projet invite les étudiants, les membres de la faculté et le public à participer au 375ième anniversaire de Montréal via une exposition d'art gratuite et son magazine complémentaire. Le projet présente aussi différentes activités incluant une table ronde avec les artistes et une exposition sur le campus dans le département d'histoire de l'art et des communications (Arts West) qui souligneront des histoires de résistance et de survie qui sont commémorées a travers l'art local et les études académiques.
L'exposition et le magazine, intitulé Art/iculation, incorporent des travaux d'art, des essais et des entrevues qui célèbrent et se concentrent sur l'acte d'être témoin. Il y aura une attention particulière sur les histoires écrites et non-écrites des terres sur lesquelles Montréal a été colonisé : Le territoire de la nation Kanien'kehá:ka et la confédération Haudenosaunee.
La Galerie MainLine est un endroit accessible sur le coint de St-Laurent et Napoléon qui accueillera l'exposition d'art et la publication du magazine conçu et organisé par l'association étudiante d'histoire de l'art et des communications de McGill (AHCS GSA). L'exposition ainsi que les textes seront bilingues.
Tous sont invités à nous joindre au vernissage et à la publication du magazine à la galerie MainLine (3905 Boul St-Laurent) le vendredi 28 avril de 7 – 11 pm. Veuillez visiter WNOWLfr.wordpress.com pour des mises à jour régulières.
May
Mnemonic Cinemas/Performances: Blackness & Embodiment | Les Cinémas / Performances Mnémonique: Noirceur et Corporéité
La version française suivra
Hosted by the McGill Institute for Gender, Sexuality, & Feminist Studies & articule Gallery*, organized & curated by Ayanna Dozier
Dance/Embodiment Workshop with Niv Acosta
(limited to 20 people max)
When:
May 23 & May 24, 2017, 10 - 12 PM
sign up with
ayanna.dozier

[at]

mail.mcgill.ca
Conference

When
: May 25th, 2017​
Where
: articule 262 Ave Fairmount O.
"Mnemonic Cinemas/Performances: Blackness & Embodiment" is a one-day colloquium featuring workshops, performances and film screening
s that address the socio-cultural and political importance of experimental films, the archives, and embodiment as they reveal new critical reflection on memory, culture, and Blackness. This contemporary turn in understanding the archives, specifically through film and processes of collection, is marked by conditions of institutional and political erasure of marginalized individuals in society that is rooted in systemic anti-Blackness. As Toni Morrison writes, the archives for Black history becomes a site for memory. The connection between the archives, cinema, and performance is not specious as performances (being a live event) are regulated to processes of collection, whereas cinema is often used as tool to re-invent and preserve memory through its form. In this way, the colloquium seeks to bridge the gap between performance, the cinematic image, and the archives. The aims of this one-day speaker and film colloquium is to provide a hub for interdisciplinary academic and artistic scholarship to thrive in as well as to inform scholars of the importance of archival documents and the significance of collecting films. The colloquium will be preceded by a two-day (May 23rd-24th) QTPOC dance workshop on embodiment with acclaimed New York based artist, Niv Acosta at Espace Sans Luxe. Additionally, Niv will also perform his recent performance, Clapback at articule artist-run centre on May 25th as part of the conference procedures. Niv Acosta's performance, like his work, troubles the "institution" of time and history and how these modes of control collapse cultures at the margins. The colloquium and accompanying performance, demonstrates the necessity for creating different "temporal" lines of history, specifically one that is driven by memory.
Facebook: 
https://www.facebook.com/events/422471311454646
For more information, including schedule and dance workshop sign up please visit: 
https://www.mcgill.ca/igsf/events/mnemoniccinemas
,
articule.org/

en/projects/mnemonic-cinemas-performances-blackness-embodiment
, or e-mail

ayanna.dozier

[at]

mail.mcgill.ca



*This 
event is made possible by Immediations and a SSHRC Insight Grant, "Anarchival Outbursts" by Alanna Thain.
nivacosta.com
articule.org
100lux.ca
//
Atelier de danse / réalisation avec Niv Acosta
(Limité à 20 personnes maximum)
Quand
: le 23 mai et le 24 mai 2017, de 10h à 12h
Inscrivez-vous avec

ayanna.dozier

[at]

mail.mcgill.ca
ConférenceQuand 
: 25 Mai 2017
Où 
: articule gallery, 262 Ave. Fairmount Ouest
L'Institut Genre, Sexualité et Féminisme (I.G.S.F.) de McGill vous invite à participer une conférence de intitulée « Les Cinémas/Performances Mnémonique: Noirceur et Corporéité» - conférence qui se tiendra les 25 Mai 2017. La conférence est organisée en collaboration avec le galerie articule. «Les Cinémas/Performances Mnémonique: Noirceur et Corporéité » est un événement interdisciplinaire qui rassemble des chercheur-e-s issu-e-s des milieux artistique, académique et cinématique de discuter de la question compliquée de l'oppression structurelles sous-jacent les gens noirs et LGBTQIA dans le monde par performance, danse, et film. Dans une époque contemporaine les questions sur race, identité, et le corps ont caractérisée par des conditions d'élimination politique et publique. L'événement interdisciplinaire provoque une réflexion sur comment les archives du cinéma et memorie présentent un historie alternative de possibilité radicale pour les personnes (LGBTQIA) de couleur. Présenté par l'Institut genre, sexualité et féminisme de l'Université McGill, en collaboration avec articule, «Les Archive du Cinéma et du Corps» propose des présentations de chercheur-e-s émergent-e-s ainsi qu'un atelier de danse à espace sans luxe (LGBTQIA de personnes de couleur auront priorité pour l'atelier sur 23 et 24 Mai) et performance par l'artiste contemporaine niv Acosta à articule sur 25 Mai (nivacosta.com).
Facebook: 
https://www.facebook.com/events/422471311454646
​Pour plus d'information, visitez: 
https://www.mcgill.ca/igsf/events/mnemoniccinemas
, http://www.articule.org/fr/projects/les-cinemas-performances-mnemoniques-noirceur-et-corporeite, ou envoyez un message à
ayanna.dozier

[at]

mail.mcgill.ca
nivacosta.com
articule.org
100lux.ca
FALL 2016
September
IGSF faculty and student opening wine and cheese
When: Wednesday, September 21, 4;30-6:30
Where: TNC, Morrice Hall (Islamic Studies building, across from the Redpath Museum)
Sight + Sound Festival @ Eastern Bloc
IGSF is pleased to be co-sponsoring the 2016 edition of Sight & Sound, an annual festival bringing together Canadian and international new media artists. Currently in its ninth year, the festival presents hybrid, interactive, networked, and process-driven approaches, offering a privileged dissemination platform for emerging digital artists, alongside internationally established artists. Throughout the festival, artists are encouraged to take risks and transcend their usual modes of production, finding them the means to generate projects that engage viewers through provocative and challenging content. Sight + Sound takes place from September 28th - October 2nd, 2016. For the full schedule and more information, please see here.
Q&A on the proposed Sexual Assault Policy with Associate Provost Angela Campbell
When: September 27, 2016, 11:30 - 12:30 pm
Where: Wilson Hall 105
Esquisses talk by Prof. Brian Bergstrom  - The Gender of the Écriture Feminine in Nuclear Japan
Esquisses is a lunch-time series of works-in-progress by researchers at McGill
When: Wednesday, September 28, 2016, 12:30 - 2:00 pm
Where: IGSF Seminar Room, 3487 Peel Str, 2nd Floor (seeking alt.)
Register here.
The Gender of the Emergency: Écriture Feminine in Nuclear Japan
The nuclear is often written about as the endpoint of representation, the limit of knowledge and narrative.  In this sense, it is often phrased as a "sublime."  The incommensurability of words and images to the enormity of the nuclear coexists uneasily with the imperative to do something to address it, the way that the existential nature of the threat demands action even as it defies conceptualization. This paper examines works exploring this paradox by two Japanese women, one writing before the March 11, 2011 triple catastrophe in Fukushima and one writing after, Kashimada Maki and Kobayashi Erika. In both women's work, there is an attempt to rethink representation itself in the face of the sublime represented by the nuclear, but also a refusal to pursue this rethinking in a way that brackets gendered embodiment.  Rather than addressing the nuclear through supposedly universal, yet implicitly male, abstraction, Kashimada and Kobayashi take the predicaments of gendered embodiment as the ground for rethinking representation itself in face of nuclear annihilation and lingering radiation.  Reading their work through the lens of écriture féminine, this presentation seeks to examine the potential that literature holds to address the problem of the nuclear in ways that are actually new, that can address the imperative to think futurity not as repetition of that which came before but, as Elizabeth Grosz has put it, "what endures, not as it is in itself, but as an opening up to becoming, to something other." ("Thinking the New," 2000) 
Brian Bergstrom is a course lecturer in the East Asian Studies Department at McGill. His articles have appeared in Mechademia, positions: asia critique and Japan Forum, and his translations have appeared in Granta, Aperture, and Digital Geishas and Talking Frogs: The Best 21st Century Short Stories from Japan. He is the editor and principal translator of We, the Children of Cats by Tomoyuki Hoshino (PM Press, 2012), longlisted for the 2013 Best Translated Book Award.
Panel Discussion: ART + FEMINISM + McGILL
.
When: Friday, September 30th, 3:30pm
Where: Redpath Commons, Room A (enter through McLennan Library Building)
Over 2,500 people at more than 175 events around the world participated in the 2016 Art+Feminism Wikipedia Edit-a-thon, resulting in over 3,500 new and improved articles. A collective campaign to improve the representation of and increasing the participation of women on Wikipedia, the project emerged in the fall of 2013 as a response to the well-known gaps in the online encyclopedia. Siân Evans (Class of 2005), Jacqueline Mabey (Class of 2006) and Michael Mandiberg, the lead co-organizers of the Art+Feminism project, will discuss the origins of the project, its growth (and growing pains), and why the collective writing of history matters. Co- presented by the Institute for Gender, Sexuality and Feminist Studies, Art History & Communication Studies and the McGill Library.
https://www.mcgill.ca/library/channels/event/panel-discussion-art-femini...
October
"Hey! How'd you get that?"
This year we are launching a new event called "Hey! How'd you get that?" where we bring back students who worked in gender, sexuality and feminist studies at McGill to talk about how they incorporate what they learned into their professional lives. It's both a "what do you do with your degree" discussion, but also asking how you can bring this knowledge to a workplace that doesn't always make space for it.

We have three panelists working in issues of law, social justice and institutional activism for our first version:
Rosel Kim who has degrees in English and Law from McGill
Rachel Zellars, IGSF prof, PhD student in Education, Lawyer and director of the Girls Action Foundation
Claire Michela, Women's Studies Graduate, former Student Affairs coordinator at IGSF and currently President of the Association of McGill University Support Employees
This event will take place on Tuesday, October 4th at 4:30pm in the IGSF seminar room, 3487 Peel (second floor).

Our panelists will talk about their experience in bringing together their academic and work experience, professionalization issues and more, and there will be a discussion period afterwards. Come on out to get a first-hand account of how to take the classroom out into the wider world!
Montreal Feminist Studies Grad Student Mingle (open to all Montreal-based graduate students working in feminism)
When: Thursday, October 6, 5:00-7:00
Where: IGSF Seminar Room, 3487 Peel St., 2nd Floor
In order to facilitate community building and research sharing, the Institute of Gender, Sexuality, and Feminist Studies at McGill University will be hosting a Graduate Students of Montreal engaged in Feminist Research and Feminist Studies Wine and Cheese. 

Feminist/Gender/Sexuality/Queer Studies graduate students from all universities in Montreal are welcome! The address is 3487 Peel St., 2nd Floor (we apologize that the space is inaccessible for those with mobility issues).
Dans le but de renouveler et/ou de consolider les liens entre les chercheurs.euses en études féministes de l'île de Montréal, l'Institut du genre, de la sexualité, et des études féministes de l'Université McGill vous convie à un vins et fromages. 

Les étudiants des cycles supérieurs en études féministes/du genre/de la sexualité/des femmes de toutes les universités montréalaises sont les bienvenu.e.s! L'adresse est le 3487 rue Peel, au deuxième étage. Nous nous excusons sincèrement du fait que l'établissement n'est pas accessible aux personnes à mobilité réduite.
Esquisses talk by Prof. Marguerite Waller - Unsettling Settler Logics in the World Courts of Women

Esquisses is a lunch-time series of works-in-progress by researchers at McGill
When: Wednesday, October 19, 2016, 12:30 - 2:00 pm
Where: Brown 5001 (accessible)
Register here.
Marguerite Waller's current interests include gender and colonialism, decolonial film and media, and eco-aesthetics. Originally trained in early modern comparative literature, she has published on Dante, Petrarch, Wyatt, Surrey, and Shakespeare. More recently she has worked in the overlapping areas of dialogue between Western and nonWestern feminisms, the impact of neoliberal policies on women's poverty, and Italian, transnational, and postcolonial media studies.
She is the author of Petrarch's Poetics and Literary History (University of Massachusetts 1980) and co-editor of Federico Fellini: Contemporary Perspectives (Toronto 2002). Over the course of three co-edited volumes—Frontline Feminisms: Women, War, and Resistance (Routledge 2000), Dialogue and Difference: Feminisms Challenge Globalization (Palgrave 2005), The Wages of Empire: Neoliberal Policies, Resistance, and Women's Poverty (Paradigm 2007), and a special issue of Social Identities (2006), she has been committed to facilitating communication and collaboration among feminist projects rooted in different epistemes. Also committed to engaging visual media in these dialogues, she co-edited, with Sandra Ponzanesi, the volume Postcolonial Cinema Studies (Routledge 2012).
More information about Professor Waller's research can be found on our Visiting  Scholar's page.
Feminist Pedagogy Workshop
Are you a graduate student interested in bringing feminist practices to your pedagogy?
On Saturday, October 22 from 12-5 pm the Institute for Gender, Sexuality, and Feminist Studies will be hosting a hands-on, Feminist Pedagogy Workshop. 
 
We will be dividing into small groups to address practical needs in the classroom. Some of the topics we will address are how do our feminist pedagogies influence: creating a syllabus, designing activities, dealing with classroom conflicts, the role of technology in the classroom/ outside of the classroom, and embodied pedagogies. Other topics will include the role of emotional labour, questions of unpaid labour, and the precarious role of the lecturer/ adjunct professor. We will wrap up the day with wine and pizza.
 
To register, please fill out this form.
If you have any questions, please email the IGSF graduate representative, alexandra.ketchum [at] mail.mcgill.ca (Alex Ketchum). 
Medical Regimes of Truth, Biopolitics, and the Crisis of Democracy
Gundula Ludwig, recipient of an APART Fellowship of the Austrian Academy of Sciences at the Department of Political Science at the University of Vienna, will be presenting "Politics is Nothing but Medicine on a Larger Scale".
On Wednesday, October 26 from 4-5:30 pm in the IGSF seminar room, 3487 Peel, 2nd floor (please note this space is not accessible).
This event is sponsored by Critical Social Theory at McGill with support from the Yan P. Lin Centre's Research Group on Constitutional Studies (for more information, please contact critsoctheory.arts [at] mcgill.ca) and co-sponsored by the Institute for Gender, Sexuality, and Feminist Studies (IGSF).
Table Setting #1 at Articule
Following Articule's Montreal Monochrome IV: Study Hall, members of the Fabulous Committee present Table Setting, a dinner conversation series seeking to create more spaces for Indigenous and people of colour artists, educators, activists, and community members to speak with each other.
Table Setting will take place in two parts: the first will be an open table discussion moderated by a special guest, a porous centre table of conversation where participants come to and away from as the conversation shifts. Dinner will be served as the second part of the evening. In the hopes of recreating the safety and intimacy of shared meals, participants will share food in smaller groups. This will provide the time for honest conversations that stay attentive to the theme of the evening but grow organically, without the structure of the facilitated discussion.
Table Setting, as it incorporates elements of mediated discussion with community gathering, is one way Articule is attempting to practice the suggestions for a safer space that arose out of the centre's ongoing consultation in relation to anti-oppression. The first event will be held on Thursday, October 27, at 6 pm , facilitated by independent curator, Cheyanne Turions.
All are welcome. Bring your own plate and utensils (BYOP). Donations appreciated.
Cheyanne Turions is an independent curator currently based in Toronto. From the farmlands of Treaty 8, she is of settler and Indigenous ancestry. Her work approaches the space of exhibition as alive—the gallery is a place of dialogue where the propositions of artists come into contact with publics, questioning ways of seeing and being in relation. She sits on the Board of Directors for Kunstverein Toronto, the Editorial Advisory Committee for C Magazine and the Education and Community Engagement Committee at the Art Gallery of Ontario. She is the director of No Reading After the Internet (Toronto) and the Artistic Director at Trinity Square Video.
Please click here to be redirected to the FB event page.
November
Terms of Privacy / ​Conditions de Confidentialité
When/Quand: Nov. 4-5, 2016
Where/Où: McGill University (Leacock 232)
Register here/ Inscrirez ici
"Terms of Privacy" is a collaboration with Studio XX, a bilingual, feminist artist-run centre for technological exploration, creation, and critique, founded in 1996. It runs in parallel with Studio XX's biennial feminist festival of media arts + digital culture, The HTMlles 12: Terms of Privacy, Nov. 3-6, 2016. Since 1997, The HTMlles brings together artists, scholars, and activists passionate about critically engaging new technologies from a feminist perspective.
////////
 ​«Conditions de Confidentialité» est organisée en collaboration avec la 12e édition du festival féministe d'arts médiatiques + culture numérique, les HTMlles, qui se tiendra du 3 au 6 novembre 2016, avec pour thématique ​«Conditions de Confidentialité.» Basé à Montréal, Les HTMlles est un festival biennal international qui rassemble des artistes, des théoricien-ne-s et des activistes passionné-e-s par la réflexion critique en nouvelles technologies sous une perspective féministe.
Links:
https://secure.studioxx.org/splash.html
Schedule/Programme click here
Accomodations/Hébergement click here
Check out our Facebook / Voyez-vous notre Facebook
Spill: A Story Circle Ceremony led by Alexis Pauline Gumbs & Rachel Zellars
Wed. Nov 9 @ 18h 
H-763, Hall Building, Concordia University

***This event is open to all people who identify as Black, Indigenous and People of Colour (BIPOC)*** 

In celebration of the life-saving practice of story-sharing among oppressed communities and the book Spill: Scenes of Black Feminist Fugitivity, Sista Docta Alexis Pauline Gumbs, the Third Eye Collective, and Somali Semantics will facilitate a space where we practice and remember how to honor the lives that made us possible, and our own possible lives. The first part of the workshop will discuss the ongoing challenges of confronting gendered violence in our communities. The final part of the workshop will be an interactive experience of ancestral connection, intergenerational recognition, and story-sharing that prioritizes the healing and affirmation of Black women as a crucial resource for all communities. Come ready to listen, share, remember, and be transformed.

Co-sponsored by Third Eye Collective, Somali Semantics, and IGSF.

Biographies:

Alexis Pauline Gumbs is a visionary daughter, a dedicated sister and everybody's cousin. Alexis is a founding member of UBUNTU a women of color survivor led coalition to end gendered violence and her work on transformative justice has appeared in Left Turn Magazine, The Feminist Wire, The Revolution Starts at Home, Abolition Now and other venues. She is the author of Spill: Scenes of Black Feminist Fugitivity, the co-editor of Revolutionary Mothering: Love on the Front Lines and the founder of Eternal Summer of the Black Feminist Mind, an intergalactic community school based in Durham, North Carolina. 

Rachel Zellars is Executive Director of the Girls Action Foundation, an attorney and PhD candidate in Education at McGill University. For the last 20 years, she has worked as a popular educator and social justice advocate. She has dedicated most of her community work to empowering young people and women. She co-founded the Third Eye Collective, the first organization in Montreal to support Black women who have experienced gendered violence. Rachel's research focuses on the histories of slavery, public schooling in Canada, critical race theory, and gendered violence within Black communities in North America. She has taught courses at the Institute for Gender, Sexuality and Feminist Studies and the Department of Integrated Studies in Education at McGill University. Originally a farm girl from upstate New York, she attended Howard, Georgetown, and Cornell Universities before completing law school in Los Angeles and working as both a transactional attorney and litigator. Rachel has made Montreal her home for the last decade. She is, most importantly, mother to Ade, Zora, and Sade.

**Wheelchair accessible space** Childcare available with 48 hours' notice by emailing action [at] genderadvocacy.org or (514) 937-2110 **Event is free and open to all**

***More accessibility information will be posted in the coming days. For updates, visit the website or Facebook event***
Revising the Narrative, Critiquing the Cannon: Palestine and Feminist Paradigms
Drawing on years of field research in Palestine, Rabab Abdulhadi's lecture will challenge the major assumptions of the academic literature in the post-conflict context. By giving a historical and contextual analysis of Palestinian feminist activism, it will argue for a different conception of the Palestinian liberation movement. Rabab Abdulhadi is Senior Scholar in Arab and Muslim Ethnicities and Diaspora Studies, Associate Professor of Ethnic Studies/Race and Resistance Studies and Affiliated Gradute Faculty in the Sexuality Studies Program at San Francisco State University. This event will take place on Thursday, November 10th from 2:30-4:30pm in Room 017, Morrice Hall (3485 McTavish Street).
Cherchez les Femmes Cabaret: A Feminist Media & Performance Showcase
On November 11, from 9 pm to 1 am, IGSF, Feminist Media Studio, and Simone de Beauvoir Institute will host an evening of feminist entertainment at Monument-National!
Cherchez les Femmes will feature a live stage show, curated by WIVES collective, including Dayna McLeod's "Uterine Concert Hall," covered by the Huffington Post, Glamour, and the Toronto Star. Screenings of short works will highlight the rich contributions of local feminist groups. And performances by DJ Gayance and DJ Melodrastik will conclude the night on a high note!
Organized in connection with the National Women's Studies Association conference (http://bit.ly/2eb4l0Y), this event invites conference presenters and attendees to engage with some of Montreal's prominent feminist performers and organizations.
Tickets for this event are mandatory and are now available via the Facebook Event.
"The Russian Queer Academy" - Talk by Prof. Alexander Kondakov
When: Wednesday, November 23, 2016, 4:00 pm
Where: IGSF Seminar Room (2nd floor, 3487 Peel)
In this talk, I will draw on my personal experiences of teaching queer theory in a Russian university. I position this within the broader context of research and education related to queer topics in the social sciences. The essay offers an overview of the political and historical circumstances of the Russian academy to give a deeper account of this sort of positioning. Despite evident limitations of work in the field of queer theory in Russia (such as censorship law banning 'homosexual propaganda'), I argue for the importance of this scholarship as it contests and challenges the current social situation.
Bio: Alexander Kondakov is Assistant Professor (European University at St. Petersburg, Russia), Researcher (Centre for Independent Social Research, St. Petersburg, Russia) and Deputy Editor-in-Chief for the Journal of Social Policy Studies (Higher School of Economics, Moscow). He is the author of various international publications on law and homosexuality, human rights organizations, and sexual citizenship in Russia.