Happy 100th birthday, Professor Matte!
Dr. Nicolas Mateesco Matte celebrated his 100th birthday this December. A reception was held to celebrate this extraordinary milestone at the home of John Keenan, president of the Institute of Air and Space Law Alumni Association.
On December 3, 2013, Dr. Nicolas Mateesco Matte, director emeritus (1976-1991) of McGill University's Institute of Air and Space Law (IASL), celebrated his 100th birthday in the company of IASL alumni and students, and many family at the gracious home of Ann and John T. Keenan (BCL'67, LLM'69).
Current IASL Director, Professor Paul Dempsey, notes, "When Dr. Matte arrived, the IASL was going through a difficult period. Through his remarkable efforts, the Institute's existence has weathered a financial crisis and went to flourish under his tenure. Dr. Matte has remained a strong supporter of our Institute, and a distinguished educator, scholar, and lawyer." Dempsey is also proud that last year, "the IASL alumni honoured Dr. Matte with the establishment of an endowed Fellowship in his name which will support the student designated as Editor of the Annals of Air & Space Law." 
At the reception, Dr. Matte was presented not only with a specially dedicated edition of the journal he founded in 1976, but also a wonderful cake celebrating his achievements.
Three generations of the Matte family that have been associated with McGill were at the reception: among the guests were Dr. Matte's daughter, Anne-Karine Matte, who received her BSc from McGill in 1981, and his grandson Jordan-Nicolas, who is currently studying Political Science and International Relations, proudly following in his grandfather's footsteps.
A slideshow was projected and many memories evoked.
Professor Ram Jakhu (LLM'78, DCL'83) and his wife Bala Jakhu were among the guests.
Dr John E. Saba (LLB'76, LLM'82, DCL'86) shares a moment with Dr. Matte.
John T. Keenan (BCL'67, LLM'69) fondly saluting Dr. Matte.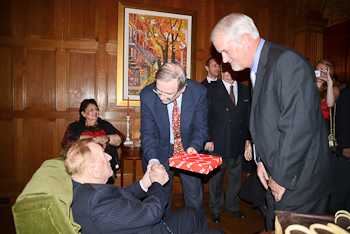 Ludwig Weber (LLM'76) and Professor Paul Dempsey (DLC'86) present Dr. Matte with a special copy of the Annals of Air and Space Law.
David Chen, the current editor in chief of the Annals of Air and Space Law, shows Dr. Matte how this edition was dedicated to him.
Dr Matte surrounded by his family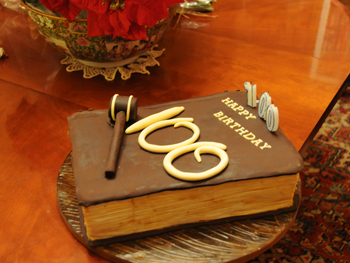 A lovely cake was commissioned to celebrate his achievements.
About Nicolas Mateesco Matte
Born in Romania in 1913, Dr. Matte obtained his first doctorate of law from the University of Bucharest in 1939. After World War II, he moved to Paris, where he obtained a doctorate of international law from the Université de Paris. He moved to Canada in 1950, at a time when his scholarship in the field of air law had already made him a well-known proponent of a new international legal order, with a vision of national cooperation beyond political boundaries.
From 1951 to 1968, he was professor and founder of the chair of Air and then Space Law at the Université de Montréal, as well as founder of the Club des relations internationales, from which many Canadian leaders arose. Dr. Matte's long association with McGill's Institute of Air and Space Law began in 1961 when he was appointed visiting professor. In 1976, he was appointed its Director and founded the Annals of Air and Space Law, the Institute's flagship publication.
In addition to his academic career, Dr. Matte contributed in the development of the city of Brossard, witnessed by a boulevard carrying his name. He was the ethnic groups commissioner in the Commission of Inquiry of the Position of the French Language and on Language Rights in Quebec in 1968. He was also one of the founders of the Cosmodôme science museum in Laval, which was inaugurated in 1994.
The prestigious awards Dr. Matte has received include the ICAO's Edward Warner Award – the equivalent of the Nobel Prize in Aviation – along with the Crystal Helmet Award and the Order of Canada. He is also a Chevalier de l'Ordre du Québec, a Fellow of the Royal Society of Canada and a Chevalier de la Légion d'honneur of France.
---
Text by Anne-Karine Matte, with contributions from Professor Paul S. Dempsey, and Lysanne Larose.
Photos by Ari Munisami.