Photographs from the 10th Annual McGill Conference on International Aviation Liability and Insurance
Speakers from Panel I on recent developments in air carrier liability: Panel Chair Paul Stephen Dempsey (McGill University) and speakers Carlos P. Martins (Bersenas Jacobsen Chouest Thomson Blackburn LLP), John Maggio (Condon & Forsyth), Marc Moller(Kreindler & Kreindler), and Sybille Michèle Rexer (Dabelstein & Passehl).
Speakers on Panel II on the liability of Governments for aviation accidents or acts of terrorism: Panel Chair Robert Donald (DLA Piper, Calgary), and speakers Barry Benson (Aviation and Admiralty Section, US Department of Justice, Washington); Jeffrey Ellis (Clyde & Co, New York); James Healy-Pratt (Stewarts Law LLP) and Jim Kreindler (Kreindler & Kreindler).
Participants in Panel III on products liability, including panel Chair incoming IASL Director Professor Brian Havel (DePaul University), and speakers Alice Chan (Chan & Grant, LLP, New York); Michael Dreikorn  (The IPL Group, LLC,); Brandt Madsen -( Smith Amundsen, LLC, Chicago); Timothy Ravich (University of Central Florida) and Steven M. Sandler (Woodruff, Johnson, and Evans, Chicago).
Participants in Panel IV on the liability of Airports, ANSPs, Lessors and Maintenance Providers, with panel Chair Alan Reitzfeld (Holland & Knight LLP, New York) and speakers Sheryl Bregman (Office of the San Francisco City Attorney); Donal Patrick Hanley (Aviation Capital Group); Leigh Ann Kirby(NAV CANADA); Suzanne McCarthy( Global Aerospace Inc); and Darryl Pankratz(Alexander Holburn Beaudin + Lang LLP).
Participants of Panel V on the Challenges of Settlement & Emerging Insurance Issues. Participants included Chai George Leloudas (Swansea University) and speakers Brian Alexander (Kreindler & Kreindler, New York); Philip Chrystal (Swiss Re); Kinga Kolasa-Sokołowska (THB Polska); Ulla Norrhäll (Munich Re);  and Katherine B Posner (Condon & Forsyth, New York).
Participants of Panel VI on "What is an "accident" under the Warsaw/Montreal Conventions: Unruly Passengers and Liability for Acts of Unlawful Interference". With Panel Chair Timothy Trembley (Paterson MacDougall, Toronto) and speakers Gilles Charette (Air Canada); Senarath Liyanage (Etihad Airways); and Steven Marks (Podhurst Orseck PA).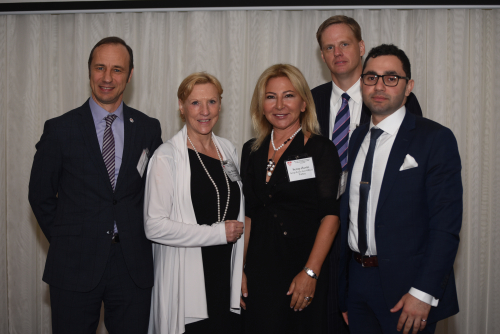 Participants of Panel VII on the Regulation of Drones and Liability of their Operators. With Panel Chair Mia Wouters (University of Ghent) and speakers Mark Campbell (Dentons); Artur Eberg (Eberg Aviation Consulting); Ayman Idlbi (Norton Rose Fulbright, Montreal); and Serap Zuvin (Serap Zuvin Law Offices).
Participants of Panel on Consumer Rights: Regulation & Litigation, with Chair Paul Fitzgerald (Canadian Transportation Agency), and speakers Martine De Serres (Air Canada); Kenneth Quinn (Baker McKenzie LLP, Washington, DC); and Steven Truxal (University of London).
Incoming IASL Director Professor Brian Havel and Director Emeritus Professor Paul Dempsey posing with ICAO Secretary-General Dr. Fang Liu and Adjunct Professor Ludwig Weber. Dr. Liu was the keynote speaker at the luncheon, and her presence underlined the importance of the annual McGill Conference on Aviation Liability and Insurance.
Below are various pictures of participants at the conference.