Directorship
François Crépeau, director (web page)
François Crépeau is Professor of International Public Law at the Faculty of Law, McGill University. He also holds the Hans & Tamar Oppenheimer Chair in Public International Law. He is a Trudeau Fellow 2008-2011.
He teaches international public law, international law of human rights, minority rights and international migration and refugee law. From 2004 to 2008, he held the Canada Research Chair in International Migration Law at the Université de Montréal.
He has published many articles and books on migration and human righs issues, including Les migrations internationales contemporaines – Une dynamique complexe au cœur de la globalisation, co-published with Delphine Nakache and Idil Atak (Montréal : Presses de l'Université de Montréal, 2009); and "Critical Spaces in the Canadian Refugee Determination System: 1989–2002", co-published with Delphine Nakache (2008, 20.1 International Journal of Refugee Law 50-122). He was named Director of the CHRLP in August 2015 for a 3-year term.
Nandini Ramanujam – Executive Director & Director of Human Rights Programs (web page)
Professor Ramanujam teaches on issues surrounding the rule of law and economic development and human rights, at McGill Faculty of law. She spearheads the Human Rights Internship Program at the Faculty and is the Principal Investigator of the "Rule of Law and Economic Development in Russia" research project.
In 2006, Professor Ramanujam was appointed executive director with the Centre for Human Rights and Legal Pluralism at the Faculty of Law, McGill University. She has over 10 years of involvement in systemic reform of higher education in the former communist countries of Eastern Europe and the Soviet Union.
She was Director of the Higher Education Support Program of the Open Society Institute in Budapest, prior to which she was the Regional Director of Baltic and Eurasian Programs of Civic Education Project. She has extensive experience working on human rights issues, strategic planning, governance and programming and has worked as a consultant with a focus on education and civil society.
Professor Ramanujam was a Special Advisor to the President of Bard College in New York State and a Fellow of the Levy Economics Institute. She holds a D.Phil Economics (Oxford), an MA and an M.Phil, Economics. She was President of the Board of Directors of Equitas from 2002 to 2008
Full members
Payam Akhavan – Faculty of Law (web page)
Professor Akhavan teaches and researches in the areas of public international law, international criminal law and transitional justice, with a particular interest in human rights and multiculturalism, war crimes prosecutions, UN reform and the prevention of genocide. He was previously the Boulton Senior Fellow at McGill, Distinguished Visiting Professor at the University of Toronto Faculty of Law, and Visiting Lecturer and Senior Fellow at Yale Law School and the Yale University Centre for International and Area Studies. He has published extensively including "Beyond Impunity: Can International Criminal Justice Prevent Future Atrocities?" (2001) 95 American Journal of International Law 7 selected by the International Library of Law and Legal Theory as one of "the most significant published journal essays in contemporary legal studies." He is also the author of the Report on the Work of the Office of the Special Advisor of the United Nations Secretary-General on the Prevention of Genocide (2005).
Kirsten Anker – Faculty of Law (web page)
Kirsten Anker joins the Law Faculty in 2006 as Assistant Professor and was a Boulton Fellow at McGill in 2004. She teaches in the areas of property and Indigenous peoples and the law, and is completing a doctoral dissertation at the University of Sydney, Australia on legal pluralism in the context of the recognition of native title in Australia. Generally she is interested in studying law as a lived human practice, and has written about anthropological and social-scientific approaches to law, aesthetics in proof of native title, and the intersection of normative orders in colonial states. At McGill she is principal researcher in a project funded by Justice Canada investigating the inclusion of Aboriginal legal traditions in Transsystemic Legal Education.
Mark Antaki – Faculty of Law (web page)
Professor Mark Antaki teaches several courses related to ethics and human plurality. He has a doctorate in Jurisprudence and Social Policy from the University of California, Berkeley where he completed a thesis undertaking 'A Genealogy of Crimes Against Humanity'. The thesis traced the historical transformations that made the naming of crimes against humanity possible (e.g. the trial of Louis XVI and the transformation of tyranny into a crime against humanity, the thought of Rousseau and the transformation of the laws of war into humanitarian law). Professor Antaki is interested in the philosophical commitments as well as in the understandings of law and politics that come along with the transformation of "humanity" into a legal and political category.
Adelle Blackett – Faculty of Law (web page)
Professor Blackett is a William Dawson Scholar with expertise in labour law, trade law, and international development. A former official of the International Labour Organization (ILO) in Geneva, Switzerland, Prof. Blackett has also been a visiting academic at the African Development Bank in Abidjan, Côte d'Ivoire.
She holds a doctorate in law from Columbia University where she taught as an Associate in Law for two years. She is a research coordinator for the Inter-university Research Centre on Globalization and Work (CRIMT), the convener of the Labour Law and Development Research Network (LLDRN) and the recent recipient of a Canadian Foundation for Innovation award to construct a Labour Law and Development Research Laboratory (LLDRL).
Professor Blackett's current community service includes an advisory role to the ILO on standard setting for decent work for domestic workers (2008-2011) and membership in the Commission des droits de la personne et des droits de la jeunesse du Québec (2009-2014 appointment).
Ongoing research projects include rethinking the relationship between trade regulation and labour law from a distributive justice perspective, examining the role of international persuasion in labour law reform in West Africa, and identifying regulatory vehicles to promote the citizenship at work of domestic workers.
Megan Bradley - Department of Political science / Institute for the Study of International Development (web page)
Megan Bradley is Assistant Professor of Political Science and International Development Studies at McGill University. Her research focuses on the rights and wellbeing of refugees and internally displaced persons, as well as on questions of transitional justice, reconciliation, and accountability for human rights violations. She holds a doctorate in International Relations from St Antony's College, University of Oxford, and is the author of Refugee Repatriation: Justice, Responsibility and Redress (Cambridge University Press, 2013). In late 2015, Megan published a book entitled Forced Migration, Reconciliation and Justice with MQUP which explores the harsh reality that more people were displaced globally in early 2015 by conflict and human rights violations than at any time since the Second World War.
Professor Bradley is a Non-Resident Fellow with the Brookings Institution in Washington, DC where she is affiliated with the Brookings-LSE Project on Internal Displacement, and has also worked with the Office of the United Nations High Commissioner for Refugees (UNHCR) and the International Development Research Centre. From 2007-2008, she served as a Cadieux-Léger Fellow with the Canadian Department of Foreign Affairs, Trade and Development. She has conducted fieldwork in countries including Haiti, Sri Lanka, and the Philippines, and is undertaking a SSHRC-funded study on the right of return.
Angela Campbell – Faculty of Law (web page)
Professor Angela Campbell has studied issues of human rights and legal pluralism in the contexts of Family Law, Health Law and Criminal Law. Her current projects include a study (funded by the SSHRC and the Borden, Ladner Gervais Fellowship) of how legal approaches to polygamous marriages in Canada compare with appreciations of law, rules, tradition and expectations within polygamous families.
In another project (funded by La fondation du barreau du Québec), she explores how Quebec family courts treat the matter of parental drug and alcohol dependence in cases pertaining to child custody and access. This project examines the specific question of whether addiction can and should be treated as a "disability" in juridical analyses concerning children's best interests. Other recent projects focus on the effects generated "on the ground" for social workers of child welfare legislation (this study is funded by Valorisation Recherche Québec), and on cultural and familial norms and expectations that shape individual choices that can ultimately affect health outcomes.
Allison Christians - Faculty of Law (web page)
Allison Christians holds the Stikeman Chair in the Law of Taxation at the McGill University Faculty of Law. Her research and teaching focus on national and international tax law and policy issues, with emphasis on the relationship between taxation and economic development and on the role of government and non-government institutions and actors in the creation of tax policy norms.
She has written numerous scholarly articles, essays, and book chapters, as well as editorials, columns, and articles in professional journals, addressing national and international tax law and policy issues.
Professor Christians organized the Tax Justice and Human Rights Research Collaboration Symposium, which was held at the Faculty of Law, June 18-20, 2014.
Irwin Cotler
Irwin Cotler is a Member of the Canadian Parliament, Emeritus Professor of Law at McGill University, and former Minister of Justice and Attorney General of Canada, where he introduced landmark legislation in the areas of human trafficking, children's rights and same-sex marriage. He is Vice-Chair of both the Standing Committee on Justice and Human Rights and the Subcommittee on International Human Rights in the Canadian Parliament.
A constitutional and comparative law scholar, Irwin Cotler has litigated every section of the Canadian Charter of Rights and Freedoms – including landmark cases in the areas of free speech, freedom of religion, women's rights, minority rights, and war crimes justice – and is the recipient of ten honorary doctorates and numerous awards for his pioneering work in peace law and human rights advocacy, including the Order of Canada. He previously led the Canadian Delegation to the Stockholm International Forum on the Prevention of Genocide.
At present, Irwin Cotler is Co-Chair of the Inter-Parliamentary Group for Human Rights in Iran, International Chair of the Responsibility to Prevent Coalition and Chair of the All-Party Save Darfur Coalition. He has represented political prisoners all over the world, including Andrei Sakharov and Natan Sharansky in the former Soviet Union, Nelson Mandela in South Africa, Jacobo Timmerman in Argentina, and Professor Saad Edin Ibrahim in Egypt. More recently, he represented imprisoned Egyptian blogger Maikel Nabil, and is also a member of the international legal team of two Chinese political prisoners – 2011 Nobel Peace Prize Laureate Liu Xiaobo, and Gao Zhisheng. For his work representing political prisoners, he was characterized as "counsel for the oppressed" by Canada's national magazine, Macleans, and "freedom's counsel" by the Oslo Freedom Forum.
Myriam Denov is a Full Professor and holds the Canada Research Chair in Youth, Gender and Armed Conflict (Tier 1).  Her research and teaching interests lie in the areas of children and youth in adversity, and international child protection, with an emphasis on war and political violence, children in armed conflict, and gender-based violence. A specialist in participatory research, she has worked with war-affected children in Asia, Africa, and the Americas and has conducted research on the reintegration experiences of former child soldiers in Sierra Leone and Colombia, and war-affected youth living in Canada.  Denov has presented expert evidence in court on child soldiers, and has advised government and nongovernmental organizations on children in armed conflict, and girls in armed groups.  She currently leads a multi-institutional and multidisciplinary research team on children and global adversity.  Denov has authored five books, including Child Soldiers: Sierra Leone's Revolutionary United Front (Cambridge University Press) and Children's Rights and International Development: Lessons and Challenges from the Field (Palgrave Macmillan).   In 2014, she was awarded a Trudeau Fellowship to address the realities of children born of wartime sexual violence in Northern Uganda.  Denov holds a PhD from the University of Cambridge, where she was a Commonwealth Scholar.
Pearl Eliadis is human rights lawyer. Her practice focuses on national institutions and democratic governance. Clients include the UN, the European Union, the OSCE and NGOs, and involve a range of human rights issues in Africa, and in Central, South and Southeast Asia. Areas of experience and research include national human rights institutions, equality law, civil liberties and gender equality.
Appointed President of the Advisory Committee of the Quebec Bar Association in 2013, Pearl is past President of Equitas, serves on several community boards and advises public interest organizations. For her community engagement, she has received the Canada 125 Commemorative Medal, the 2006 Woman of Distinction Award (community service) and the 2013 Queen Elizabeth II Diamond Jubilee Award.
She has published several books and articles on human rights and public administration, and is on the Editorial Board of the Charter and Human Rights Litigation. She teaches Civil Liberties at the Faculty of Law at McGill University. Her book on Canada's human rights commissions and tribunals, Speaking out on Human Rights: Debating Canada's Human Rights System, was published by McGill-Queens University Press (2014).
Evan Fox-Decent – Faculty of Law (web page)
Evan Fox-Decent is a Social Science and Humanities Research Council Post-doctoral Research Fellow, and will take up a position as Assistant Professor starting July 1st, 2005, at the Faculty of Law. He teaches and publishes in legal theory, administrative law, First Nations and the law, and human rights. His present work concerns the nature of public authority and the rule of law. He has worked on human rights and democratic governance reform in Latin America since 1987, beginning with advocacy and relief work in El Salvador under the auspices of Nobel Peace Prize Nominee Medardo Gomez. He has since served with the UN Verification Mission in Guatemala (MINUGUA 1996-99), and has consulted on behalf of numerous development and research agencies, as well as on behalf of legal institutions in Latin America, including the Supreme Court of Venezuela, the World Bank, the International Development Bank, USAID, and Canada's International Development Research Centre. He is presently a Director of the International Institute on Law and Society.
Jane Glenn – Faculty of Law 
Jane Glenn is an Emeritus Professor in the Faculty of Law, and has a joint appointment in the School of Urban Planning and a cross appointment in the McGill School of Environment. She was a member of McGill University's Institute of Comparative Law and an Associate Member of the International Academy of Comparative Law. She has held visiting positions in France, Brazil, Costa Rica, Trinidad and Mexico, and most recently was a Visiting Fellow at Corpus Christi College, Oxford (2003-2004). Professor Glenn has an ongoing interest in development issues in Caribbean basin countries, which she pursues as a member of the Groupe interuniversitaire de Montréal "Villes et développement" , an interdisciplinary group financed by the Canadian International Development Agency, with present projects in Nicaragua and Honduras. Her current research focuses on the right to housing, which she is pursuing in Trinidad, St. Lucia and Costa Rica with the support of the Social Sciences and Humanities Research Council of Canada and in Canada with the support of a Dobson Fellowship from the Faculty of Law.
Patrick Healy – Cour du Québec, Criminal and Penal Division
Before his appointment in 2007 Patrick Healy was a professor of law for almost twenty years at McGill University. There he specialised in matters of criminal law, including substantive law, procedure, evidence, sentencing, comparative criminal law and international criminal law. He taught these subjects and published extensively on topics relating to all of them. He has also lectured widely in Canada and abroad. For many years Patrick Healy was involved in issues of law reform. He advised governments and various non-governmental organisations and testified on several occasions before the House of Commons and the Senate on issues concerning pending legislation.
As counsel Patrick Healy acted for the prosecution and the defence in Quebec and elsewhere. He was Counsel to the firm of Shadley Battista in Montreal. For many years he was a member of the Comité permanent en droit criminel of the Quebec Bar and a member of the Executive Committee of the Canadian Bar Association (Criminal - Quebec). He also served as a member of the General Council of the Canadian Bar Association in Quebec. Patrick Healy was a member of a committee of inquiry appointed under the Judges Act to inquire into the tenure of a judge of the Superior Court of Quebec. He advised the Canadian Judicial Council on many occasions with regard to judicial discipline and other matters. He was a member of the International Association of Penal Law and of the International Association of Prosecutors.
Patrick Healy, with Anne-Marie Boisvert, edits the Canadian Criminal Law Review and he is a member of the editorial boards of several other journals. Before and after his appointment to the bench Patrick Healy has lectured extensively in programmes for the continuing education of judges and lawyers. He is also a director of the Canadian Institute for the Administration of Justice. He continues to teach two courses each year in the Faculty of Law at McGill University.
David Howes – Sociology and Anthropology, Concordia University (web page)
David Howes is Professor of Anthropology and the Director of the Centre for Sensory Studies at Concordia University, Montreal. He has conducted field research on the cultural life of the senses in the Massim and Middle Sepik River regions of Papua New Guinea, Northwestern Argentina, and the Southwestern United States.
Professor Howes has taught several courses in the McGill Law Faculty on human rights and social diversity, as well as the Foundations of Canadian Law course. He is the editor of a special issue of the Canadian Journal of Law and Society on "Cross-Cultural Jurisprudence: Culture in the Domain of Law" (2005). Other research interests include: the globalization of the consumer society, dealt with in Cross-Cultural Consumption (Routledge, 1996); and, the sensorium as a focus for cultural studies, addressed in Empire of the Senses (Berg 2004) and Sensual Relations (Michigan, 2003). Current funded projects include research on multi-sensory marketing, following which he intends to resume his research on the constitution of the Canadian imaginary.
Derek Jones – McGill Research Group on Health and Law
Derek J. Jones is a health lawyer, lecturer and scholar. A graduate of Harvard and Yale Universities, he works at the interface of human rights, science and ethics in the analysis of questions such as:
- What international norms offer model privacy standards for health information? 
- When, if ever, should human research be conducted without informed consent?
- Does procreative liberty mandate access to reproductive health technologies?
- To protect dignitary interests, should the law recognize bodily property rights in human cells and tissue?
- How should human rights guide the evolving law on genetic testing?
- How may equality and confidentiality standards reform mental health policy in our workplaces?
To help answer such questions, Derek Jones has collaborated as senior advisor to governmental, professional, university, international bodies, including Justice Canada, Health Canada, the Canadian Institutes of Health Research, the Law Reform Commission of Canada, and United Nations. He served on Canada's drafting committee for the International Declaration on Human Genetic Data, and for UNESCO's Universal Declaration on Bioethics and Human Rights. As founding Director of the Government of Canada Interagency Advisory Panel and Secretariat on Research Ethics, he also played a leading role in the recent revision of Canada's national standards for the ethical conduct research involving humans.
At McGill, he has taught health law in bioethics, psychiatry and law, AIDS law, comparative medical law, nursing law and ethics. He is the author of studies or reports on the right to health; genetic testing and human rights; AIDS & disability discrimination; human research and international privacy laws; brain death and organ transplantation; confidentiality; tissue sales and procurement ethics; post-mortem insemination; democratic values and ethics frameworks for biotechnology.
A member of McGill's Research Group on Health and Law, his current research projects include human rights and research ethics; mental health in the workplace; conflict of interest in health sciences; health, human rights and disability.
Alana Klein – Faculty of Law (web page)
Alana Klein was a Boulton Fellow at the Faculty before joining it as Assistant Professor in 2008. She teaches and researches in constitutional law, human rights law, international law and criminal law and is currently completing a doctorate Columbia Law School focussing on social and economic rights and health care governance. The position of marginalized groups and individuals in decentralized and privatized systems and the role of accountability requirements in governance and decision-making are primary preoccupations in her research. Prior to joining the Faculty, she was a senior policy analyst with the Canadian HIV/AIDS Legal Network, where she worked on HIV/AIDS and immigration, legal and other barriers to harm reduction programs for people who use illegal drugs, and law reform to promote the rights of women and girls in the context of HIV/AIDS in sub-Saharan Africa. She has taught at Columbia Law School and Columbia University and has interned with the International Refugee Program at the Lawyers Committee for Human Rights (now Human Rights First) and with the Palestinian Ministry of Economy and Trade. In 2002-2003, she was a law clerk to former Supreme Court of Canada justice Louise Arbour and she was appointed to the Ontario Human Rights Commission in 2006.
Jacob Levy – Department of Political Science, Faculty of Arts (web page)
Professor Levy is the Tomlinson Professor of Political Theory in the Department of Political Science, and an associate member of the Department of Philosophy. His areas of interest in contemporary political theory include liberalism, multiculturalism, and nationalism, and questions involving the status and rights of intermediate groups including associations, indigenous peoples, linguistic minorities, and religious bodies. In the history of political thought, he studies mainly French, English, Scottish, and American theorists from the seventeenth through the early nineteenth century, including Montesquieu, Constant, Tocqueville, Hume, Smith, and the American founding. In jurisprudence and philosophy of law his interests include legal pluralism, constitutional theory, federalism, and choice of law.
Catherine Lu – Department of Political Science, Faculty of Arts (web page)
Professor Catherine Lu teaches in the areas of political theory and international relations, and has taught courses on international political theory; global justice; and problems of post-conflict justice and reconciliation. She is the author of Just and Unjust Interventions in World Politics: Public and Private (UK: Palgrave Macmillan, 2006), and has published articles and book chapters on themes such as cosmopolitanism as an ethical perspective, reparations after war, emotions and reconciliation after war, and the concept of political friendship in world politics. She was a faculty fellow at the Edmond J. Safra Foundation Center for Ethics at Harvard University (2004-5). Currently she is the Vice-Chair of the International Ethics Section of the International Studies Association (2008-10), and the North American Co-Convenor of the Standing Group in International Political Theory of the European Consortium for Political Research. She is working on a book manuscript on the idea of settling accounts in world politics following war, atrocity and oppression.
Marie Manikis - Faculty of Law (web page)
Marie Manikis teaches Criminal Law, Criminal Procedure and Sentencing. Her research interests include criminal law, criminal procedure, human rights, victims, sentencing, gender theory and criminal justice.
Professor Manikis' scholarship is interdisciplinary and uses social science methodologies, proportionality theory in sentencing, and gender perspectives to advance the available knowledge in criminal law and criminal justice. Her work has been published in Canadian and British peer-reviewed journals and was presented at several conferences and seminars, including for judicial training seminars with the National Judicial Institute (Canada), the International Society for the Reform of Criminal Law, the British Association of Comparative Law, the World Society of Victimology, as well as Canadian, British and American Universities.
During her doctoral studies, she taught graduate tutorials in criminal justice at the Centre for Criminology at the University of Oxford and was a Visiting Researcher at Harvard Law School. In 2008-2009, she taught tutorials on the Canadian Charter of Rights and Freedoms and judicial review at York University. Prior to this, she practiced law in Montreal and clerked for a Superior Court Justice. Finally, Professor Manikis has been interested in the development of evidence-based policies and has provided consultation reports based on her research to the Department of Justice in Canada, the Ministry of Justice in England and Wales and the Canadian Senate.
Frédéric Mégret – Faculty of Law (web page)
Professor Frédéric Mégret joined McGill in July 2006. He was Canada Research Chair (Tier 2) in Law, Human Rights and Legal Pluralism from 2006 to 2015. In 2003-2004, he was a Boulton Fellow at the McGill Faculty of Law, and served as Assistant Professor of Law at the University of Toronto in 2004-2005. He teaches in the area of international human rights law, international criminal law, and criminal law. Professor Mégret is the author of Le Tribunal pénal international pour le Rwanda (Pedone, 2002) and a co-editor with Professor Philip Alston of the second edition of The United Nations and Human Rights: A Critical Appraisal (Oxford University Press, 2010). His research interests include international human rights law, legal pluralism, the laws of war, international criminal law, public international law, international legal theory and international relations.
Víctor Muñiz-Fraticelli – Faculty of Law / Dept of Political science (web page)
Víctor M. Muñiz-Fraticelli is Assistant Professor of Law and Political Science. He received a Juris Doctor from the University of Puerto Rico, where he also served on law review, and later clerked at the Supreme Court of Puerto Rico for the Hon. Antonio S. Negrón-García and the Hon. Federico Hernández-Denton. He earned a PhD in the Department of Political Science at the University of Chicago for a dissertation entitled "The Structure of Pluralism". His interests range across philosophy, politics, and law. Muñiz-Fraticelli is currently working on clarifying the idea of pluralism in meta-ethics, politics, and law, and developing a defense of the autonomy of associations and of the institutions necessary for that autonomy to flourish. He is also interested in the currents of contemporary liberal theory – with special emphasis on the work and influence of John Rawls – and on the theory of private law and its relationship to sovereignty and constitutionalism.
Vrinda Narain – Faculty of Law / McGill Centre for Research and Teaching on Women (web page)
Vrinda Narain was a Boulton Fellow at the Faculty of Law before becoming Assistant Professor in 2008. She is a Research Associate in the Department of Afroasiatic Studies at the University of the Free State, South Africa. During the 2006-2007 academic year she was a Visiting Research Fellow at the Asian Institute at the Munk Centre for International Studies at the University of Toronto. As a lawyer, she has practiced in the areas of family law, laws relating to women, constitutional law, corporate law and administrative law. Her current research and teaching interests include constitutional law, feminist legal theory, social diversity and law, postcolonial studies and law and critical race theory.
Ronald Niezen - Faculty of Law / Faculty of Arts (web page)
Ronald Niezen has held the Katharine A. Pearson Chair in Civil Society and Public Policy in the faculties of Law and of Arts since 2013. He is also a Tier 1 Canada Research Chair in the Anthropology of Law, and a Professor and former Chair of the Department of Anthropology.
Ronald Niezen researches and teaches in the areas of political and legal anthropology, indigenous peoples and human rights. He is an anthropologist with wide ranging research experience: with the Songhay of Mali, the Cree communities of Quebec, Ontario and Manitoba, and the Sami of northern Europe. Among his research interests are political/legal anthropology; Indigenous peoples and human rights; the social study of new media; thehistory of anthropology/social theory; and social change in Africa.
His most recent books are The Rediscovered Self: Indigenous Identity and Cultural Justice (McGill-Queen's University Press, 2009), Public Justice and the Anthropology of Law (Cambridge University Press, 2010) and Truth and Indignation: Canada's Truth and Reconciliation Commission on Indian Residential Schools (University of Toronto Press, October 2013).
Professor Provost teaches and conducts research in public international law, international human rights law, international humanitarian law, legal theory and legal anthropology. He is particularly interested in human rights, international criminal law, the law of armed conflict, and the intersection of law and culture. In September 2015, he was awarded a fellowship by the Pierre Elliott Trudeau Foundation for his research project that aims to explore the possibility of convincing armed, non-state groups to apply justice by respecting minimum standards of international humanitarian law in conflict zones.
He is the author of  International Human Rights and Humanitarian Law (Cambridge University Press, 2002), the editor of State Responsibility in International Law (Ashgate/Darthmout, 2002), and co-editor of Public International Law Chiefly as Applied and Interpreted in Canada (Emond Montgomery, 2006). He is also the editor of Mapping the Legal Boundaries of Belonging - Religion and Multiculturalism from Israel to Canada (OUP, 2014).
He has acted as a consultant for DFAIT and CIDA on numerous occasions, and served as the president of the Société québécoise de droit international from 2002 to 2006.
Shaheen Shariff – Department of Integrated Studies, Faculty of Education (web page)
Dr. Shariff is an Associate Professor in the Faculty of Education at McGill University, and international expert on cyber-bullying. Her research and teaching are grounded in the study of law as it impacts educational policy, pedagogy and practice. Specifically, her work addresses the emerging policy vacuum on parent and school responsibilities to supervise and intervene when children and teenagers engage in bullying at school and in cyber-space. Her work identifies limits on student free expression in school and cyber-space; privacy rights, cyber-safety, cyber-libel; and school supervision (in the physical school setting and on-line). She has developed guidelines for school administrators, teachers and parents regarding the extent of their legal responsibilities to address cyber-bullying in various contexts. Her work also focuses on human rights, constitutional and tort law as they inform institutional responsibilities to provide safe and productive school and work environments; censorship and diversity in schools.
Dr. Shariff has served on an international advisory committee working with UNESCO and CIDA as part of a group of consultants working with the International Institute for Educational Planning to develop a toolkit for drafting Teacher Codes of Conduct at the global level. She was also recently a panelist with the(US) First Amendment Center's online symposium which featured her scholarship on the legal implications for educational institutions in relation to policy issues around cyber-bullying.
Colleen Sheppard (web page)
Professor Colleen Sheppard's teaching and research focus on human rights law, equality rights, comparative constitutional law and feminist legal theory. In addition to her teaching at McGill Professor Sheppard has been a visiting professor at Dalhousie Law School, the University of Maine, School of Law, and the Institut de droit comparé, Université Lyon III.
Colleen Sheppard served as Research Director for the Centre for Human Rights and Legal Pluralism from 2005-2009. Her recent publications include Inclusive Equality: The Relational Dimensions of Systemic Discrimination in Canada (McGill-Queen's University Press, 2010) and "Reducing Group-based Inequality in a Legally Plural World", Working Paper, CRISE (Centre for Research on Inequality, Human Security and Ethnicity), Oxford University; published online, February 2010.
Beyond her teaching and research work in the domain of human rights, Professor Sheppard has been active in public service activities to promote and advance human rights in Canada and internationally. She served as a Commissioner on the Quebec Human Rights and Youth Rights Commission from 1991-1996, is a board member of Equitas - International Centre for Human Rights Education, and has been a consultant with the Canadian International Development Agency, Justice Canada, the National Judicial Institute, the Canadian Human Rights Commission, the Ontario Métis Aboriginal Association and the International Labour Organization. Colleen was director of the CHRLP between 2010 and 2015. She was inducted into the Royal Society of Canada in 2016.
Jon Unruh – Department of Geography, Faculty of Science (web page)
Professor Unruh teaches and researches in the areas of international development, land tenure, legal geography, and global environmental change. His particular emphasis is on post-war land and property rights as part of the peace process. He has worked with the UN and other donors and the governments of Mozambique, Somalia, East Timor, Sierra Leone, and Liberia on land policy reform in the context of post-war recovery. Professor Unruh is interested in the emergence of multiple, informal normative orders regarding land rights during and after armed conflict, and how these can be reconciled with land and property prescriptions in peace accords, and formal land policy reform in a peace process. His current interest focuses on the role that evidence for claim plays in this reconciliation. In an environmental change context, Dr. Unruh is interested in how land tenure problems lead to a 'clearing to claim' approach to land, which results in large-scale deforestation in the developing world; and the intersection of land tenure and biodiversity in Africa. He has published widely on issues of land tenure in the peace process, and the land tenure aspects of environmental change and international development. Professor Unruh has also worked as a consultant for FAO, the World Bank, USAID, and IDRC.
Shauna Van Praagh – Faculty of Law (web page)
Professor Shauna Van Praagh incorporates human rights and social diversity issues into her teaching of Extracontractual Obligations/Torts and Graduate Legal Methodology. She has also taught Social Diversity and Law, a course which explores interdiciplinary perspectives on law, identity and social orders, Children and Law, and Foundations of Canadian Law. Professor Van Praagh's research interests focus on the rights, duties and needs of young people, on religious and cultural identities within family, community and school, on the challenges to governance structures posed by social diversity,and on the relationship between law and literature particularly in pedagogy. Professor Van Praagh has acted as a research consultant to the Bouchard-Taylor Commission and to the Law Commission of Canada on its "Beyond Conjugality" project; has carried out research on the Hasidic Jewish communities of Montreal; and has led judicial education workshops exploring social diversity in the theory and practice of family law.
Daniel Weinstock – Faculty of Law (web page)
Daniel Weinstock studied Political Science and Political Philosophy at McGill University, where he received a BA and an MA, between 1980 and 1986. He received a DPhil in Political Philosophy from Oxford University, where he studied between 1986 and 1991. From 1988 to 1989, he was a visiting doctoral student at Harvard University. He completed postdoctoral work in the Department of Philosophy at Columbia University, before joining the faculty of the Department of Philosophy of the Université de Montréal in 1993. From 2002 to 2011, he was the Founding Director of the Centre de recherche en éthique de l'Université de Montréal. In 2012, he became a Professor in the Faculty of Law and in the Department of Philosophy of McGill University. He has held Visiting Appointments at Université Lyon III, at the Australian National University, at Ritsumeikan University (Kyoto, Japan), and at Universitat Pompeu Fabra, in Barcelona, Spain. His research interests span a wide range of topics in contemporary moral and political philosophy – from the just management of ethnocultural and religious diversity in modern liberal democracies, to state policy with respect to children, families, and educational institutions.
Associate members
Sébastien Jodoin - Faculty of Law (web page)
Sébastien Jodoin is an Assistant Professor in the Faculty of Law of McGill University. He is also a Faculty Associate of the Governance, Environment & Markets Initiative at Yale University and currently serves as the President of Génération d'idées.
His research seeks to understand law in the context of its relationship with processes of policy and social change, new and evolving forms of public and private governance, and the manifold forces associated with globalization.
Daniel Cere – Faculty of Religious Studies
Daniel Cere is the professor of Religion, Ethics and Public Policy in the Faculty of Religious Studies. He teaches courses in religion and public policy, sexual ethics, and social ethics. His main areas of research include religion and liberalism, religious freedom, religion and human rights, marriage and family law, religion and education.
In 2002 he founded the Institute for the Study of Marriage, Law & Culture, a non-partisan independent think-tank that tracks major developments and public debates relating to marriage and family in Canada. His publications include Divorcing Marriage (2004) and The Future of Family Law (2005) as well as journal articles in Public Interest, Theological Studies, and Louvain Studies.
Armand de Mestral – Faculty of Law (web page)
Jean Monet Professor of Law. As teacher of Constitutional Law, Public International Law, International Trade Law and European Union Law, Professor de Mestral has frequently worked on the human rights dimensions of these subjects. Publications in this field include The Limitation of Human Rights in Comparative Constitutional Law (1986) (editor, with Irwin Cotler) and " Mobility Rights in the European Union and Canada" (2001) 46 McGill Law Journal 979 (with Jan Winter). As a member of the Board of Governors and President of the Canadian Red Cross Society, Professor de Mestral has been involved in the planning and oversight of Red Cross programmes on international humanitarian law, including a number of international conferences devoted to these issues. He currently serves as chair of the Canadian Red Cross Advisory Committee on international humanitarian law. In 2007, he was appointed a member of the Order of Canada for his exceptional contribution to legal education and to the development of Canadian constitutional law and international economic law.
Pierre Deschamps – Faculty of Law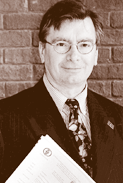 Professor Pierre Deschamps graduated in Law from McGill University, after obtaining a degree in Religious Studies from the Université de Montréal. He is a member of the Canadian Human Rights Tribunal and Associate Director of Research (Law and Health Section) at McGill University's Research Centre in Private and Comparative Law.
He also holds an appointment as an Adjunct Professor at the McGill Faculty of Law, where he teaches law of persons and human rights.
In 2000, Mr. Deschamps was made a member of the Order of Canada for his voluntary work. He also received the Canadian Bar Association President's Award, Quebec section.
Aristide Nononsi – Executive Director of the Institute for Human Rights and Development in Africa
Dr. Aristide Nononsi was the Associate Director of the Centre for Developing Area Studies in the Faculty of Arts and Senior Boulton Fellow in International Development and the Law. He served as Executive Secretary of the Staff Appeals Committee and Head of the Appeals Committee Unit in the African Development Bank (AfDB).
He has been Executive Director of the Institute for Human Rights and Development in Africa since 2012.
In November 2014, he was appointed as the UN's Independent Expert on the Situation of Human Rights in the Sudan, for his extensive experience in technical assistance and capacity-building activities on human rights systems and procedures in the region.
From 2007-2011, he was the  Executive Director of the Centre for Developing Area Studies in the Institute for the Study of International Development (McGill University) and Senior Boulton Fellow in International Development and the Law, Faculty of Law.  In this capacity, he has taught and published on issues related to the law of international organizations, fragile states, international labour law and human rights, children's rights and international development. From 1999-2007, Dr. Nononsi served as Head of the Appeals Committee Unit in the African Development Bank (AfDB) in Cote d'Ivoire and Tunisia. He has also worked from 1992–1998 for the International Labour Office (ILO) on Child Labour, International Labour Standards, and Maritime Labour Law in Switzerland, Côte d'Ivoire and Algeria. Aristide Nononsi completed his doctoral studies at the Université Montesquieu, Bordeaux4, France, specializing in public international law. He also holds two DEA, one in political science from the Science Po Bordeaux and the other in Law, from Université Bordeaux I.
Philip Oxhorn – Department of Political Science, Faculty of Arts (web page)
Professor Oxhorn is the Founding Director of the Institute for the Study of International Development at McGill. His research focuses on civil society and its role in both democratic transitions and the consolidation of new democracies in Latin America.
Professor Oxhorn's publications include Organizing Civil Society: The Popular Sectors and the Struggle for Democracy in Chile (Penn State University Press, 1995), as well as two co-edited volumes: What Kind of Democracy? What Kind of Market? Latin America in the Age of Neoliberlism (with Graciela Ducatenzeiler, Penn State University Press, 1998), and The Market and Democracy In Latin America: Convergence or Divergence? (with Pamela Starr, Lynne Rienner Publishers, 1999), and Decentralization, Civil Society, and Democratic Governance: Comparative Perspectives from Latin America, Africa, and Asia (with with Joseph Tulchin and Andrew Selee, 2004).
Coordinators & interns
Nadia Lefter - Research Assistant
I have a Bachelor degree in Law from the State University of Moldova and an LLM in International Human Rights Law from the University of Essex, UK.
I am a Chevening Scholarship Alumni. I have worked with the United Nations Development Programme, the International Organization for Migration, Amnesty International and local NGOs from Moldova. My focus is mostly on the protection of economic, social and cultural rights.
Blake Connell - CHLRP Intern
Blake Connell holds a Bachelor of Arts with First-Class Honours from the University of Melbourne, where he is now completing a JD.
Simultaneous to his studies, Blake worked in communications as a digital designer and blog-writer, going on to found his own social media business, Grip Social Media. In 2015, he was jointly awarded the Slater+Gordon Best Law App for an online legal application that helps Victorians protect their local environment.
Passionate about all things which lie at the intersection of law and technology, Blake will be working on the Centre's online presence.