Associate Professor of History and Phrixos B. Papachristidis Chair of Modern Greek Studies
tassos.anastassiadis [at] mcgill.ca

Office: RM 827, Leacock Building
Office Hours: on sabbatical leave 2018-2019 (by appointment only)
Appointments available upon request.
Alexandra Siotou, PhD
Postdoctoral Fellow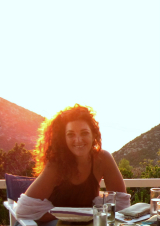 Alexandra Siotou is a Postdoctoral Fellow in the Department of History and Classical Studies at McGill University. Alexandra studied Social Anthropology at the University of Thessaly (Greece). She holds a Master's Degree in Cultural Policy, Management and Communication from the Department of Communication, Media and Culture at the Panteion University of Athens.
In 2015 she completed her Ph.D. thesis in Social Anthropology at the University of Thessaly. Her doctoral dissertation, entitled "Love, Gendered Identities and Power Relationships: Examining Migrant's Transnational Lives," focuses on an under-researched dimension of migratory experience - migrants' emotions - and discusses how migrants from Albania and Bulgaria (re)constitute their subjectivity in the context of multiple interweaving emotional experiences and transnational relations of power. Her research interests include the anthropology of migration, emotions, gender, sexuality and body politics.
While at McGill, Alexandra is participating in the Oral History Program "Immigrec," where she conducts research on Greek immigration to Canada and supervises the oral history team.
George Kellaris, M.A. 
Sessional Teacher
He received his B.A. in Athens, Greece on Greek History and Archaeology, with specialization on Byzantine archaeology. He pursued graduate studies at McGill where he obtained his M.A. in Art History (Medieval Art) and continued there with doctoral studies.
He has taught courses on medieval art at McGill and Carleton universities.
He has collaborated with Customs Canada in expertise reports on cases of illegal importation of antiquities, and with the Montreal Museum of Fine Arts on works of art by Eastern Christians.
His academic interests focus on Early Christian mosaics, the art and architecture of the Crusader States in Eastern Mediterranean and issues of cultural hybridity in the past. 
Since 2001 he has been teaching Modern Greek language at McGill University and Université de Montréal.
Deniz Çevik
Research Administrator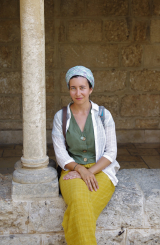 Deniz Özlem Çevik is the research administrator for Immigrec, a project that studies Greek immigration to Canada by combining oral history methods with digital humanities scholarship.
Deniz has an undergraduate degree from Bogazici University and a Master's degree in history from McGill University. She currently studies at McGill's School of Information Studies where she focuses on librarianship, archival studies, Canadian heritage and documentary heritage of minorities. She worked at different archives and libraries including Library and Archives Canada and McGill University Libraries.
Danae Nika
Greek Summer Studies Coordinator
Danae Nika is a Master's student in English at McGill University. She holds a BA Honors in English Language and Literature from the National and Kapodistrian University of Athens. In 2016, she received a grant by the Erasmus+ program to attend one semester at Lancaster University in the UK. 
Her academic interests include Modernist Literature and Modernist poetry, Gender and Sexuality Studies, Translation Studies, and Classical and Modernist reception. Her current research addresses the importance of classical reception in the poetry of H.D, with a particular focus on H.D.'s reception of the myth of Hippolytus.
Danae will be acting as the Program Coordinator for the McGill Summer Studies in Greece Program for the 2019-2020 academic year.