Darren Wagner
Darren Wagner is a SSHRC Postdoctoral Fellow at McGill University. He is associated with both the History and Classical Studies Department and the Social Studies of Medicine Department, with Professor Andrea Tone as his supervisor. Dr Wagner's interdisciplinary training and expertise is in history of medicine, eighteenth-century British literary culture, history of sex, and reproductive biology. His labour of love, a doctoral thesis titled Sex, Spirits, and Sensibility: Human Generation in British Medicine, Anatomy, and Literature, 1660-1780, earned him a PhD in History from the University of York (UK) in 2014. He is also co-editor—with Professor Raymond Stephanson—of the scholarly collection The Secrets of Generation: Reproduction in the Long Eighteenth Century, due to be published by the University of Toronto Press in 2015.

While at McGill, Dr Wagner is researching the paradigmatic shift from animal spirits to electricity in late eighteenth-century understandings of neurophysiology, sex, and reproduction. His project seeks to answer how cultural movements and scientific revolutions interrelate, by closely examining how modern medical understandings of sexuality and reproduction came about in the early Romantic period. This new research contributes to his monograph-in-preparation about the culture of sensibility, neurology, and "generation" in the long eighteenth century. Topics particularly resonant in Dr Wagner's historical work include literature and science; medicine and gender; museums and visualization; reproductive pathologies and social anxieties; cultures of experiment, anatomical technologies, and sexuality.

Contact details:
3647 Peel St., Room 209
Montreal, Quebec
H3A 1X1
Email

Steven Wagner
Dr. Steven Wagner is a SSHRC postdoctoral fellow in the Department of History and Classical Studies. He received his DPhil from the University of Oxford, and his BA and MA from the University of Calgary. Presently, Dr. Wagner is turning his DPhil thesis into a book. Using Hebrew, Arabic and declassified British intelligence records, it analyzes the influence of British intelligence on policy in Palestine, and argues that intelligence shaped policy and was fundamental to British and Zionist power structures. It also offers original explanations for the origin of the Arab-Zionist conflict, the nature of Zionism and Arab nationalism in the Palestine Mandate, and the respective failures and successes of each national movement.
Dr. Wagner's new research examines British intelligence and policymaking in the wider Middle East from 1915 until 1942, a period of continuous revolt in the Arab world. These developments affect our understanding of persistent problems in Middle Eastern politics and their effect on global security. British intelligence helped to cultivate partnerships with independent Arab kings by reading their communications, and by protecting their security. This research illuminates the origins of the modern Middle East, but also explains bigger issues such as the role of Arab states and nationalist movements during the First and Second World Wars.
Publications:
Wagner, Steven. "Intelligence and the Origins of the British Middle East." Journal of Imperial and Commonwealth History. 43(4):721-743.
Wagner, Steven. "British Intelligence and Arab Nationalism: The Origins of the Modern Middle East." In The First World War and Its Aftermath: The Shaping of the Modern Middle East, edited by T.G. Fraser. London: Gingko Library, 2015.
Wagner, Steven. "The Zionist Movement in Search of Grand Strategy." Journal of Military and Strategic Studies, North America, 16(1):61-89.
Wagner, Steven. 2014. "British Intelligence and the 'Fifth' Occupying Power: The Secret Struggle to Prevent Jewish Illegal Immigration to Palestine". Intelligence and National Security. 29(5):698-726.
Wagner, Steven. 2014. "Whispers from Below: Zionist Secret Diplomacy, Terrorism and British Security inside and out of Palestine, 1944-47". Journal of Imperial and Commonwealth History. 42(3):440-463.
Wagner, Steven. 2008. "British Intelligence and the Jewish Resistance Movement in the Palestine Mandate, 1945–46." Intelligence and National Security. 23(5):629-657.
Website
Email
Room: Ferrier 468
Susan Lamb
Susan Lamb is a SSHRC Postdoctoral Fellow (2013-2015) working in the Department of History and Classical Studies at McGill University and advised by Professor David Wright. Dr. Lamb is an historian of science and medicine who received her PhD from the Institute of the History of Medicine at Johns Hopkins University in 2010. In addition to teaching in McGill's Faculty of Medicine and Faculty of Arts and Sciences, during the initial year of the fellowship she completed her first book. Pathologist of the Mind: Adolf Meyer and the Origins of American Psychiatry is published by Johns Hopkins University Press (October 2014) and is the first systematic historical analysis of the pioneering, but often forgotten or misunderstood figure in the history of modern psychiatry. Dr. Lamb was recently awarded the John C. Burnham Early Career Award sponsored by the History of Science Society, Forum for History of Human Science, and the Journal of the History of the Behavioral Sciences for her article "Residual Effects and Early Manifestations: Intersections of Neurasthenia and Subconscious Conflict as Explanatory Models for Functional Disorders in Prewar America," which was researched and written during her tenure as a SSHRC Fellow. Currently, she is researching the development of clinical medicine in North American medical schools at the end of the 19th century using historical collections in the Osler Library at McGill University and in the medical archives of Johns Hopkins Hospital. Working with historians and computer scientists at several Canadian universities, Dr. Lamb is also heading an exciting digital history project—creating a searchable digital archive of Adolf Meyer's scientific corpus (1890-1945) that will subject his foundational (yet notoriously confounding) writings to new modes of computational analysis and historical interpretation.
Simon Macdonald
Simon Macdonald is a Banting Postdoctoral Fellow at McGill University. He received his PhD in History from the University of Cambridge in 2011, and has undertaken postdoctoral work at University College London, the Institute for Advanced Studies in the Humanities at the University of Edinburgh, and the British School at Rome. He has also held visiting fellowships at the Beinecke and Lewis Walpole libraries at Yale, and at the Houghton library at Harvard.
Dr Macdonald's research revolves around Enlightenment concepts and practices of cosmopolitanism, exploring intellectual debates, cross-cultural transfer, and transnational groups. His doctoral thesis, which is now the subject of a book manuscript, examined the British expatriate presence in France during the eighteenth century, using a focus on population exchange so as to explore broader spheres of cross-Channel interaction and to probe larger historical questions about changing patterns of cross-border conjunctures. His postdoctoral work develops this research agenda, exploring how Enlightenment thinkers constructed sophisticated ideas about the 'cosmopolitan', with the term's meaning being comparable to our current usage of 'international', a term which was only invented in the late eighteenth century; studying ideas about cosmopolitanism accordingly provide a means of reviewing how commentators from this period identified, debated and valorized the negotiation of difference. Dr Macdonald's recent journal publications include 'English-language newspapers in revolutionary France', Journal for Eighteenth-Century Studies (2013); and 'Identifying Mrs Meeke: Another Burney Family Novelist', Review of English Studies essay prize (2013).
Contact details:
Office: Room M5.35, The Burney Centre, 5th Floor, McLennan Library Building.
Telephone: 1 (514) 398-6599.
Email
Charles Sharpe
Charles Sharpe is currently a Mellon Post-Doctoral Fellow in the department of history and classics. He completed a BA in Political Science from Furman University in South Carolina, an MA in International Relations from Yale, and an MA and PhD in History from the University of Pennsylvania.  Dr. Sharpe was the 1999 recipient of a Rotary International Ambassadorial Scholarship at the University of Bonn, Germany, and the 2000 recipient of a Fulbright Scholarship.

From 2004-2005, Dr. Sharpe worked for the United Nations Development Program in New York, where he helped to develop mine action strategies for national development agencies.  In his doctoral dissertation "The Origins of the United Nations Relief and Rehabilitation Administration," Dr. Sharpe examines how the United States conceived and executed its plan for post-WWII relief.  He reveals covert American aspirations to use the emerging United Nations system to facilitate the creation of an American empire.  During his tenure as a Mellon fellow, Dr. Sharpe will broaden the scope of his dissertation to examine more closely the interplay of American diplomacy with the Chinese, Soviet, British and Canadian governments in the creation of the United Nations.
Justin Bengry
Justin Bengry is a SSHRC Postdoctoral Fellow at McGill University under the supervision of Professor Brian Lewis. He completed his PhD in History and Feminist Studies at the University of California and comes to McGill from the University of Saskatchewan where he was the first Elizabeth and Cecil Kent Postdoctoral Fellow in British History. Justin's research focuses on the intersection of homosexuality and consumer capitalism in twentieth-century Britain.
At McGill Justin will prepare his book manuscript The Pink Pound: Queer Profits in Twentieth-Century Britain for publication. Melding together traditional political histories with cultural and gender analyses, The Pink Pound is the first full-length study of the history of the pink economy. Using diverse sources ranging through early men's magazines and queer erotic publications, film and theatre regulations, tabloids and popular newspapers, sources on fashion and retailing, government documents and parliamentary papers, business archives and oral histories, it asks who benefited from commercial interest in homosexuality? How were debates surrounding the extension of civil rights to homosexuals propelled forward in the public commercial sphere? How did reformers utilize capitalist strategy and infrastructure to effect social and legal change? And finally, what effect have more open relationships between homosexuality and consumer capitalism had on both business interests and queer citizen-consumers? The Pink Pound is unique and innovative in recognizing the place of homosexuality in mainstream consumption practices and the effect this had on broader social, cultural, and political change.
Helen Dewar
Helen Dewar is a SSHRC postdoctoral fellow at McGill University under the supervision of Professor Catherine Desbarats.  Her research interests focus on early modern North America and the Atlantic World and specifically on empire building and the use of European law overseas.  Her dissertation, which she completed at the University of Toronto, examines the construction of sovereignty in New France through proprietorships and companies in the first half of the seventeenth century.  It resituates the history of French North America in an Atlantic framework, drawing connections to the distribution of privileges, patron-client networks, and the structure of authority in France itself.  Based on lawsuits among competing French titleholders, company associates and traders active in North America, it argues that sovereignty overseas was closely intertwined with state-building at home.  She is currently revising her dissertation for publication.  

Her new book project continues her interest in the role of private enterprise in empire building.  "Accidental Empire: The Compagnie des Indes Occidentales and Royal Government in the French Atlantic, 1664-1674" reconsiders the imposition of royal authority in New France in the mid-seventeenth century by recasting it in comparative perspective.  While it is normally studied in the context of events internal to the colony, it was part of a larger reconfiguration of authority in the Atlantic under the Compagnie des Indes Occidentales.  The company's domain encompassed not only New France but also the West Indies and trading posts in West Africa.  The company's decision not to exercise authority evenly throughout its jurisdiction created a patchwork of company and royal government across the Atlantic.  The project explores the complex interactions between these two jurisdictional authorities to shed light on the early modern history of empire building.
Jessica van Horssen
­­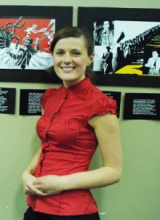 Jessica van Horssen is a Postdoctoral Fellow in Quebec Environmental History is at McGill University and l'Université du Québec à Trois Rivières and specializes in the global asbestos trade, specifically, the town of Asbestos, Quebec. Her research interests include the histories of science, medicine, and the environment, as well as technology, culture, and risk. She completed her dissertation, Asbestos, Quebec: The Town, the Mineral, and the Local-Global Balance Between the Two, at the University of Western Ontario, and explored the historic connection between bodies of land, human bodies, and the body politic in this complex community. While completing her dissertation, Jessica also wrote a digital graphic novel based on her research, (http://megaprojects.uwo.ca/asbestos/), and produced a short online documentary series on the history of Asbestos (http://niche-canada.org/ehtv?page=1).
While preparing her monograph based on her dissertation for publication with UBC Press, Jessica is beginning her new project on transnational environmental contamination and justice, which focuses on the relationship between the asbestos mining communities of Quebec and the asbestos processing communities of the northeastern United States. In this work, she explores place-based understandings of risk and sacrifice within an industry that demanded both, and details the choices local populations made on each side of the border to shape the global industry for much of the 20th century.
Sarah Waurechen
I am currently a SSHRC postdoctoral fellow at McGill University under the supervision of Prof. Brian Cowan, where I am continuing to pursue my interests in early modern Britain, publicity, identity, empire, print culture, and more. In 2011, I completed a dissertation entitled "Talking Scot: English Perceptions of Scotland during the Regal Union," which I am currently revising into a book manuscript. My postdoctoral research springs from this fascination with the dynamics of an internal empire and contemporary attempts to digest this situation through conversation. My new project therefore retains similar themes but expands the parameters of inquiry.  Specifically, I am interested in the role that the empire proper played in the British imagination in its earliest stages, and have begun investing how people talked about the wealthy sugar-producing colony of Barbados in the seventeenth and early eighteenth centuries.
I am also a dedicated instructor, and though I am not teaching during the 2011-2012 academic year, I have taught a variety of seminars and lectures at the University of Alberta and at Queen's University. Passionate in my belief that engagement with students is a worthy activity in itself, that it inspires the researchers of the future, and that it improves the quality of my own work by continuously exposing me to new perspectives and new questions, I look forward to returning to the classroom soon.
sarah.waurechen [at] mail.mcgill.ca (Email Sarah Waurechen)
Leslie Tomory
After originally studying aerospace engineering, Leslie Tomory completed his PhD at the University of Toronto on the history of the gaslight industry 1780-1820. His revised thesis will be published as a book entitled Progressive Enlightenment: The Origins of the Gaslight Industry 1780-1820 by MIT Press in early 2012. The book argues that the gas industry was representative of new trends that formed a second wave of industrial development in the Industrial Revolution. Specifically, the industry was based on technology that drew heavily from contemporary science, a characteristic more commonly associated with the late 19th century; that the industry used management structures and practices associated with complex businesses that incorporated large scale technologies; and that the the industry relied on extensive financing through capital markets, the first case of a new technology to do so. The book also explores a variety of other themes, including why Britain industrialized before the rest of Europe, the role of coal in its industrialization, and the effects of the Enlightenment's ambition of having science render a service to society. He has also published a number of journal articles on these and other subjects in Annals of Science, History of Science, British Journal for the History of Science, Notes and Records of the Royal Society, Ambix, and Technology and Culture.
Leslie's research interests include the interaction between science, technology and business in the Industrial Revolution throughout Europe, as well as the history of pneumatic chemistry. Currently a Mellon postdoctoral fellow, he is exploring how early industrial infrastructure networks, such as water supply systems, canals, and gas networks, were built and stabilized.
See here for details about research publications.
ltomory [at] gmail.com (Email Leslie Tomory)
Mélanie Morin-Pelletier
Passionnée par l'histoire de la santé, l'histoire militaire et l'histoire des femmes, Mélanie Morin-Pelletier s'intéresse depuis plusieurs années aux soins infirmiers militaires. Pendant ses études à la maîtrise, elle a examiné le vécu et l'expérience de guerre des infirmières militaires canadiennes de la Grande Guerre (Briser les ailes de l'ange. Les infirmières militaires canadiennes, 1914-1918, Athéna Éditions, 2006). Sa thèse doctorale porte sur la réinsertion civile des infirmières vétérans torontoises et montréalaises et sur leur participation au développement des réseaux de soins de santé et de services sociaux de l'entre-deux-guerres. Titulaire d'une bourse postdoctorale du CRSH, Morin-Pelletier étudie maintenant les grandes oubliées de l'historiographie, les infirmières vétérans des Maritimes. Elle veut faire la lumière sur leur contribution à l'expansion des réseaux sociosanitaires et dévoiler l'héritage qu'elles ont légué à la société civile de l'entre-deux-guerres. Morin-Pelletier travaille sous la supervision de la Professeure Suzanne Morton.
Donald Nerbas
Don Nerbas holds a SSHRC postdoctoral fellowship at McGill University. His research interests span into a variety of areas, including the development of political and economic elites in Canada during the 19th and 20th centuries, the history of capitalism and regional economies, and the social history of ideologies. He recently completed a dissertation at the University of New Brunswick that examines the shifting accumulation and political strategies of Canada's big bourgeoisie from 1917 to 1947, a period of political and economic crisis that significantly impaired the political effectiveness of wealthy Canadians intent on restoring the old order. He is in the process of preparing his dissertation for publication as a book. He has also published articles in the Canadian Historical Review, Acadiensis, Manitoba History, and the Journal of the Canadian Historical Association.
At McGill University, Don will pursue a postdoctoral project under the supervision of Professor Suzanne Morton. The project will examine the political economy of the post-Second World War "Golden Age" in Canada within the transnational context of the Cold War. The postdoctoral research will explore the economic, political, and ideological factors that caused the rise and fall of the so-called "Golden Age," a paradoxically dynamic yet stable phase of capitalist expansionism that ran from the end of the 1940s to the early 1970s – and was felt throughout the advanced capitalist world. Emphasizing the dynamic interaction between ideologies, politics, and economic forces, the project sets out to tell the story of how Canadian capitalism and the country's capitalist class adjusted and, for a time, prospered during the postwar period. While illuminating developments in a distinct era of Canadian capitalism, this research also promises to offer some much-needed historical perspective on contemporary public policy questions as we experience yet another period of economic crisis with uncertain outcomes.
don.nerbas [at] unb.ca (Email Don Nerbas)
Eva Alice Christine Ekholst, PhD in History, Stockholm University
I hold a postdoctoral fellowship at McGill funded by Wenner-Gren Foundations (Stockholm, Sweden). My main research interests concerns gender, sexuality, legal history and crime history during the Middle Ages. In my doctoral thesis For Each Criminal, a Punishment (Brill, forthcoming) I analyzed concepts of gender and legal responsibility in Swedish medieval law. I demonstrate that the various Swedish medieval laws depart from an implicit male legal subject and this influence the structure and function of the laws. The implicit male legal subject is presumed to be a free, land owning peasant who is the master of his household. All other social categories tend to be secondary both as possible victims and as perpetrators. One main aspect of the thesis is a discussion of the development of female legal responsibility. I argue that legal responsibility for women was introduced gradually in medieval Sweden. Legislators tended to place liability on women only for crimes they connected to female perpetrators and in particular for crimes that were considered very serious and which led to the death penalty. With the introduction of a law valid for the entire kingdom (replacing regional legislation), the criminal law has to some extent become gender-neutral. By the mid 14th century women had been introduced as possible perpetrators for almost all serious crimes while, respectively, men had been integrated in the law as possible perpetrators of femininely coded crimes such as witchcraft.
I am now pursuing a postdoctoral project under the supervision of Professor Nancy Partner. My postdoctoral research concerns medieval women's use of violence and is entitled Violent Women. Female Violence in Medieval law, Literature and Historical Writings. Violence tended to be closely linked to masculinity during the Middle Ages. But what happened if a woman used violence? Did she break societal and gender norms or did she in fact successfully adapt to a male norm? How physically violent women are described during the Middle Ages tend to vary depending on the type of violence used, the purpose of the violence and which social categories the women belong to. It also varies depending on the type and age of the historical source. I claim that descriptions of women using violence filled several different functions in the medieval society. It could serve as a warning by depicting violent women very negatively and as aberrations to their gender. However, it could also reinforce a violent male norm by idealizing the women. These positive descriptions often underline the women's noble background and stress that their violence is justifiable (most often used for revenge). Lastly, female women could also be ridiculed, which was more often the case if the women came from a lower social group. My postdoctoral project examines these different aspects of medieval female violence and seeks to understand which functions it filled in the legal context, in historical writings and in fiction.
eva.ekholst [at] mail.mcgill.ca (Email Christine Ekholst)
Jean-François Gauvin
I am currently a Mellon Postdoctoral Fellow at McGill University. Before accepting this position, I was a full-time Curator at the Collection of Historical Scientific Instruments, Harvard University. For the past 10 years, I have studied instrumentation from the 17th to the 20th centuries. For my dissertation (Harvard, 2008) I focused the research on the relationship between artisans, savants and machines in early modern France. The dissertation is entitled Habits of Knowledge: Artisans, Savants and Mechanical Devices in Seventeenth-Century French Natural Philosophy. Since 2000, I have co-written and co-edited two prize-winning volumes as well as several articles and book reviews dealing with instruments and instrument making. For more information, visit my blog: jfgauvin2008.wordpress.com
jean-francois.gauvin [at] mail.mcgill.ca (Email Jean-François Gauvin)
Victor D Boantza
I work on the history and philosophy of early modern European science, particularly alchemy and chemistry from the seventeenth-century Scientific Revolution to the eighteenth-century Chemical Revolution. My research includes the historical ontology of chemical concepts, the didactic origins of chemistry, matter and elemental theories, chemical philosophies, imponderable fluid theories, Enlightenment scientific culture and the relationship between natural philosophy, religion and occultism.
My doctoral dissertation (Institute for the History and Philosophy of Science and Technology, University of Toronto) explores the interplay between vitalism, mechanism and materialism in early modern French and British perceptions of matter and corresponding methodologies. Examining a series of interlinked scientific debates, it offers a new understanding of the relationship between early modern chemistry, natural philosophy and the emergent life sciences through the development and application of the notion of 'scientific style'. Parts of my work appeared in Annals of Science, Studies in the History and Philosophy of Science, Historia Scientiarum, and edited volumes. I am currently completing work on a book entitled Matter and Method in the Long Chemical Revolution (Ashgate) and co-editing a volume on Controversies Within the Scientific Revolution (John Benjamins).
As a Tomlinson Postdoctoral Fellow, I carry out research on the early Parisian Royal Academy of Sciences, focusing on a multifaceted confrontation between (al)chemical agendas and (meta)physical doctrines, especially during the protectorate of the Academy's establisher Jean-Baptiste Colbert (1666-1682), situating that period in the multiple contexts of matter theories, empiricism, religion, politics and the Scientific Revolution.
victor.boantza [at] mail.mcgill.ca (Email Victor Boantza)