Roddick Roast coffee is McGill's unique blend that is available in most of the food locations across both campuses. We're very proud to say that every cup of Roddick Roast coffee sold contributes and helps provide fair earnings to small farmers.
How it all started:
With the help of Fairtrade International, McGill found the family owned COOP Unión de Cafetaleros Orgánicos de Ángel A. Corzo (UCOAAC). UCOAAC is situated in Jaltenango de la Paz, Chiapas, Mexico and is operated by a Jaltenango indigenous community.
The coffee is exclusive to McGill - Van Houtte roasts the blend in small batches in their Ville St-Laurent plant. The collaboration between McGill and Van Houtte helps put in place projects that will help the COOP and give them more opportunities and access to schools. McGill is committed to giving back a premium equivalent to that of Fairtrade to improve conditions for the farmers. 
Oliver de Volpi, Executive Chef and Francisco Tabicas, Food Services Officer visited the COOP in July 2016 to see visit firsthand the family owned COOP and to meet with the community of small farmers.
How it's made:
In this region of Mexico farming is a year long process with one harvest a year that lasts approximately 3 months. During the year The farmers need to prune and care for the trees, cut the underbrush, grow and care for a tree nursery and transplant thousands of trees each year. On top of hand picking thousands of pounds of cherries, they need to ferment, wash and dry all of the coffee and in many cases even remove the outer skin on each coffee bean before delivering their coffee to the coop.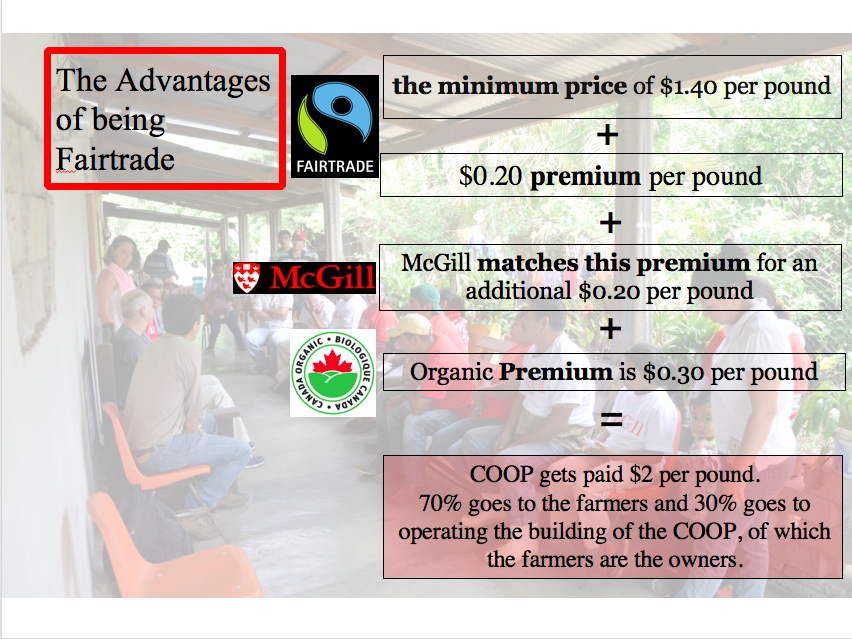 About the coffee & coop:
Fairtrade. Certified Organic. Bird Friendly.
COOP sits at an altitude of 800-1000m.
This small COOP has 1,091 fairtrade and organic certified producers. Each one produces on average 1,400 pounds.
The farms are between ½ - 4 hectares in size.
Fair Trade guarantees the minimum price of $1.40 per pound.
Fair Trade gives the COOP a 20 cent premium per pound on top of the minimum.
McGill matches this premium for an additional 20 cent premium per pound, which is referred to as the McGill premium.
This premium goes to the COOP to improve conditions for the farmers.
The Organic Premium is 30 cents per pound.
COOP gets paid $2.10 per pound. 70% goes to the farmers and 30% goes to operating the building of the COOP, of which the farmers are the owners.

It takes approximately 100 coffee beans for each cup of coffee.

Coffee is a smoky and chocolaty blend.
When you purchase a cup of Fair Trade Coffee, you're helping these small farmers have improved living conditions. For more information on the benefits of choosing Fair Trade coffee, be sure to visit fairtrade.ca