May 5:
The ceremony for the Quebec Lieutenant Governor's Awards took place on May 5, 2013 at the Collège Regina Assumpta in Montreal. This year, two FMT students received the Lieutenant-Governor's Youth Medal: Diane Maheu and Mathieu Rouleau. The Youth Medal is awarded annually to students who, demonstrated by their generous actions, serve as a source of inspiration for other youth. Both Diane and Mathieu exercised leadership in their communities. Congratulations!
Diane receives her award on stage from the Lieutenant Governor of Quebec (above). (Below): Mathieu Rouleau poses with the Lieutenant Governor of Quebec and his wife, and members of Mathieu's family.
June 3:
Congratulations to the FMT graduating class of 2013!

On Monday, June 3, 2013, 12 FMT graduates attended their convocation held at Macdonald Campus. 23 students received their Diploma in Farm Management and Technology.
   
Lecturer Serge Lussier, with students Raphaelle Charette and Scott-Lee Brandrick (left). Michael Oeggerli receiving the Farm Credit Canada Academic Gold Medal, Governor General's Collegiate Bronze Medal, and the Médaille d'Or du Ministère de l'Agriculture, des Pêcheries et de l'Alimentation du Québec on stage (photo at right).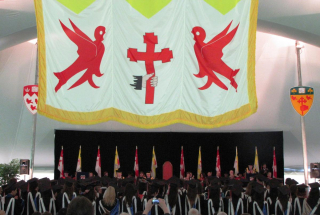 The graduates of the Faculty of Agricultural and Environmental Sciences stand for the national anthem.
Sheldon Grant and Michael Oeggerli received the Farm Credit Canada Academic Silver and Gold Medals, respectively, pictured here with FCC representative Nancy Lamothe (photo at left). Rémi Ouellet, standing with Peter Enright, Director of the FMT program. Rémi received his Diploma in Farm Management and Technology in 2010. On June 3, 2013 he received his BSc. in Agricultural Economics, also from McGill (photo at right).
Our graduating class.
June 6-9:
The FMT recruiter and staff attended the 99th Expo Ormstown Fair, where we spoke with prospective students, assisted the 4-H competitions, and saw many of our alumni and current students. Several students competed in the 4-H and open dairy shows and competitions including the 4-H judging competition, dairy fitting competition, and dairy conformation and showmanship classes.
For even more photos, you can scroll through galleries from past years using the navigation bar on the left