Cancelled due to health concerns
Check back for more updates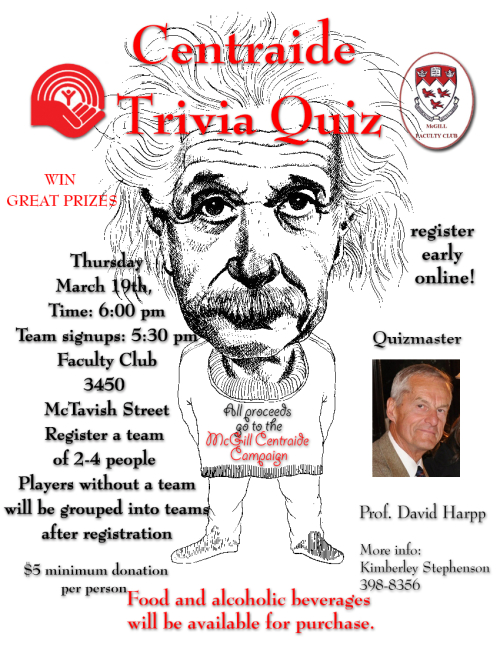 Centraide Trivia Quiz
Round 4 – Thursday March 19th 2020
17:30 for registration at the McGill Faculty Club,
game starts at 18:00
Entrance Fee is $5.00 minimum donation per person
in support of the McGill CENTRAIDE Campaign.
Upcoming Trivia nights
·         Round 5 – Tuesday April 7th 2020
·         Round 6 – Thursday May 7th 2020
Our Sponsors
We gotta have rules people, sorry!
1. Enjoy yourselves! That's what it is really all about and don't take it too seriously.

2. Teams may be comprised of no more than four physically present individuals. No other people besides the team members can be at your table. The "He's just going to sit here and not play" won't fly for this. There is no minimum team size. If you think you have the chops to take on teams of four people by yourself, then giddy-up.

3. No outside help for questions. Don't shout out any answers. Please don't call people on your cell phones, download web pages on your PDAs or sneak in volumes of the Encyclopedia Britannica in your shorts. If caught using your entire team will unfortunately be disqualified. Besides, what fun is winning if you cheat?

4. The quizmaster is the final arbiter of truth, questions and other matters of Pub Trivia policy. Even if the results appear unfair, please don't argue.

5. Please order lots of food and drinks while you are playing! The waitresses and bartenders don't get to play and they want to have something to do also.

6. Any rule not included herein may be created on the spot by the quizmaster and enforced.

7. The game is composed of seven rounds of ten questions and the presentation will be PowerPoint on the screen to reduce ambiguities. Each question is worth 1 point with the occasional bonus questions thrown in (no partial credit unless specified). At the end of each round, you will deliver the answers and at the end of the evening, we will total up the scores and announce the winner and runners up.  We will have plenty prices. ($50 bar bill credit for the winning team and other interesting monthly prizes) 

8. In the event of a tie there will be a tie-breaker question which will usually be a numeric one.

9. Every month that you play we will continue to add your team points to your previous scores (must be at least 1 person present from original team to use previous team name). Remember just because you miss one session doesn't mean you still can't win the jackpot! At the end of the trivia season, the team that has the most points will win the jackpot prize of a gourmet dinner at the Faculty Club with beer/wine for the winning team.

10. Remember, if you don't win the quiz, there is always next time!
---
Reservations