Dr. Catherine Goudie
Academic title(s):
Assistant Professor - Department of Pediatrics
Associate Member - Department of Medicine, Division of Experimental Medicine
Associate Member - Departments of Human Genetics and Oncology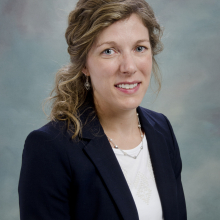 Current research:
My research program focuses primarily on hereditary cancer syndromes that present in children and young adults. We study and compare various strategies to rapidly identify young patients with cancer who require genetic evaluations. We also study the short and long-term outcomes of patients diagnosed with cancer predisposition syndromes, as well as the ethical and societal perspectives of genetic testing in the pediatric population.
Projects:
1. Development and validation of an eHealth decision-support tool aimed at identifying cancer predisposition syndromes in children diagnosed with cancer.
2. Determining risk factors for the development of secondary cancers in patients with cancer predisposition syndromes.
3. Determining disease penetrance in certain cancer predisposition syndromes.
Research areas:
Bioethics
Cancer
Epidemiology
Genetic diseases
Pediatrics