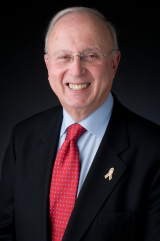 Senior Head and Neck Surgeon, Sir Mortimer B. Davis-Jewish General Hospital and MUHC
Chair, Head and Neck Surgery and Oncology Program, McGill University
Associate Professor, Departments of Oncology and Otolaryngology, McGill University

Dr. Martin J. Black is a senior head and neck surgeon at the Sir Mortimer B. Davis Jewish General Hospital. Dr. Black graduated from medicine at McGill University in 1967 with a residency at the Jewish General Hospital from 1968-1969. In 1973, he completed his residency training at Washington University School of Medicine, including a fellowship in Head and Neck Surgery in the Department of Otolaryngology at Barnes Hospital, St. Louis, MO.

Dr. Black sees patients with a variety of head and neck cancers including oral cavity, throat, vocal cords, salivary glands and thyroid.

Dr. Black was named to the Honour List for Educational Excellence in the Faculty of Medicine in 1998, received the Outstanding Teacher Award twice from McGill's Department of Otolaryngology, and also won the Prix d'Excellence from the Royal College of Physicians and Surgeons of Canada in 2008. In 2001, he was elected President of the Canadian Society of Otolaryngology/Head and Neck Surgery. More recently, in honour of his many accomplishments, the Jewish General Hospital Foundation established the Martin J. Black Endowment Fund for Fellowship Training in Head and Neck Oncology. The $1.5-million fund will support training and research in the field.