Anca L. Szilágyi (BA 2004 English and Archeology)
I wanted to major in English literature because I love stories. The degree allowed me to pursue more practical things, I suppose, like an MA in TESOL at Teachers College, Columbia University and a brief stint as a legal assistant, but in each of these pursuits I found myself enraptured with language, culture—and stories. And I kept thinking back to the courses in literature I took at McGill, diving into Ovid's Metamorphoses with Professor Borris, Paradise Lost with Professor Kilgour, Mrs. Dalloway with Professor Hepburn, modern Israeli novels with Professor Halevi-Wise, and Autobiography of Red with Professor Cooke. All of these experiences enriched my experience of the world and helped shape me as a writer. I'm proud to share that my debut novel, Daughters of the Air, was recently published. Fellow McGill alum Sean Michaels (BA '04), winner of the Giller Prize, calls Daughters of the Air "a riveting, magical lament…rich in history and humanity." Without books, life is short; I can't think of anything better to do with my time than read and write stories.
---
Michael F. Cooley (MA 2006)
Upon graduation from McGill, I accepted an internship with the Government of Alberta in the Ministry of Health. I communicated with over 200 users of an administrative health data warehouse, trained new users on software navigate the data, and participated in Information Technology projects. In 2007, I supplemented by education with a certificate in Project Management, which led to development and maintenance projects as a Business Intelligence Consultant. I recently accepted a position as a Customer Relationship Management Specialist with Alberta Health, where I oversee the disclosure of health administrative data in accordance with relevant privacy legislation. An education in English literature and an interest in technology provided me with the analytical skills necessary to translate between business needs and information technology solutions. My time at McGill gave me the freedom to explore my interests while instilling me with the discipline to manage larger projects. While a degree in English is highly transferrable, I'd recommend supplementing it with some more specialized education or work experience to stand out with employers.
---
Véronique Dorais Ram (BA Honours 2002, MA 2004)
For the longest time, I only had one goal: to study literature at McGill. My goal achieved, I felt a little lost, not quite sure what to do next. Like many of my peers, I opted to pursue doctoral studies to become a professor. I began my PhD at the University of Calgary in 2006 and will defend in September 2012. During these six years, I engaged in new areas of research (especially narrative medicine), participated in student politics, and underwent major changes in perspective. I discovered literature was but a stepping stone to my professional path as a future physician. Therefore, I applied to the MD/PhD Leaders in Medicine program at the University of Calgary, and will graduate with both degrees in 2016. Degrees in literature aren't often considered "pre-med" – I am the first PhD in literature in the U of C MD program. Yet I can't imagine having a better background. Current international literature demonstrates that physicians with exposure to arts-based learning improve their critical thinking skills and bring enhanced sensitivity and analysis to their diagnostic reasoning. I firmly believe that my degrees make me a unique and better clinician.
---
Brett Hooton (BA Honours 2002, MA 2005)
Since August 2011, I have been the Associate Director, Communications, for the Office of the Vice-Principal (Research and International Relations) at McGill. Previously, I was the E-Communications Officer for the University's Development and Alumni Relations office. In that position, I received several awards for my work from the Council for the Advancement and Support of Education (CASE) and the Canadian Council for the Advancement of Education (CCAE), including the CCAE's Rising Star Award for 2011. In addition to my day job, I have worked as a freelance writer, editor, and researcher. For example, between 2007 and 2009 I served as the theatre critic for Hour, a free weekly newspaper in Montreal that, sadly, ceased publishing in early 2012. Originally from Kansas City, Missouri, I came to McGill as a student, eventually earning my BA with honours in English literature and history in 2002 and my MA in English literature in 2005. Through the years, McGill, its faculty, and its staff have remained excellent professional resources for me, and I am deeply indebted to everyone here for their support. 
---
Molly McCullough (BA Honours 2004)
Like many people, I started my undergraduate degree with no idea of what I would do afterwards. I studied English because I loved the material and hoped that my career—whatever it ended up being—would sort itself out. In the end, my Honours degree in Cultural Studies, obtained from the McGill English Department in 2004, gave me the best imaginable foundation for my work in museums. As the Assistant Curator at the Canada Aviation and Space Museum, I regularly analyze artifacts as cultural products, a skill I developed studying literature at McGill. Essays written for professors at university prepared me to write proposals for artifacts and projects at work. What I was taught about narrative has shaped how I interpret the museum's collections. Researching and writing an honours thesis is my most memorable experience from McGill. Not surprisingly, this turned out to be one of the most useful experiences as well. Under the supervision of Professor Allan Hepburn, I learnt how to organize a large research project and to turn a lot of unstructured information into a persuasive argument, useful skills in almost any workplace.
---
Katherine Mullen (BA 2006)
Always an avid reader, I decided to major in English Literature, since I wasn't sure what I wanted to do in life. This felt like a perfect fit for me—until I graduated and had to face the daunting task of finding a job with a literature degree. There were certainly options, but most required some formal writing experience, which I did not have. After a year as a retail supervisor, I decided it was time to go back to school. With my background in English from McGill I found myself rapidly accepted to the MA program in Library Science at Simmons College in Boston, Massachusetts. Now I'm very happy, working as an archivist at a publishing company while attending law school at night. My literature degree may not have gotten me far when I had no experience to back it up, but it offered a perfect springboard for further learning and entering the publishing field. I have also found that the analytical skills I gained while dissecting Henry James and desperately trying to impress my favourite Professor, Allan Hepburn, have given me a great leg up in law school.
---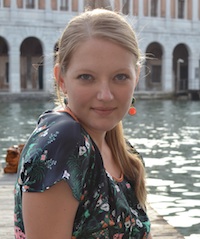 Christine Munroe (BA Honours 2007, MA 2009)
Two key aspects of my time in McGill's English department pointed me in the direction of a career in book publishing: discussions with Professor Robert Lecker about the Canadian book publishing industry; and courses with Professor Thomas Mole exploring the materiality of texts. Primed by these interests, I moved to New York City after completing my Master's degree to pursue a publishing job. My McGill degrees helped me stand out amongst strong competition trying to enter the publishing field, and I secured an internship and subsequently a job at a literary agency. A keen interest in foreign rights led me to accept a job at a book scouting company, where I have worked since 2010. I read and analyze forthcoming books and make recommendations to foreign publishers regarding their potential for translation into other languages and markets. I love that I can continue examining literature critically, and I especially enjoy traveling to various international book fairs. My advice to current students interested in non-academic jobs is to start exploring options right away. Apply for summer internships, talk to as many professionals as possible, then try to zero in on the career options that seem most appealing.
---
Libbie Snyder (BA 2005)
I majored in English because I simply love reading and exploring novels, drama, and poetry, but I had no idea what career path I wanted to pursue. My first job post-graduation was in marketing at a Jewish non-profit organization in Boston (my hometown). Marketing was a natural transition, since effective marketing relies on good writing. I worked there for three years, then in 2009 I decided to emigrate to Israel. I met my husband at a wedding in Tel Aviv and we married two years later; we continue to reside in Tel Aviv. I got a job as a Linguistic Editor at Time To Know, an "e-learning" company, where I edited their English curricula for US schools. Having strong English writing skills is extremely valuable if you're living abroad, especially in a country like Israel, which depends so much on international business: English is the language of international business. As I continue to develop my career in Israel, I am thankful to have had the superb training in writing and editing that I received at McGill. It was the best gift I could have given myself.
---
Caroline Zimmerman (BA Honours 2008)
At McGill, I lived and breathed critical theory: a thesis on gothic hermeneutics for Peter Gibian; hours discussing the New Criticism with Miranda Hickman. Little did I know, until I took a job at a literary agency, that few outside of academia care much for it; what most readers want is a good story. I now spend my time scouring literary journals, blogs, magazines, and faculty profiles in search of the best storytellers. I help authors develop book projects that I then sell to major New York publishers. Poring over Derrida served its purpose, though: it taught me to be a close reader and a critical thinker. These skills—along with a stint at the McGill Daily, several journalism and publishing internships, and a part-time job writing for a news website—were key to breaking into the book industry after I graduated. I started as an intern at the Boston office of The Kneerim & Williams Agency's, before moving on to assist one of the firm's founding partners. Now I handle projects of my own, including the international bestseller Paris Versus New York (Penguin, 2012). I'd recommend finding a balance between academic and professional development early on, in order to build your CV and a network of contacts upon which to draw after graduation.
---
Terri Susan Zurbrigg (BA Honours 2004, MA 2006)
Your McGill English degree will enable you to do much more than silently correct other people's grammar at dinner parties. After I graduated from the MA program at McGill, I went to law school. In 2008 I graduated from the University of Alberta law program, where I was Co-Editor in Chief of the Alberta Law Review. I clerked at the Alberta Court of Queen's Bench in Edmonton and articled at Field LLP, where I am currently an associate who practices labour, employment, and privacy law. In 2011, I was called to the bar in the Northwest Territories. The skills I developed while studying English Literature help me succeed on a daily basis as a lawyer. At McGill, I learned how to write clearly and persuasively, and the analytical skills I honed enable me to construct my arguments effectively and dismantle those advanced by my opponents. Finally, a degree in English Literature taught me to see everything as a story, which is really all legal files are: stories about people (usually people behaving badly). While you may not ascend to the heights of Atticus Finch—in fact, you'll probably have to slog it out in a grey office like Wallace Stevens—your English degree will stand you in good stead for a rewarding and engaging career should you opt to go the legal route.
---
Sophie Boyer (BA Honours 2002)
My studies at McGill began in the Sciences, but it took only one English course to convince me to switch disciplines to the Arts: an introductory American Literature course with Professor Gibian. I remember this and so many other great courses in the English Department at McGill. One professor in particular made a significant impression on me: Professor Hepburn. His love of literature, and perspective on culture and history, inspired me to pursue an Honours degree. It was his Spy Novel course that first captured my interest; it was not only the content and his knowledge of the material, but also his approachability that made the course so enjoyable. With the help of Professor Hepburn, Professor Carney, and the other teachers in the English department, I graduated with First Class Honours in English Literature, with a minor in Humanities, in 2002.
After graduating McGill, I obtained a Bachelor of Education degree at the University of Ottawa, with a focus on Senior English and History. From there, I travelled to the United Kingdom, where I taught high school in Cambridge for almost two years. With my background in literature and history from McGill, it was a natural choice to travel to the birthplace of so many literary geniuses and their works. I subsequently taught in Ontario and British Columbia. Teaching high school and sharing my love of literature with teenagers across the country has been a blessing. My experiences have varied, but one thing remains the same no matter where I go: the strong education I received at McGill has served me well. It formed the basis for the expertise that I now share with enthusiasm.
My advice to those graduating from the English department is to follow your passions, no matter where they take you. Even if you don't end up teaching English, or studying English further, or writing a textbook about literature, your education in the discipline will always be of great service. You have learned how to think critically about the world around you, the discipline to study it, and the ability to write about it. One of the biggest compliments I have ever received is that I write well. And I have McGill to thank for that.