McGill Engineering
Research Showcase
MERS
The McGill Engineering Research Showcase is a showcase and celebration of our Faculty of Engineering graduate student research.
**Following the Government of Quebec's decision to close educational institutions for two weeks, McGill University is suspending non-essential operations on campus until at least March 27th, 2020. As such, the 2020 MERS Showcase has been cancelled, due to the suspension of all on-campus events at this time.**
2020 Showcase
Wednesday, April 8th, 2020
3:00 - 6:00 P.M.
Engine Space, FDA 5 
Registration for Presenters
2:30 P.M.
Poster Session Begins: Graduate Students Display their Research Results
3:00 - 5:00 P.M.
Poster Judging & Selection of 5 Best Posters
3:30 - 5:00 P.M.
Presentation of Best Poster Awards by the Associate Dean, Research & Innovation
5:15 - 6:00 P.M.
Invitation to Industry
Come learn more about the innovative research taking place at McGill Engineering in the areas of Advanced Materials and Nanotechnology, Aerospace Engineering, Bioengineering, Information & Communications Technology, Sustainability in Engineering and Design, via poster presentations from the Faculty's top PhD and Master's students. You can also learn about the Research Institutes and Centres within our Faculty, as well as generate contacts for future collaboration and/or employment or research internships.
For more information about this event, please contact us at graduatestudies.engineering [at] mcgill.ca 
Graduate Student Participation
Why participate?
This event will provide an opportunity for you to:
get feedback on your research from industry, alumni, faculty, and your peers
compete for best poster award by strategic research area category
learn about research across all engineering departments
learn about research funding programs
How to participate?
All McGill Engineering Masters or PhD students are eligible to participate in the MERS poster session.
Interested students should discuss their intention to submit with their supervisor
If supervisor approval is given, student should register their poster by using this form. Registration is on a first-come, first-served basis and will close at 5 pm on Friday March 27th, 2020 unless we reach 30 registered posters before that date.
Students are encouraged to create their own posters (at student/supervisor's cost). Students may also choose to showcase a poster that they presented at a recent conference.
Poster Judging and Awards
All the graduate students presenting at the MERS poster session are eligible to have their poster presentations judged and considered for cash-value best poster awards.
A prize of a $100 gift card will be awarded to the best poster in each strategic research area category (Advanced Materials & Nanotechnology, Aerospace Engineering, Bioengineering, Broadband Communications, and Sustainability in Engineering & Design).

Criteria for judging:
Student poster presentations will be evaluated on four main criteria related to the student's ability to clearly communicate the significance of their work:
1) Oral presentation is well-prepared, concise, and gives a good summary of the significance of the research, results, and possible future applications.
2) Response to questions showing insightful knowledge and contributes to understanding of the research.
3) Poster is well organized (intro, methodology, data, results, conclusion, future work) and visually attractive.
4) Poster communicates significance and relevance of results.
Judging process:
A group of 3 judges (company, alumni, undergrad) per strategic research area will visit the posters assigned to them.  The student will have 3 minutes to give an oral presentation of their research and poster, and 4 minutes for Q&A with the judge(s).

Judges will complete forms for each poster visited and these forms will be tallied, by strategic research area category.
2018 Presentation Winners
#1 – Sara Imbriglio, PhD3
The Role of Ceramic Characteristics in Cold Sprayed Metal/Ceramic Interfaces
Department of Mining and Materials Engineering
Supervisor: Professor Richard Chromik
#2 – Isabella Bozzo, M.Eng1
Material Characterization of the Human Descending Thoracic Aorta to Improve the Mechanical Compliance of Dacron Prostheses
Department of Mechanical Engineering
Supervisor: Professor Marco Amabili
#3 – Mandana Tavakolian, PhD4
Developing Antimicrobial Nanocellulose using Natural Antibacterial Agents
Department of Chemical Engineering
Supervisors: Professors Nathalie Tufenkji and Theo van de Ven
2017 Poster Abstracts
2017 MERS Poster Abstract Booklet
2017 Photo Gallery
2017 Poster Winners
Category: Advanced Materials & Nanotechnology
Sean Bolduc & Adam Smith
Composite Recycling Innovations
Department of Mechanical Engineering
Supervisors: Professors Larry Lessard and Pascal Hubert
 
Category: Aerospace Engineering
Linus Lehnert
Advanced Design and Manufacturing Technologies for Complex Composite Structures
co- authors: Derek Harvey and Louis Grou
Department of Mechanical Engineering
Supervisor: Professor Pascal Hubert
 
Category: Aerospace Engineering
Charles Cossette
Payload Recovery from High Altitude Using Autonomously Guided Parafoil
Department of Mechanical Engineering
Supervisor: Professor James Forbes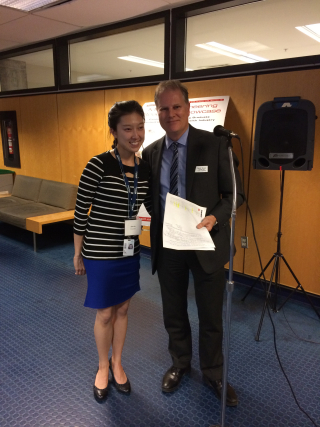 Category: Bioengineering
Zinan He
Extents, Locations and Geometrical Configurations of Calcification in Abdominal Aortic Aneurysm
Department of Mechanical Engineering
Supervisor: Professor Rosaire Mongrain
 
Category: Information & Communications Technology
Hamed Rafezi
Tricone Drill Bit Condition Monitoring
Department of Mining and Materials Engineering
Supervisor: Professor Ferri Hassani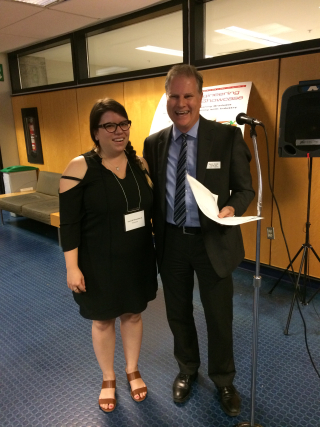 Category: Sustainability in Engineering and Design
Laura Hernandez
Are there Nanoplastics in your Personal Care Products?
Department of Chemical Engineering
Supervisor: Professor Nathalie Tufenkji