---
Lilia Koleva: Designing Affordable Urban Housing
Home is where the heart is, especially for Lilia Koleva. The second-year architecture student has designs on changing the lives of people in her native Bulgaria through affordable urban housing. A recipient of a McGill Faculty Scholarship, she got a different angle on how to use her math background when a design teacher encouraged her to develop her artistic talents.
"There is a need in Bulgaria for good architecture," says Koleva. "And I was looking for a way to combine my math and creative skills. McGill", Koleva says, "is the best experience I have ever had in life." She praises the campus, the architecture and the downtown location, where she happily answers questions from tourists who wander onto the campus and inquire about the buildings.
She also gives high marks to Architecture's undergraduate program. "It's small, only 50 people, but I have my own studio space and it feels like home! Our professor, David Covo, even brings us treats from conferences because he knows we are too busy studying to eat." And although the program has an intimate feel, Koleva is quick to point out its global nature. "We have students from all over the world – Japan, China, Korea – and it is great sharing ideas with them."
She says that without the student award, though, she would not have been able to attend McGill. "I applied and my parents said it would not be possible if I didn't get the award. My father is an engineer and he asks me: 'Do you know how difficult it is to make a big project like a stadium?'" Koleva would like to continue her studies and obtain a master's degree.
To this new architectural thinker, who admires Frank Lloyd Wright and Ludwig Mies van der Rohe, there's no doubt that buildings should be more than engineered structures. "I think buildings should be efficient for living and have a use and nice design – or what's the point?"
Saad Ahmad: Seizing Every Opportunity
When Saad Ahmad learned that he had won a Hugh M. Brock Scholarship to study engineering at McGill, he seized the opportunity to get a first-class overseas education. "It made it possible to come to McGill, as my parents would not have been able to support my education on their own," he says. "In Pakistan, studying in Canada or the U.S. means a lot and because of its great reputation, I chose McGill."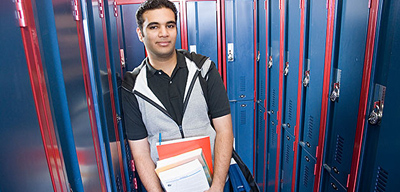 Now in his third year of electrical engineering, Ahmad, who is part of a community of thousands of international students studying at McGill, says he enjoys the high calibre of McGill's academic programs. But his university experience has hardly been restricted to the classroom. Ahmad has also been tearing up the tennis court in a competitive intramural league, and experimenting with politics – he has been the money man for his student society and is now planning to get involved with the McGill Model United Nations Assembly, an annual event that brings together 1,400 students annually for a simulated UN conference.
As he heads into the final two years of his program, Ahmad is leaving his career options open. "The world really is fast becoming a global village, so I really can't be sure where I will end up," he says.
As his future expands, Ahmad continues to believe in making the most of every opportunity that comes before him, and offers a wise piece of advice for new students at McGill. "Try to make use of all the resources McGill offers – get involved in all activities, not just studying."
Ryan Cunningham: Making a Difference in Mining
There is no shortage of people who "want to make a difference" in the world these days. But while many of us share that admirable ambition, it's often a case of "easier said than done." That's what sets McGill student Ryan Cunningham apart. He pretty much knows how he wants to make the world a better place. He wants to improve processes in an area that is much maligned in these environmentally sensitive times – the mining and metals industry.
The 24-year-old first-year master's student in the Department of Mining, Metals and Materials Engineering was raised on his parents' dairy farm in Huntington, about an hour southwest of Montreal. And although he didn't aspire to wake at dawn and milk the cows for the rest of his life, Cunningham's background is at least somewhat responsible for his chosen field of study.
"I didn't want to be a dairy farmer, but I like the whole idea of working with your hands, getting involved," he said.
Cunningham, who completed a Bachelor of Engineering degree at McGill in 2006, was originally interested in studying biomaterials engineering, but eventually became captivated by the scope of and possibilities found in mineral process engineering.
"Here at McGill we have a really broad scope of activities in this area. Anything involving materials – from surfaces, to making special materials, to extracting them from the ground is in this department. Actually, if you haven't really decided what you want to do, this is a good place," Cunningham said. "You can go toward nanotechnologies or toward mining, which is a really good industry for application."
Making the "bad guys" better
While he's aware mining companies tend to make headlines for all the wrong reasons these days, Cunningham said doing away with mineral extraction altogether is more than a little unrealistic, at least for the immediate future.
"Mining companies are often painted as the bad guys because of the perceived impact mining has on the environment, and there is some truth to that." Cunningham said. "But a fundamental fact is that people need metals. You want to drive a car, farm your land or ride a bike… you need metals. Mining is not going to go away."
Cunningham's principal interest lies in exploring new technologies to reduce the amount of energy consumed to supply the world's metal needs.
"Really, if you want to make a difference to the environment, improve a process in mineral extraction. In my life I want to make improvements in mining so at the end of the line I can say I have decreased the world's energy consumption by 'x amount.' The fact is, the mineral extraction industry consumes approximately three per cent of the world's energy. If you can make improvements there you make a significant improvement to the world, so that's my passion and where my future lies".
Hydro-Québec scholarship
Cunningham's ambitions have been helped by a series of scholarships and awards he won while doing his BEng and more recently for his master's work. He is the recent recipient of an annual $10,000 scholarship from Hydro-Québec, part of a $10-million donation the utility made to the university in October 2007.
"Receiving the scholarship has given me the freedom to focus on my research, and to be involved in many clubs and projects, too," Cunningham said.
One of those projects is an upcoming discussion forum, called Dirt and Dessert, where experts from the field of mining will speak on a variety of topics, including the role of recycling in the mining industry and the recruitment of aboriginal people as future mining industry employees. The second installment, featuring Cunningham's master's advisor, Professor Jim Finch, is scheduled for March 27 from 3:00 to 4:00 p.m. at the Wong Building.
— by Jim Hynes McGill Reporter, March 6, 2008
Alexandre Lamoureux's Enthusiasm Shines
"When I met Rabi, I knew I had to be at McGill," says Alexandre Lamoureux, a PhD candidate in mechanical engineering, speaking about Professor Bantwal Rabindranath (Rabi) Baliga, a specialist in the areas of heat transfer and fluid flow and the recipient of three outstanding teaching awards at McGill. "He is such a great lecturer and passionate about his work. He's the expert in Quebec, if not Canada, and has trained many successful disciples."
Lamoureux's own enthusiasm has served him well, too. He is the recipient of several student prizes, including the Vadasz Doctoral Fellowship for students in the Faculty of Engineering, the MEDA, or McGill Engineering Doctoral Award, and the Dean's Doctoral Student Research Recruitment Award, along with other major government scholarships.
With an interest in fluid mechanics and heat transfer, Lamoureux thrives on the challenge of solving fluid flow and heat transfer problems. He calls it "fun by definition." His area of study could help computer manufacturers improve the design of heat exchangers used in gas turbines, or heat sinks in computer chips.
For Lamoureux, who completed the first year of his doctorate in 2007, McGill has provided him with the goods he needs to some day become a professor. "The great reputation is deserved. They treat people well and support people financially." The awards, he says, have given him the ability to continue his education.
Looking to the future, Lamoureux sees many bright days ahead for McGill, but does not want to take anything for granted. "We have to make sure our reputation endures, and we must not rest on our laurels."