McGill TechIES – Technological Innovators and Entrepreneurs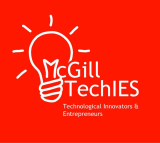 Students in the Faculty of Engineering and across McGill have multiple opportunities to engage in existing co-curricular activities such as student societies, associations, committees, clubs and design teams. Our goal is to expand on these existing opportunities in order to enhance and increase student innovation and entrepreneurship (I&E) learning opportunities. These learning opportunities can provide students with essential skills for creating their own technologically-based companies. Furthermore, these same skills are highly valued by employers as they are necessary to identify and tackle big problems in the increasingly complex and fast-paced world of technological innovation.
We envision our Engine community and the McGill TechIES Group as change agents to help create a more innovative and entrepreneurial culture on campus.
The McGill TechIES are students across McGill, both undergraduate and graduate, that develop the entrepreneurial mindset and skills amongst themselves and their peers through technologically-based projects and connecting/working with each other.
Social and networking activities
Foster relationships and liaise with campus organizations
Work on technologically-based projects with business or social impact potential
Co-run, facilitate and create workshops, events, and information sessions. These are geared towards inspiring, educating, and training students and professors in technological innovation and entrepreneurship, and connecting and networking with each other and the community
The McGill TechIES group members get to:
Develop their entrepreneurial, communication, team-building, organizational, and leadership skills
Engage, motivate and empower fellow students
Become an active part/change agent of a meaningful McGill community and Montreal start-up community
Connect with people from other departments and disciplines
Get creative ideas and projects off the ground, further developed, and out into the market and society in order to make a positive impact in the world
Active Members
Those who actively attend two events per semester (social meet-ups, workshops, presentations, etc).
Those who are working on technologically-based projects with business or social impact potential.

Become a member!  Sign-up now!