Event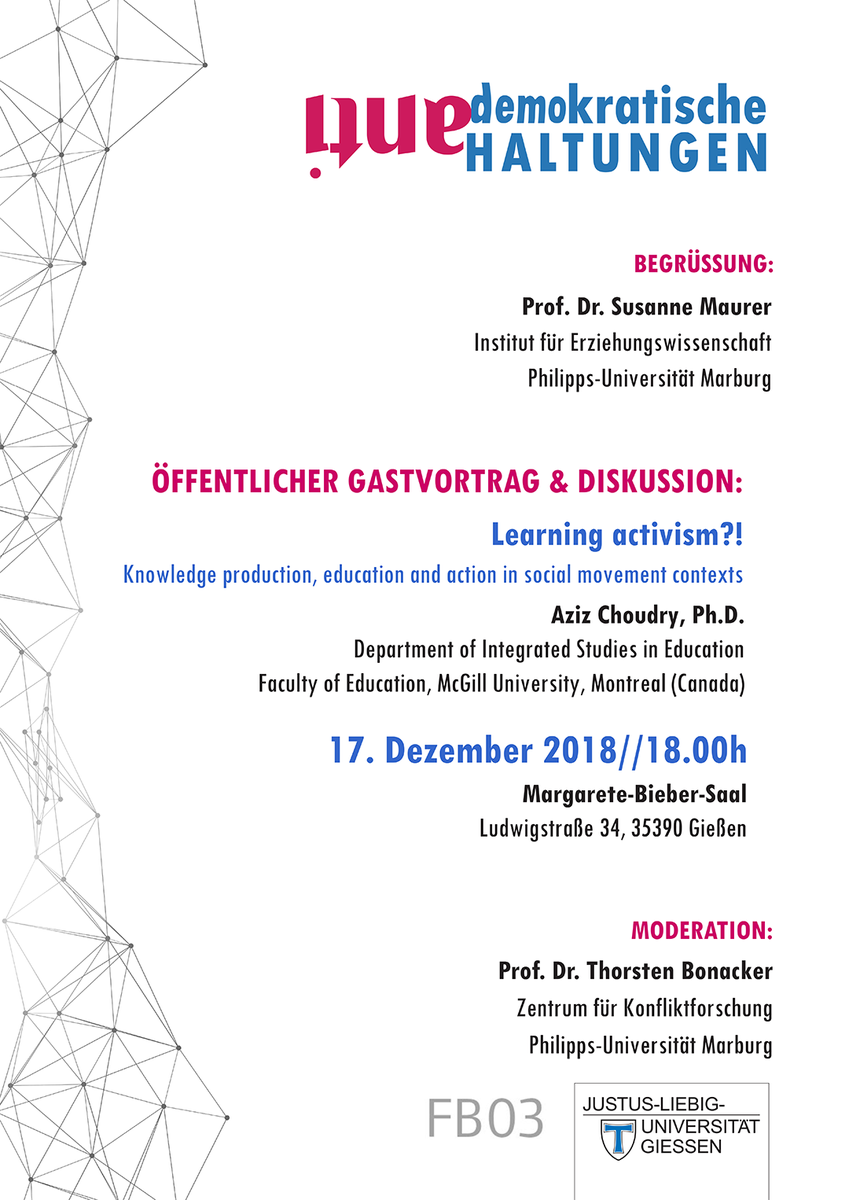 Aziz Choudry, Ph.D., Associate Professor, International Education, Department of Integrated Studies in Education, Faculty of Education, McGill University, Montreal (Quebec), Canada
Invited lecture at the University of Gießen (17.12.2018, 18 - 20 Uhr):
"Learning activism?! - Knowledge production, education and action in social movement contexts"
Abstract:
Migrant and immigrant workers and communities worldwide have long organized against exploitation and oppression. I argue that in order to understand the contemporary politics of migration, we should engage with the knowledge produced in activism and organizing in which people come together to try to address the roots of the problems they face, build solidarity, and act collectively to confront injustice. Understanding all knowledge to be political, I argue for politically committed, rigorous research which is in dialogue with, relevant to, and which explicitly serves people's struggles for immigration justice and against racism and all forms of exploitation.
Aziz Choudry is Associate Professor and Canada Research Chair in Social Movement Learning and Knowledge Production in the Department of Integrated Studies in Education, McGill University, and Visiting Professor at the Centre for Education Rights and Transformation, University of Johannesburg, South Africa. He has been involved in a range of social, political and environmental justice movements and organizations since the 1980s. He serves on the board of the Immigrant Workers Centre (Montreal).
Aziz Choudry's publications include:

About his next book, which will be out in December: https://www.plutobooks.com/9780745337807/activists-and-the-surveillance-state/