---
Fessenden Medal awarded to David Plant
Professor Dave Plant , has been recognized for his outstanding achievements, and has been awarded the R.A. Fessenden Medal for sustained leadership in the formation and execution of a University based National and Provincial research program.
---
Outstanding Teaching Award for 2006
Professor Plant also received the Samuel and Ida Fromson award for Outstanding Teaching. This Faculty award is given to a full-time academic who has displayed exceptional competence and diligence in the preparation for and carrying out of teaching activities. The recipient must have demonstrated an ability to stimulate students' interest in the subject and to give them a sense of accomplishment in advancing their own professional competence.
---
Best Paper Awarded at CCECE 2006
Mr. Wei Chu and Professor Benoit Champagne were awarded Best Paper at the 2006 Canadian Conference in Electrical and Computer Engineering.
Their research is based on the premise that "noise" interferes with the ability to recognize speech or music when looking at audio signals. They are examining ways to classify speech and music in a noisy environment and "look through" it to see only the sounds they want to examine.
---
Best Posters at the 2006 AAPN Annual Research Review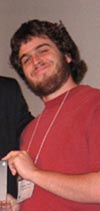 P
hotonics Graduate students Madeleine Mony, and Frederic Thouin were awarded second and third place prizes for best judged posters at the 2006 Annual Research Review of the Agile All-Photonic Networks (AAPN). Madelaine Mony is supervised by Professor David Plant in her research on "Re-programmable Optical Phase Array (ROPA) devices" . Frederic Thouin, who won third prize, is supervised by Professor Mark Coates and is working on "Video-on-demand equipment allocation"
---
IEEE-LEOS Distinguished Lecturer Award (2006 - 2007)
Professor David Plant has been awarded a second term as an IEEE LEOS Distinguished Lecturer. recognizing his status as a leading researcher and pioneer in photonics and optical communications. The award is designed to honor excellent speakers who have made technical, industrial or entrepreneurial contributions of high quality to the field of lasers and electro-optics, and to enhance the technical programs of LEOS chapters. Eight lecturers are selected annually, each agreeing to at least 6 lectures at LEOS chapters maintaining the balance of speakers addressing the wide range of topics of current interest in fields covered by LEOS.
---
Haptics Lab Team Win Best Paper Awards
Haptics Team- Qi Wang, Vincent Lévesque, Jérôme Pasquero, Vincent Hayward
McGill University's Haptics Lab collaborated with UBC's SPIN lab to produce the "best paper" at the ACMCHI'06 conference in April 2006.
The paper describes haptic technologies that can be formed into tiny skin-stretching tactile displays. These enable handheld devices to provide a range of responses through the tips of the user's fingers grasping it, and offers an alternative to relying on audio or screen graphics to support interaction. Overcoming size limitations in mobile devices opens up exciting avenues for future technologies.
The paper was co-authored by CIM graduate students Jérôme Pasquero and Vincent Lévesque.
The Haptics Lab was also the recipient of a second Best Paper Award for a paper co-authored by CIM graduate student Qi Wang at the 14th Symposium on Haptic Interfaces For Virtual Environment And Teleoperator Systems IEEE VR 2006 conference last March.
---
François Bouffard Winner of the Ambridge Prize
The D. W. Ambridge prize, is presented to one Ph.D. graduate in the Physical Sciences or in Engineering every year, and was awarded to Dr. François Bouffard for an exemplary academic record, excellent thesis, and the significance of his research topic. Along with an engraved plaque, a one thousand dollar prize is included.
Dr. Bouffard became interested in electricity markets and the business of selling and buying power back in 2002 but his motivation peaked in the summer of 2003. Years of bad luck at Hydro Quebec had saved this province from the power outage the rest of the eastern seaboard and Ontario experienced that hot summer day. Dr. Bouffard's approach to secure power supply comes from analysis of the probability of failure based on mathematical study of the history of power failures.
François Bouffard enjoys the multi-disciplinary aspects of power engineering as it incorporates elements of mathematics, policy making, and economics.