Experiential learning for early entrepreneurs
The Dobson Centre is the hub for entrepreneurship at McGill University, where ideas stemming from all McGill faculties grow into innovative companies with a purpose. We aim to inspire, teach and develop early entrepreneurs while also introducing them to local, national and global entrepreneurship ecosystems.
The Student Executive Team (SET) is going virtual this year! This student-led Dobson initiative offers its members volunteer experience and networking opportunities with startups, alumni and like-minded peers from across McGill faculties.
Throughout the academic year students work individually or in teams alongside innovative McGill startups, by promoting entrepreneurship, creating engaging events, and other collaborative activities, while developing relevant skills, knowledge, conceptual insights, and gaining real-world experience outside the classroom.
Meet the SET 2020-2021 Team

Michaela Deneva
Double Major Computer Science and Economics - U3
Bio
My name is Michaela and I am a senior at McGill, pursuing a double major in Computer Science and Economics. I joined the Dobson Centre back in 2018 and I am excited to be leading SET this year, and fostering student entrepreneurship on campus. Are you an aspiring student founder? Do you go to McGill and want to learn more about how the Dobson Centre can support you in your entrepreneurial journey? Feel free to reach out - let's grab a Zoom coffee! 
michaela.deneva [at] mail.mcgill.ca (Email)
---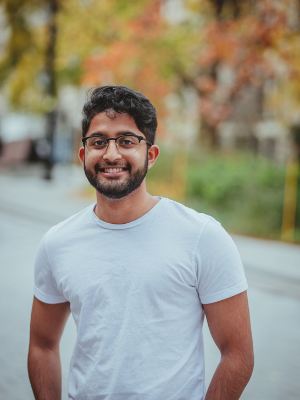 Aayush Bhat
Bioengineering, Minor in Software Engineering - U2
Bio
My name is Aayush Bhat and I am a third year Bioengineering student who has always been extremely passionate about growing the startup ecosystem at McGill. I had the pleasure of being on SET last year and I am extremely excited to continue our endeavours through a virtual format, specifically the Dobson Cup!
---
Benny Lin
Double Major Finance & Accounting - U3
Bio
Hi, my name is Benny and I'm a management student interested in finance, venture capital, and entrepreneurship. I'm excited to be a part of SET this year because you can learn so much about startups through participating in the workshops, networking events, and of course the Dobson Cup.
---
Arielle Lok
Major in Finance - U1
Bio
My name is Arielle Lok, and I'm a U1 Finance-keener at Desautels. I think VC (venture capital) is VC (very cool) and I VC (value communities) that foster entrepreneurial spirit. My niche fields of expertise include funding and making people laugh. I'm excited to meet the brightest up-and-coming founders in the Montreal area!
---
Constance Perez
Bachelor of Arts in International Development, Social Entrepreneurship and Philosophy - U4+
Bio
I have always been passionate about social change, which led me to get involved with entrepreneurship through different student associations and to promote the startup ecosystem both in Hong Kong and Montreal.
I am very proud to be part of the Dobson Centre team, as it helps me pursue my passion of encouraging innovation on campus and in society at large.
---
​​​​​
Anna Simmons
Strategic Management - U2
Bio
A bit of a mix: I was born in Shanghai, adopted to Vancouver, and now dividing my time between Montreal/Egypt. An avid traveller, as well, I've long enjoyed backpacking for the varied perspectives and experiences it exposes me to. Having heard nothing but great things about the Dobson Centre, I'm looking forward to meeting the rest of the team and getting more involved with its programming.
---
Benjamin Rogers
Major in Computer Science and Minor in Entrepreneurship - U3
Bio
My name is Ben Rogers I'm a fourth-year computer science student from St. John's Newfoundland! I'm really excited to meet the team and get started organizing and creating new things!
---
Julia Zimmer
Double Major Economics and Biology - U2
Bio
I'm Julia! I am in Boston this semester with my two younger sisters. I like to swim and spend time outdoors. I'm excited to be a part of SET to promote entrepreneurship and have the opportunity for experiential learning!
Overview
Start: Fall 2020
Duration: Fall & Winter Terms
Time Commitment: +/- 20 hours/month
Key Objectives
Experiential learning with early entrepreneurs
Develop relevant skills and gain exposure to the startup ecosystem
Collaborate and network with like-minded McGill students
Interact with current students, McGill Alumni and entrepreneurs
Key Responsibilities
Attend monthly online SET meetings
Be an active contributor to their respective team (details on team breakdown on p. 4)
Act as an ambassador and contact person for entrepreneurship within their respective faculty
Conduct mini-presentations on entrepreneurship within their faculty once trained
Promote entrepreneurial initiatives and resources within their faculty
Attend McGill Dobson Centre events
Promote McGill Dobson Centre's brand, vision and inclusive culture with consistency and professionalism
Provide on-going insights into the needs of students and their respective faculties
Student Application Process
Student Profile Requirements
In order to be eligible to apply to the Student Executive Team at the Dobson Centre, you must be a current McGill student in satisfactory academic standing, and enrolled for both Fall 2020 and Winter 2021 terms
Faculty and background agnostic: We welcome applications from all current McGill students enrolled in any McGill Faculty at all academic levels (e.g. undergraduate, graduate, PhD, Continuing Studies, Certificate, etc.)
Possess a passion for entrepreneurship and a desire to learn
Excellent time management skills
Strong interpersonal, organizational and communication skills
Strong interest in developing new relationships with organizations and groups in the
entrepreneurship community at McGill
Previous or current member of a student group within respective faculty (asset but
not required)
Previous startup experience (asset but not required)
Please note that applications are currently closed.
Have questions about the SET? Contact Michaela Deneva for more information: dobson.mgmt [at] mcgill.ca.